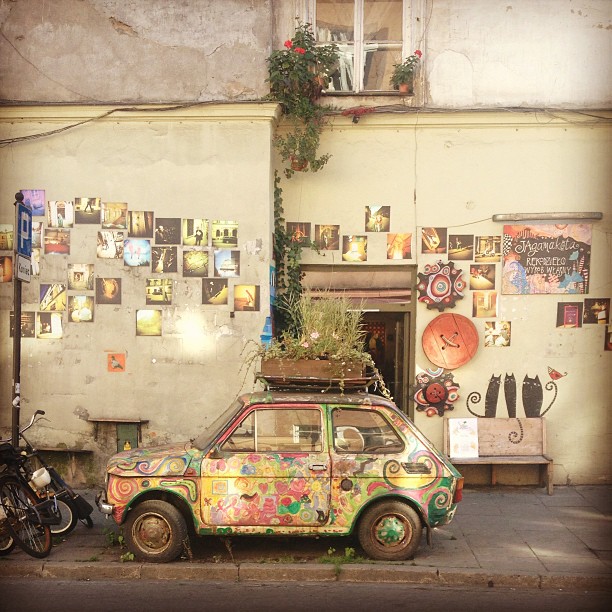 When the sun goes down Krakow's Old Jewish quarter (known as Kazimierz) comes to life.
The bars fill up on the cobbled streets and the restaurants hum with the noise of nightlife. At the hub of this activity is Plac Nowy, the former Jewish square, where a spring of establishments have sprouted in recent years. In the wake of years of disrepair, the neighborhood has benefited from a cultural renaissance that will also benefit your palette: so arrive with an appetite.
Stepping off the train from Budapest in late September, the icy wind and 30 degree temperature burned at my face, propelling my feet in the direction of warmer, more comforting spaces.
Pierozki u Vincenta is a small but life-changing restaurant on the edge of Kazimierz that is known for its wide variety of Pierogi, and for the Van Gogh-inspired decor. The soft, boiled dumplings for which they are rightfully famous are best filled with wild Mushrooms native to the region, that are sprinkled with crisped garlic and lard, then dipped in sour cream. Order a glass of Borscht broth to wash it down and drift into a scene from your favorite, star-filled reverie. At least that's what I did.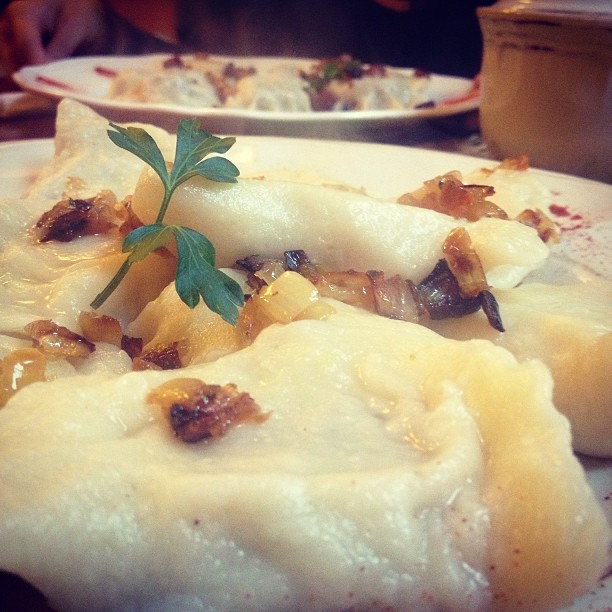 Across the street is a fine example of an emerging nightlife trend in Krakow: the vodka and herring bar. Maly Sledz is a tiny spot that can barely sit five people at a time, but I arrived in the afternoon and was able to secure a seat at the front of the bar. The friendly tender poured me a shot of herbal vodka, then handed me a plate of herring in a cream and beetroot sauce -- not for the faint of heart, but worth every bite. The profile was rich, sharp, sweet, and uncompromising: qualities we can all aspire towards.

The second vodka, I told myself, was entirely responsible for the epic nap that followed. Luckily I was staying only a block away.
As the evening wears on, booze and conversation fuel the buzzing Kazimierz streets, and the un-sober seek out a return to their natural state. Kitchens close early in this neighborhood, so street food is one of the more reliable places to soak up your second round.
The Zapienkake is perhaps Krakow's most pervasive quick-eat option: an open-faced baguette topped with melted cheese, mushrooms, meat and a variety of toppings. In the center square of Kazimierz they can be found numbering in the dozens, perched delicately atop shaky hands before gradually disappearing into hungry mouths. By the time you've finished it, you'll barely be able to keep your eyes open.
If you're like me, an epic day in Krakow will conclude with a nightcap at a small bar with a few regulars. One of them might tell you that he is a local celebrity and insist that you take his picture. He'll wear sunglasses indoors and have a beard as long as the Polish winter nights. That one drink might turn into two. The language barrier will be wide but the conversation will be un-interrupted. To find such a place I can offer no recommendation.
Related