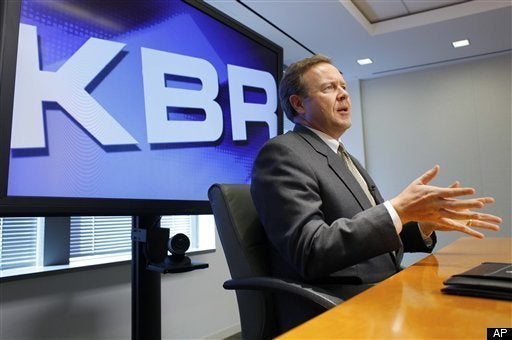 One of America's largest military contractors was granted immunity from harming soldiers and civilians in Iraq.
As a result, taxpayers may be on the hook to pay more than 150 military veterans who claim that a Halliburton subsidiary knowingly exposed them to cancer-causing chemicals in Iraq, reports the Oregonian.
The recently disclosed agreement -- in which contractor Kellogg Brown Root demanded legal immunity in return for taking over a $7 billion oil project in the war-torn country in 2003 -- emerged in a recent deposition filed in Portland federal court. The deposition was taken during a lawsuit against KBR in which 26 Oregon National Guard soldiers claimed they suffered health problems through exposure to hexvalent chromium.
Either the Army cover the potential cost of any soldier or civilian killed or harmed on a KBR project - or the defense contractor would not carry out its no-bid contract restoring Iraqi oil.

KBR has already hit up the Army to reimburse it for court and potential liability costs, a lawyer for the contractor told the court.
The troops in this case were patrolling a water treatment plant near Basra, and they claim KBR downplayed the presence of hexvalent chromium, a rust-fighting powder which has been linked to an increase in lung cancer, stomach, brain, renal, bladder and bone cancers. In total, troops from four states and Britain -- including at least two who died of cancer and 140 Indiana National Guard veterans who have filed a similar lawsuit -- claim that they suffered health problems as a result of their exposure to the powder.
The Pentagon is currently researching whether other contractors have similar legal immunity deals, according to a letter from an Army official to Rep. Earl Blumenauer (D-Ore.), who demanded answers from Defense Secretary Robert Gates in response to the Oregonian story.
Contractors that put our servicemen and women, as well as innocent civilians, at risk should be held accountable. I am deeply concerned that the Department's contracts appear to leave the U.S. service members doubly exposed: first to the unsafe environment created by these contractors, and second as taxpayers potentially paying for the legal defense of the very contractors causing harm.
In court, KBR's attorney Raymond Biagini said that the contractor should be immune from liability because they were essentially operating as a combatant in war zone, doing work that the military used to do.
In the past, KBR has insisted that the chemical was left by Iraqis and that KBR's testing found no long-term health risks associated with "the soldiers' brief exposures."
Though several KBR officials, along with U.S. military officials, have been charged with bribery and money-laundering in Iraq contracts and the contractor has been cited for wasteful spending, KBR was awarded a new contract potentially worth $2.8 billion from the Pentagon earlier this year.
Calling all HuffPost superfans!
Sign up for membership to become a founding member and help shape HuffPost's next chapter