On October 21, 2008, I issued the following edict on my blog: "Boring, bearded bands of the world, beware: Perfect Symmetry shall mark the beginning of the end for droning hipster angst!"
Three people read that blog post; one laughed. Nobody shaved.
Maybe I overreacted to the American indie music scene's abundance of whiskers, ironic T-shirts, and sad-sack cynics disguised as Nick Drake and Gram Parsons wannabes. But I just knew in my heart that bouncy melodies were about to make a comeback, and that the fresh-faced British pop-rock group, Keane -- creators of the aforementioned synthesizer-filled Perfect Symmetry and purveyors of the deliciously forlorn 2005 hit "Somewhere Only We Know" -- would achieve arena-sized stateside superstardom soon. That hasn't happened yet, but it won't stop me from proselytizing about Keane's latest EP, Night Train (which swiped the top spot from Lady Gaga this May on the UK charts and recently landed at #25 on the Billboard 200), or shouting to fans of the band's graceful hypermelodicism, "Get thee to the Greek Theatre and see Keane this Wednesday night!" (Hey, you, on the iPhone 4 in Laurel Canyon, can you hear me now?)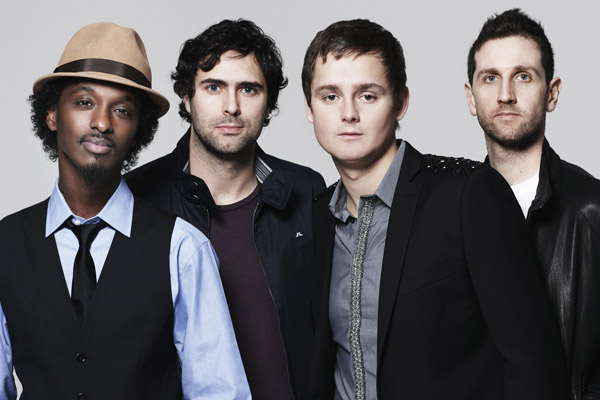 Keane -- one of my all-time favorites -- is on Yankee soil through August 14, touring to many major U.S. cities in support of Night Train. But before I link you to my recent conversation with songwriter/keyboardist Tim Rice-Oxley re: the setlist, train travel, charity gigs, and the band's collaborations with Somali-Canadian rapper K'Naan (pictured at left, with the band), I need a few more sentences to explain why I'm so torqued-up: I've never seen Keane live.
In my own defense, I have logged thousands of miles on treadmills and trails while listening to "Everybody's Changing," "Crystal Ball," "The Night Sky," and "The Lovers Are Losing" on my iPod. Even before Paris Hilton introduced the band on SNL in 2005, I pondered every word on Keane's debut, Hopes and Fears; I drove around in my car with Under the Iron Sea on repeat; and the moment I downloaded Perfect Symmetry, I laughed in amazement at the brashness of its sound (thanks in part to producer/guru Jon Brion). So, it was no surprise that, upon its release just weeks ago, Night Train would stake an immediate claim to my headphones -- and my heart. The EP ranges from a remake of the Japanese kitsch-pop tune "Ishin Denshin (You've Got to Help Yourself)" to another one of Rice-Oxley's perfectly-composed ballads, "My Shadow," which showcases singer Tom Chaplin's ever-more-nimble tenor and a recurring piano riff just as memorable, if more subtle, than the one in Coldplay's "Clocks."
When it comes to Keane, most music lovers have an opinion: detractors think they're too fey; fans think they're the next biggest band on earth. (Can you tell I'm a fan?) Yet, comparisons to the likes of Coldplay -- and even U2 -- aren't exactly accurate. There is an absolute lack of pretense about Keane that eludes bombast, which works in the band's favor most of the time. When Chaplin sings, "Just shine a light on me, I'll shine a light on you" (in "My Shadow"), there's a sense of intimacy between lyric and listener; he's not singing it to a world of stadiums, he's singing it to you. Nor is the band above having good, clean fun. Who else has the guts to blend synths, choir-boy Britpop and rap ("Looking Back"), driven by a modified sample from the Rocky theme song?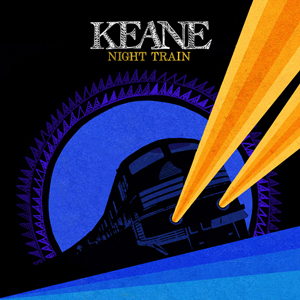 There's no denying my increasing love for Keane's earnest lines and unshakable choruses is the result of the band's evolving sound, but it's also a product of my unrequited desire to see them perform live. Even in our interconnected, digital world, oceans are wide -- which means, in this economy, English bands aren't swinging through my town yearly like they used to, especially those (i.e. Keane) who prefer train travel to airplanes. I was all set to go their show in 2006, when Chaplin left for a health reboot (aka rehab) and the Under the Iron Sea tour was canceled; before that, two other opportunities to see the band were thwarted by a sinus infection and a family trip. So, I've got a drawer full of unused Keane tickets. But, by all means, you go see them. And here's to hoping I won't have to spend five more years replaying this random video of Keane at the Tabernacle in Atlanta and being jealous of this guy and his two friends as they high-five their way through short clips of "Bend and Break" and "Snowed Under." Absence makes the heart grow fonder, but the same must hold true for ears, too.
Below, the official video for "My Shadow," made by one of Keane's fans:
Photo courtesy of Big Hassle
Calling all HuffPost superfans!
Sign up for membership to become a founding member and help shape HuffPost's next chapter