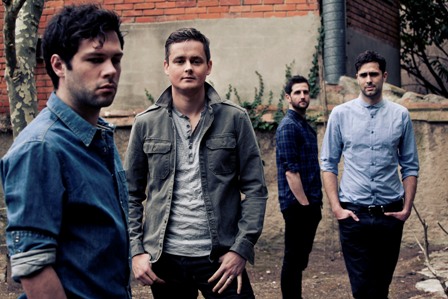 Photo: Alex Lake
Their first album, Hopes & Fears, spawned the epic hit "Somewhere Only We Know" and other standouts that packed an emotional wallop and charmed the pants right off of us (well, not literally). Their second effort, Under The Iron Sea, came across far more darker and deeper -- a direct result of lead singer Tom Chaplin battling his inner demons. Their last album, Perfect Symmetry, lightened the mood a bit and unleashed some infectious pop on our candy asses. Long-winded opening sentences and inappropriate use of wrestler The Rock's catchphrase aside, Keane is back with their fourth release Strangeland after a near four-year hiatus.
"I don't know what happened to those four years, it's scary," said Tim Rice-Oxley, the band's keyboardist. "I guess we toured Perfect Symmetry for quite a while, then we did an EP which grew into something a bit more than we had expected and led to more touring ... then Jesse (Quin -- the band's bassist) and I did a little side project called Mt. Desolation, [and] I spent a long, long time writing songs for this album. I wrote 82 songs to get to the 12 good ones. There was a bit of baby making along the way, too."
Keane, which also features drummer Richard Hughes, are currently on the road in support of the album, and knowing them, will probably continue to tour for the better part of the next year. In any event, Rice-Oxley had a lot more to say about Strangeland (sorry, no more on said "baby making") in an interview last week. Read below, and try to enjoy something in life.

Q: How'd the title of the album come about? How strange do you guys get on this album?
Pretty much the first song I wrote for the album was called Strangeland -- I got the title from a Tracey Emin book -- and it was about two lovers setting off on a big road trip, chasing a dream, and things of course not turning out how they had planned. That simple thought set me thinking about my own journey through life and trying to make sense of where I've got to, where I'm going, where I've come from and all that stuff you start pondering when you're deep into your thirties! And that's basically what the album is about.
Q: What's the general tone of the album would you say? The last album seemed a lot lighter than the one before it if you don't mind me saying.
I would say it's pretty philosophical and very personal. I think the last album was sonically lighter, and that distracted from what were actually fairly heavy lyrics for the most part. We wanted to make sure that this time the sounds and textures really complemented the story of the lyrics, and the lyrics are mostly a little more hopeful than before. I suppose a lot of the songs are basically me telling myself to try and navigate life with a modicum of grace.
Q: The four of you have been together for quite awhile -- how have you grown since Hopes & Fears?
God knows. I think the only thing of value I've learned is that I know virtually nothing about anything, and am far more of a flawed human being than I had previously hoped! But that's not such a bad feeling. As a band I think we're generally more respectful of each other and don't expect each other to be the way we were when we were 17, which can be hard to accept sometimes. And we're actually starting to be quite good musicians at last, which you would expect after 600 or so gigs. We're such total amateurs.
Q. You're about to go out on tour again ... tell me some pros and cons on this?
I love touring. I love the traveling circus. I love playing shows, it's always nervewracking and always a buzz. I love the feeling after a show when you can crack open a beer and talk nonsense, especially when we're on the tourbus -- that's always a great time. There are almost no cons really. I'm terrified of flying so that's the big one.
Q: Do you all still get along well together? If not, spill the beans right here and right now!
We get on pretty well most of the time. We're just like any family really, a bit dysfunctional, always a bit of a minor soap opera going on somewhere just to keep things interesting. We spend an unnatural amount of time together, so when things are good they're great, and when things are bad you feel a desperate need to escape the family unit, or slam a few doors or set fire to the house or whatever. All the normal stuff. Either way we keep shambling along, trying to get better and make better music in the hope of one day stumbling across something that can stand alongside the music of our heroes.
Q: Last question and totally off topic, can we pretend that airplanes in the night sky are like shooting stars?
If it makes life fractionally more interesting then go for it. I wouldn't invest too much time in it though.
Calling all HuffPost superfans!
Sign up for membership to become a founding member and help shape HuffPost's next chapter