Keanu Reeves may not be on your wedding guest list, but don't be surprised if he shows up anyway.
Just like Bill Murray before him, the "John Wick" star seems to have a very impressive knack for turning up unexpectedly at strangers' weddings.
On Saturday, the most chill dude in Hollywood took a quick picture with Jarrod Camara and Leslie Walker just before they said "I do" at the Dream Inn in Santa Cruz, California. The pic quickly shot up to the front page of Reddit on Monday, and it's not hard to see why: Have you ever seen Reeves showing this much emotion?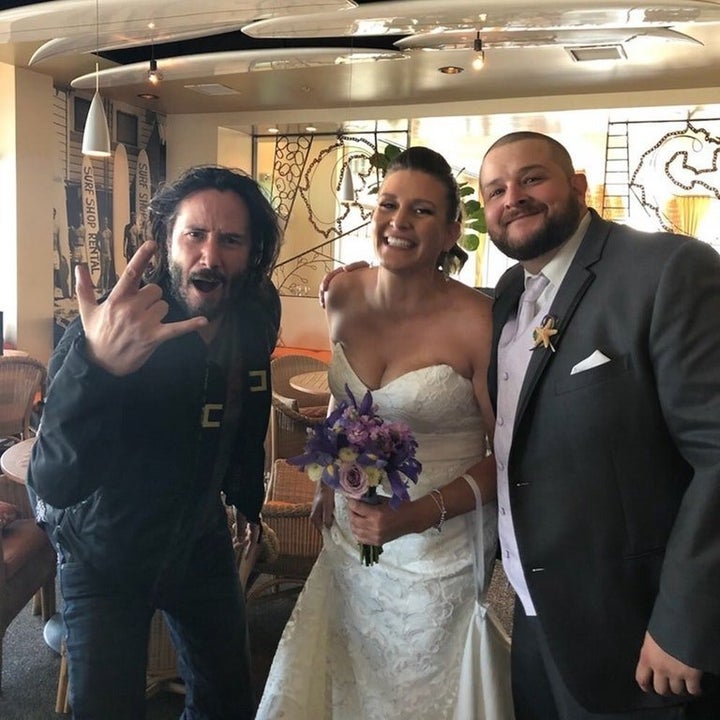 Jordan Camara, the groom's brother, told HuffPost that the wedding party spotted Reeves downstairs at the hotel's bar. The group couldn't resist asking for a pic, and apparently, the actor couldn't have been nicer.
"My brother went over and Keanu got right up and shook everyone's hands and then did that awesome pose for the picture," Camara said. "He was just as calm and cool as you would think he'd be and he was happy to take a picture with them."
"It was really just a couple minutes right before the wedding but it made the bride and groom super happy right before they tied the knot," he added.
It wasn't the first wedding photo in which Reeves has appeared recently. Last week, a photo the actor took with another happy couple getting married ― this time in New York ― made the rounds on Twitter:
Kilt or no kilt, Keanu is always appropriately dressed for a wedding.
It's worth mentioning that the actor has been busy promoting his new rom-com "Destination Wedding." Could these Reeves-in-the-wild moments turn out to be publicity stunts for the flick? Possibly, but we don't really care, as long as he keeps doing it.