As the Speed and Matrix actor turns 50 today, High50's Alexa Baracaia explores how the actor went from teen idol to critics' target for both his acting and his movies to All-Round Good Egg.
But, heck, who is? So we'll dispense swiftly with the snarky stuff, if you don't mind.
"I can't think of an actor who could use a brain implant more," scoffed Entertainment Weekly of 1995's Johnny Mnemonic.
And let's be frank, when we first lined up Keanu alongside his contemporaries (Johnny Depp, Christian Slater, River Phoenix), that curiously inexpressive mush and Labrador-ish bounce rendered him the least intriguing of the bunch.
Bill & Ted's Excellent Adventure did it for $40 million of box office cash but it didn't do it for 15-year-old me. I flounced from the cinema mid-way through, a bean burger in a shopping mall striking me as way cooler than sitting through that goofball guff.
Then came 1991's surfer heist flick Point Break, catapulting the 27-year-old Keanu into the big-time and heartthrob territory. Still didn't do it for me, but then again I used to have a crush on Brian Cant.
In recent years, however, many have been forced to eat their words. Where once Keanu's Hawaiian moniker (meaning "cool mountain breeze") provided fuel for mirth, suddenly it seems apposite now.
Johnny Depp got mid-life crisis-y and hitched up with a 27-year-old; Christian Slater over-egged the bad boy rep and got arrested for assault; and River, of course, bailed out at a too-young 23.
Keanu, meanwhile, has quietly soldiered on, acquiring an air of gravitas along the way.
He sustained life-shattering tragedy (the death in a car accident of his girlfriend Jennifer Syme just two years after the stillbirth of their daughter, Ava) and relentless rumour about his subsequent love life. Yet he's managed to remain untouched by the vagaries of celebrity. Time magazine named him "Hollywood's ultimate introvert".
Now he's turning 50 and even his harshest critics have retracted their more vituperative outbursts.
So if your early impressions were, like mine, enough to see you swerve Keanu's charms, where to look for the antidote?
On screen, take another look at Gus Van Sant's 1991 indie My Own Private Idaho. River Phoenix took the gongs, yet critics hailed both for fine performances and the two actors co-wrote the pivotal campfire heart-to-heart scene.
For AO Scott, Reeves' burgeoning talents can be seen in 1989's Parenthood, "in particular a scene [where Reeves] has a piece of business with a carton of milk that has stuck in my head for almost a quarter century as an emblem of precise and subtle screen technique".
Then there's the "hypnotic" adaptation of sci-fi novel A Scanner Darkly (2006), and the not great 2001 thriller The Gift, in which Reeves nevertheless flouts stereotype and puts in a ferocious performance as a redneck wife beater.
Reeves away from the camera
In 2012 Reeves produced and presented Side by Side, a documentary on digital film that won widespread acclaim from movie buffs.
His off-screen pursuits belie the dumbass surf dude image, too.
In 1994 he dissed a $11 million pay check for Speed II in favour of playing Hamlet at Winnepeg's Manitoba Theatre. It prompted the British film critic Roger Lewis to effuse: "He quite embodied the innocence, the splendid fury... the emotional violence. He is one of the top three Hamlets I have seen, for a simple reason: he is Hamlet."
He played a decent bass guitar for the well-received alt rock outfit Dogstar. Then there was a quietly admired literary effort as co-author of 2011's Ode to Happiness, a whimsical, humorous poetic riff on self-pity.
And who'd a thunk it but the bookish Reeves has trundled through the entirety of Proust's colossal Remembrance of Things Past? ("It took me a couple of years, but I did it.")
"He is one of the most voracious readers I've ever met," says Scott Derrickson, who directed him in The Day the Earth Stood Still. "He's very unpretentious about it... This is not just a director trying to defend his actor and say, 'No, he's not dumb.' He's fiercely intelligent."
What else? He can command $80 million a movie. But, he says: "Money doesn't mean anything to me. I give lots away and live simply. We all know that good health is much more important."
Indeed, his sister, Kim, has undergone a 10-year battle with leukemia and he has quietly founded a private cancer foundation of his own.
He waited until 40 to buy his first property, a four-bedroom, $4.5 million Hollywood Hills home, which, for a man worth $350 million, is positively parsimonious.
As for philanthropy, he's a corker, giving $75 million of his Matrix franchise salary to the special effects and design teams ("true heroes" of the project).
In 1997, grainy shots of the actor sitting chatting to a homeless man in LA came to light: an entire morning of conversation and company, for no promotion, no charity, no purpose. A true gent? It's a presumption backed by 2011 footage of the star quietly giving up his subway seat for a fellow passenger.
Hmm. There's talk of a third Bill & Ted movie. And you know what? I may just stay in my seat for that one.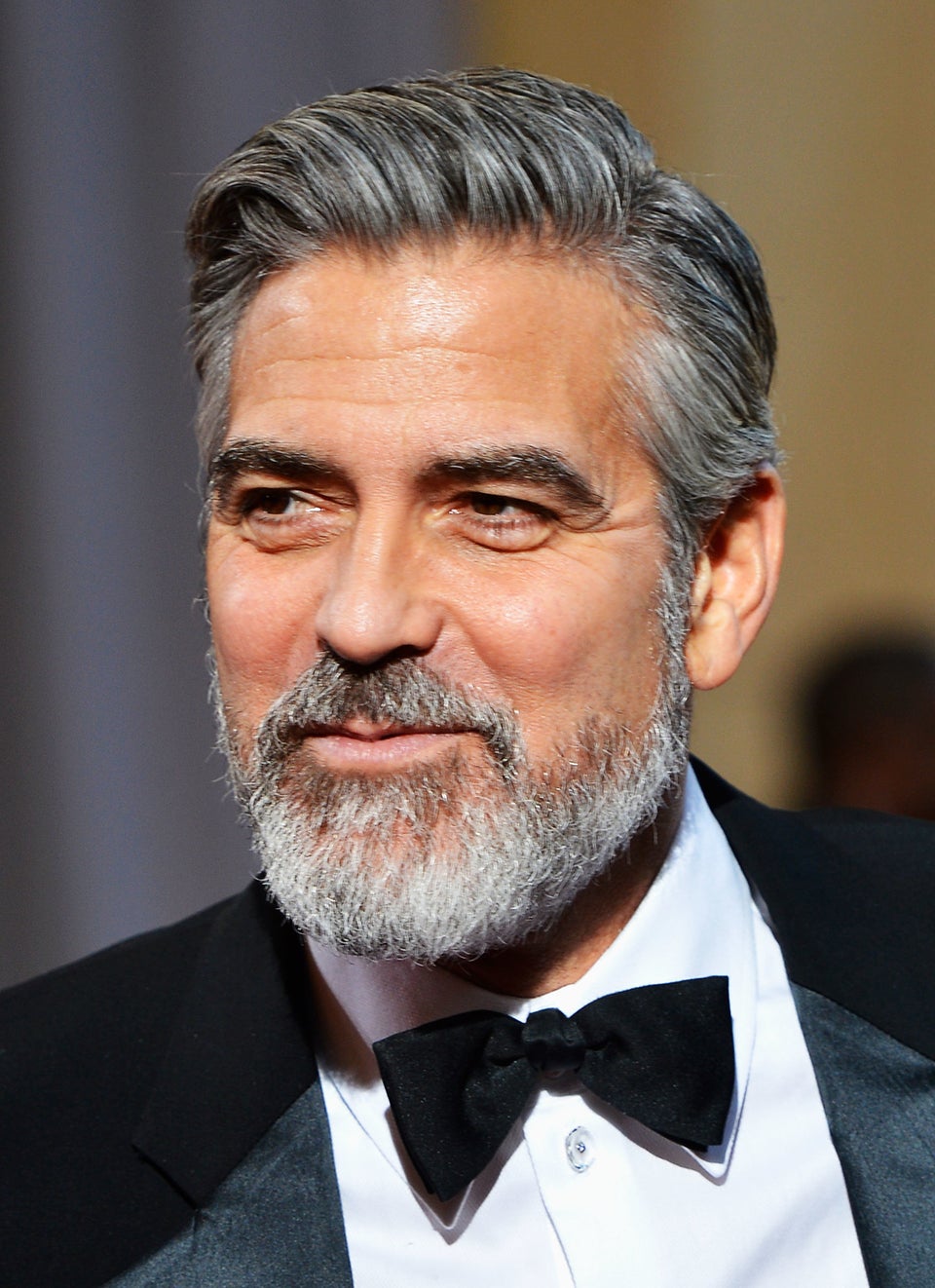 Post 50 Celeb Men Rocking Gray Locks
Related
Popular in the Community