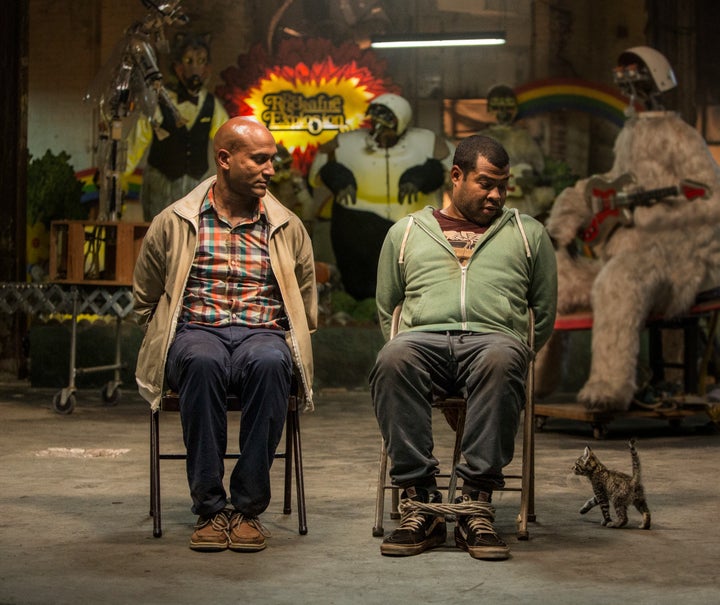 Bleary eyes be damned -- a 12:30 a.m. start time didn't stop the Paramount Theater's 1,200 seats from nearly filling up for the "work-in-progress" premiere of "Keanu" at South by Southwest on Sunday. Nor did the daylight-saving-time leap that left the Austin crowd stumbling out of the venue at nearly 4 a.m. 
Keegan-Michael Key and Jordan Peele's first joint big-screen venture follows in the footsteps of both "Furious 7" -- last year's 11th-hour surprise screening -- and "Trainwreck," which also played in progress at SXSW. This time, festivalgoers at least had a few days to plan for sleep deprivation, as "Keanu" was added to the lineup earlier in the week. But no matter: As someone who usually eschews the midnight offerings at film festivals, I am delighted to nod off while telling you that "Keanu" was worth the death knell that became this morning's alarm. 
The Twitter reactions from fellow movie journalists were a bit more mixed than I expected, given how heartily the audience took to "Keanu." But with such a convivial spirit in the theater, and considering the Warner Bros. joint opens theatrically in just over a month, it's likely the version of "Keanu" that screened is fairly close to the one that will greet the world, despite tongue-in-cheek rumblings from its two stars.
"This is the work-in-progress screening of 'Keanu,'" Peele said while he and Key introduced the film. "So if you like it, good -- that's the movie."
"If you don't like it, it's a different movie," Key said. "If you don't like it, this is just  'John Wick 2.'" (In the first "John Wick," Keanu Reeves plays a former hitman avenging the murder of his puppy.)
The duo then proceeded to toss stuffed kittens into the audience, prompting wild cheers as they joked that they'd been warned to "watch out for the sconces" in the theater.
The plush felines looked similar to the titular cat at the center of "Keanu." Depressed after his girlfriend dumps him, stoner Rell (Peele) finds himself uplifted by a kitten that curiously arrives on his doorstep. But after he and his reserved best pal (Key) go to see the latest Liam Neeson action flick one night, they discover that Rell's house has been broken into. The kitten is nowhere to be found. Desperate to retrieve him, the pair track the animal to a Los Angeles drug ring whose overlord (Method Man) has adopted the pet as his purring ruffian mascot. Attempting to win the gang's favor, Key and Peele -- we might as well use their actual names; they're not exactly playing characters -- adopt a performative version of street-savvy gangster behavior. They lower their registers, sag their pants and fabricate anecdotes about violent drug tussles, ultimately getting caught up in an extensive drug scheme in order to fetch the cat.
That gag forms the comedic backbone of "Keanu," and for the most part, it works because the script, co-written by Peele and Alex Rubens, boasts a jam-packed joke density that distracts from its somewhat illogical plotting. The movie becomes as much a subversive take on race and how we adjust our identity to fit situations as it does an uproarious farce about the misadventures of two well-meaning companions. 
Barring outstanding edits and critics who feel "Keanu" is more like a "'Key & Peele' greatest hits album," the movie seems poised to play like gangbusters when it hits theaters on April 29. As a casual fan who was not a religious viewer of their TV show, I found the jokes fresh, particularly when a popular comedic actress pops up for a twisted cameo. (Her presence leads to the story's wittiest joke. Too bad the script reverses course on it at the end.) Even if the movie gains more detractors, it is impossible not to find a lot of "aw, shucks" charm in the fur ball at its center. The audience members who left with little Keanus of their own surely did.
Calling all HuffPost superfans!
Sign up for membership to become a founding member and help shape HuffPost's next chapter
BEFORE YOU GO
PHOTO GALLERY
SXSW 2016 Preview