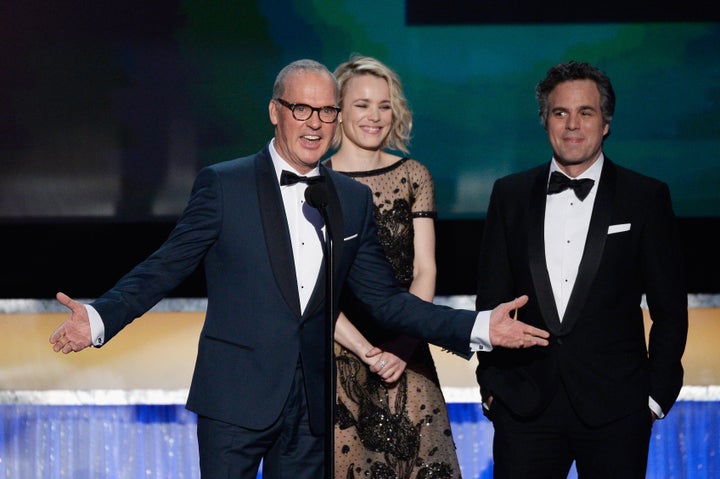 Celebrities at last weekend's Screen Actors' Guild used the stage to speak out about topics that go beyond the big screen.
Michael Keaton, who was among the winners of Best Ensemble Cast for his role in "Spotlight," dedicated the award to residents affected by the water crisis in Flint, Michigan.
"For me, personally, and I think I speak for everyone, honestly this is not only for the survivors of this horrific situation... this is really for the disenfranchised everywhere," he said. "This is for every Flint, Michigan in the world. This is for the powerless, this is for the powerful who take advantage of the powerless."
"Spotlight" tells the true story of the group of Boston Globe journalists who exposed child molestation in the Catholic Church. 
Keaton told reporters backstage at the awards show that journalists play a huge role in investigating any crisis, according to the Los Angeles Times. "There are a zillion Flint, Michigan, out there. If there had been a 'spotlight' put on that, I argue they may have been a little ahead of the situation," he said.
The 100,000 residents of Flint, Michigan can't drink their tap water because of toxically high levels of lead, a deadly neurotoxin. The city is in a state of federal emergency and nearly 27,000 children are being treated for lead exposure, according to the Detroit News. Although the water started to decline in summer 2014, officials ignored residents' complaints until a local pediatrician documented high lead in Flint children's blood last fall.
Actress Laverne Cox from "Orange Is The New Black" also used her red carpet time to sound off on the Flint crisis, and encouraged people to donate. 
"You go to my Twitter page, @LaverneCox, you can see a link to make a donation," she told E! News. "Really I think the governor should resign, but that's a whole other issue. Sending love to the people at Flint, and let's do what we can. United States people should have good drinking water."
PHOTO GALLERY
Here Are All The People Coming Together To Support Flint
Calling all HuffPost superfans!
Sign up for membership to become a founding member and help shape HuffPost's next chapter