With a rich cuisine simmered to utmost refinement to satisfy picky nawabs, Lucknow has more cafes and less chaos than many Indian cities and an architectural heritage reflecting several centuries of rule by at least two empires.
Often overlooked by tourists intent on the attractions of Northern India's "Golden Triangle" of Agra, Delhi and Jaipur, the capital of Uttar Pradesh has great political import. With a multi-ethnic population of around 200 million, issues in India's most populous state often reflect those facing the country as a whole, and eight of the nation's 14 Prime Ministers were from this region.
Lucknow developed a reputation as a center of culture and gracious living under the nawabs of Avadh, who governed when it was part of the Moghul Empire. When carnivores stop drooling over the supertender kebabs the city is famed for, they can explore some of its compelling history.
The Residency today is a kind of archaeological park, being leafy and full of cannonball-pocked ruins. Anyone interested in the British in India will want to see this complex, constructed in 1800 for the Resident General, and thought to be where the beginning of the end of the Raj began. It was the arena for the 1857 First War of Independence, the Siege of Lucknow that lasted 147 days and claimed thousands of lives.
Another fanciful remnant of the Raj is La Martiniere boys' school, an exotic confection where over-embellishment is an understatement of its wealth of decoration. Built as a palace and harem by French Mercenary Major-General Claude Martin, his tomb is in the basement while hundreds of boys ignore tourists beneath the festooned and garlanded walls of the library.
The Old City is where pre-British history lives. Majestic Islamic gates announce entry into another world of small lanes and decaying palaces. The Bara Imambara is an atmospheric and architecturally ambitious tomb of a Shiite holy man, which incorporates a mosque and gardens. The upper floors of the tomb are a labyrinth of passages, designed to thwart intrigues and challenge visitors.
Moving into the newer part of town, Ambedkar Memorial is the flawed but fascinating vision of former Uttar Pradesh Chief Minister Mayawati, who spent an estimated seven billion Rupees (US$126 million) commemorating the achievements of the Dalit, or "untouchable" class. In particular she celebrates (along with a few handbag-clutching statues of herself) the late Dr Bhimrao Ambedkar, a Dalit whose brilliance and appetite for study led him to be India's First Law Minister and an advisor to Jawaharlal Nehru, India's first independent prime minister.
I explored the memorial in the company of Surendra Rajput, a local businessman and political analyst who has spent his life in Lucknow. He is very social, in fact anyone who reads this and would like to contact him to chat about the city can email him.
The memorial's pink domes can be admired from the equally scenic pool of the Lucknow Taj Vivanta, arguably the best hotel in the metropolis, and a supremely comfortable base. Though only completed in 1995, the architecture incorporates Colonial and Mughal influences, with 22 acres of gardens for walks and birdwatching.
Lucknow's kebabs are more varied and complex than simply chunks of meat to be chewed off a skewer. While at the Taj I am fortunate enough to sample 'velvety' Awadhi cooking enjoyed by the nawabs in the company of Nagendra Singh, executive chef at the hotel.
"I was new to this cuisine but I became infatuated with it," Singh said, explaining that its name is taken from what the region was known by under British rule. He also presides over the British institution of high tea with both English and Awadhi menus.
According to Singh, dried fruit and nuts, cashew nut paste, onions, yoghurt and flavors such as cardamom, mace, cumin, saffron, cloves, cinnamon and rose water distinguish Awadhi dishes, along with its soft textures. This food is perfect for anyone with gum problems, as he urged me to try silky chicken, pillows of fish and a lamb kebab you could eat with a spoon (apparently cooked for a nawab with no teeth).
None of it required much chewing; it was all smooth textures, tender flesh and creamily spiced sauces. Meat for the kebabs can be marinated, tenderized or ground before being formed into patties for gentle frying or placed on skewers for slow roasting over charcoal.
Singh, who has cooked for Michelin-starred chef Gordon Ramsay, can make a kebab out of almost anything: figs, spinach, banana ... "I could give you different kebabs every day for ten days!"
He has also been busy looking for "lost recipes of the nawabs". I tried an almond and chicken soup, followed by a korma whose base was fried onion ground with yoghurt, then spiced and combined with lamb and eaten with cashew naan. This is labor-intensive, slow-cooked food, served with buttery, flaky breads, some flavored with herbs such as mint.
Not that I had any space, but a dessert platter comprised a cushion of "royal leftovers", a milk pudding with its garlic "cooked out" and a delicate cake of superfine noodles and saffron, dried then finished with butter and sugar syrup.
In this complex cuisine, each dish has a story and a particular cooking method, but you can "put yourself in the hands of the chef" and he can put together a taster menu.
Of course 'tasting' Lucknow is about more than satisfying the palate, but that is an excellent place to start.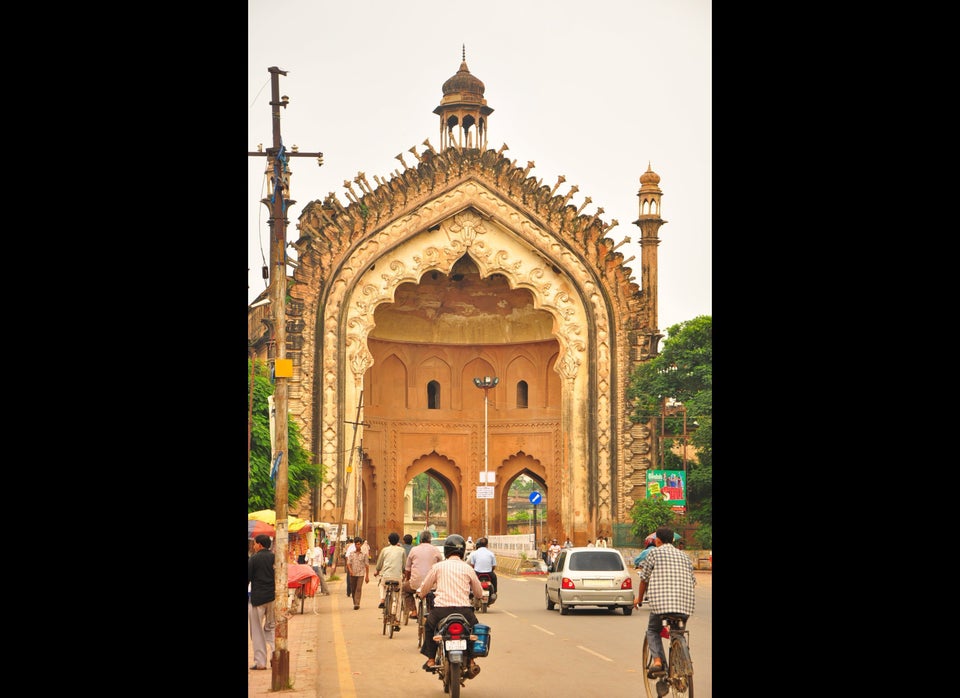 Layers of Lucknow
Related