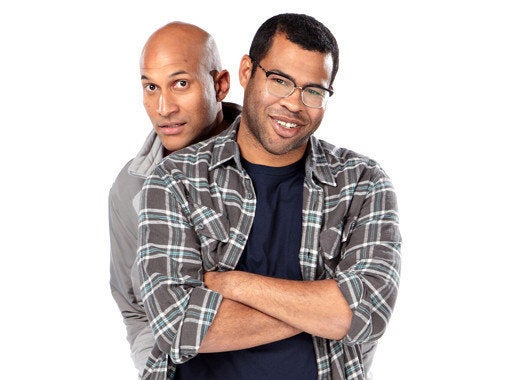 To celebrate the recent news that his hilarious Comedy Central sketch series Key and Peele has been renewed for a third season, co-creator/star Keegan-Michael Key joins What's Trending to talk about how the show got started, getting to meet President Obama and bringing sketch comedy to YouTube.
Since that fateful day ten years ago when Key met Jordan Peele, his star-crossed partner in all things comedy, while auditioning for MadTV, the two have been working together on industry projects. When they were offered their own cable TV show in 2011, it's no surprise that they jumped at the chance.
Now, with two seasons under its belt, Key and Peele has not only proven to be a Comedy Central hit, but it's also enjoyed breakout success on YouTube.
"That's the most exciting thing about the show," Key says, "is how the presence online -- how is that going to affect what we do in the future?" Since watching by appointment has become obsolete and watching sketch comedy can demand re-winds of certain key moments and quick jokes, Key agrees that his show represents a crucial and inevitable transition from traditional to new media.
"Without even knowing we were doing it, we were writing sketches for the Internet!"
A significant part of the show's can be attributed to Comedy Central's willingness to let the actors run with their ideas, no matter how out-of-the-box they may be. "They've exercised a lot of trust," Key assures us.
In the digital space, Key and Peele also engage with their viewers by role playing as crazy YouTube commenters who mock their own show by offering absurd advice on how to make it better.
When asked about his comedy idols, Key is quick to name Peter Sellers, Richard Pryor and Martin Lawrence, whom he deems "the black Jackie Gleason." "He was one of the first African-American comedians who really allowed himself to be the butt of all the jokes in a show," he says of the trend-setter.
Key also takes some time to give us the inside scoop on the Internet's favorite Key & Peele sketches. For example, the viral Obama Loses his SH*T video was inspired by the president's need for surrogate mouthpiece. Obama even saw the sketch and met the comedy duo a few weeks after their scene went public. "I need Luther," Obama told Key. "It's gonna have to wait until second term, but I need him."
For all of your YouTube exclusives and interviews with today's hottest celebrities innovating online, subscribe to What's Trending and join us LIVE every weekday at noon pt/3 pm est on YouTube.
Related
Popular in the Community