An 80 meter long "Keep It In The Ground!" Red Carpet was rolled-out earlier today by Pacific Climate Warriors welcoming German Chancellor Angela Merkel to the climate negotiations in Bonn (COP23). This Red Carpet is less plush than ones typically rolled-out for dignitaries and celebrities. But, its texture is rich in the diverse colors of multihued cultures while issues of social, economic, and environmental justice are deeply woven into its moral fabric.
The Red Carpet rolled-out for Merkel is similar in purpose to the Red Line for Climate Justice unfurled down the Avenue de la Grande Armée at COP21 where leaders from around the globe adopted the Paris Agreement. The moral Red Carpet in Bonn addresses dirty coal, imploring Merkel and negotiators to "Keep It In The Ground!" The relentless transfer of carbon from coal to the atmosphere is a clear and present danger for Pacific Islanders.
George Nacewa, a Pacific Climate Warrior from Fiji said, "Germany's coal poses a direct threat to Pacific Islands and our people. Germany needs to phase out coal immediately to keep global temperature rise below 1.5C and give us in the Pacific a fighting chance for survival!" Fiji serves as the host country for COP23 while Germany provides the venues. Germany's greenhouse gas emissions from coal directly contribute to rising seas in the Pacific. George said, "We're not prepared to let the fate of the Pacific be determined by politicians that put profits and polluters before people."
As the banner was being unraveled for the demonstration, the Global Director for 350.org—who hails from Egypt—told me, "This is a moral and political emergency. Fiji is already impacted by the coal projects here in Germany. There is no way to keep the Paris Agreement relevant except by keeping coal in the ground. Our message for Merkel is to demand a coal free Germany."
Maike Pilitati from the island nation Kilibati said, "We are here to send a message to the Chair of the negotiations. We are all from the Pacific Islands. We need to keep fossil fuels in the ground, not to add more [carbon to the atmosphere]."
I ask her what she would like to share about her country.
"Kilibati is a wonderful country," she stated with pride. But, she expressed deep concern, "It is only two to three meters above the sea. We are so vulnerable to sea level rise. When the king tides come, they are very strong. When disasters [like hurricanes] happen to our neighbors [in other parts of the world], we living in the islands [feel the impacts]."
Maike talked about being battered by "big waves and strong winds like I've never experienced before. We have our own westerly winds. Today we are witnessing [changes]. They just wash over the islands."
A Pacific Islander from Tonga, Joseph Sikely said, "The Red Carpet represents a Red Line we cannot cross. Many politicians are coming here. [They must work to] phase out coal. We need leadership. Our life [in Tonga] has pretty much changed; the weather, coral reef bleaching, acidifying the ocean waters. Food security is our biggest problem. Waters are our living."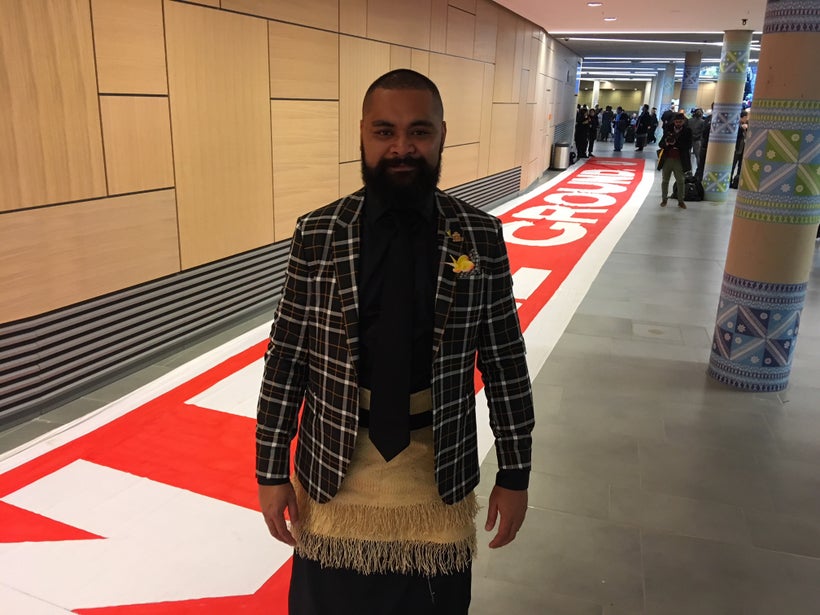 He too expressed deep concern that "My village Nuku'alofa will be gone in 50 years. Our island is only 2 meters high in parts, 10 meters on other parts."
Litia Maiava from Tokelau said she is from "the smallest island in the world. We have only corral, no mountains. She informed me, "Tokelau was the first nation in the world to move to 100% renewable energy in 2014. Every home is solar powered. Our total population is only 1,500 people on 3 small islands."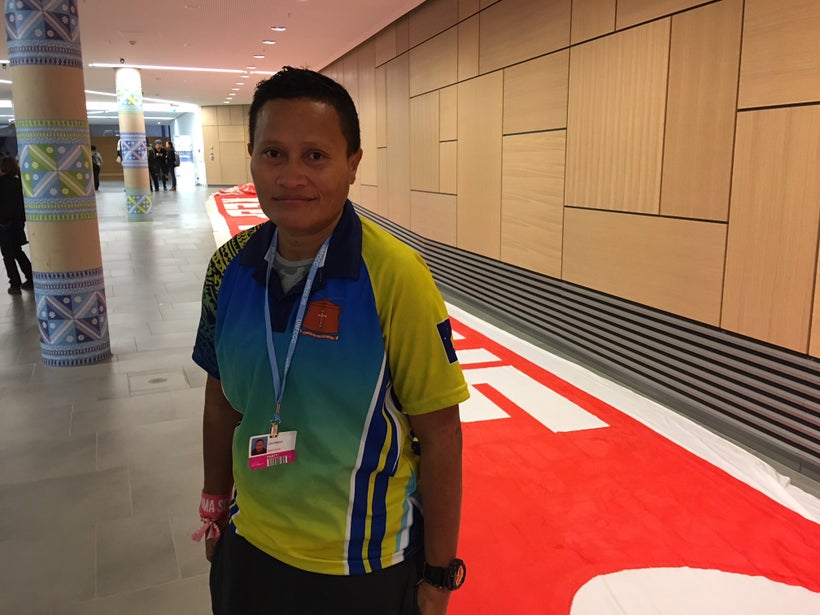 Litia told me a "Very sad story." She said, "In 2005 was the first time I experienced a hurricane. It almost took the life of my mother. Fortunately, I was able to save her." Like all of the others, she voiced deep concern for the rising waters. In the case of Tokelau, it is a grave situation. "We will be the first nation to go under water."
She talked about the situation of becoming a climate refugee. "Our island is wonderful for us. They tell us that we can move to New Zealand or Australia. We don't want to become climate refuges."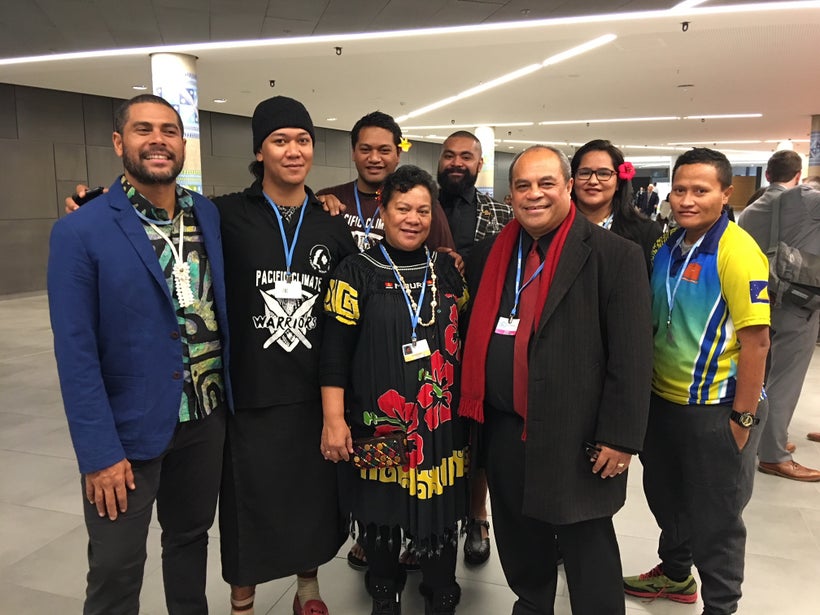 Tokelau is one of the 15 island nations that form the Pacific Warriors. Litia said, "Climate change effects our life, our food, everything. My question to big nations is, if Tokelau, the smallest island in the world is the first nation to go 100% renewable, why can't the whole world do the same like us. Why can't they move to 100% renewables?"
Litia's comments speak pointedly to all of the negotiators gathered in the closed meeting rooms above, "If Tokelau can do it, why can't they?"
Calling all HuffPost superfans!
Sign up for membership to become a founding member and help shape HuffPost's next chapter
This post was published on the now-closed HuffPost Contributor platform. Contributors control their own work and posted freely to our site. If you need to flag this entry as abusive,
send us an email
.