Have you ever had a bad day or a lengthy rough period in your life? At times, have you felt as though you are too fragile for the world and that everything around you is crumbling? Sometimes a thoughtful word, gesture, or action by another person can give you the strength to press on during hard times.
Kindness is often the single greatest remedy to many of life's battles. ABC Family Make it or Break It star Josie Loren is reminding people to open their hearts to kindness and to pay it forward through her Keep It Kind nonprofit. This charitable organization encourages individuals to be kind and uplift others. Loren desires to insert small forms of compassion into a society that is often filled with despair and misfortune.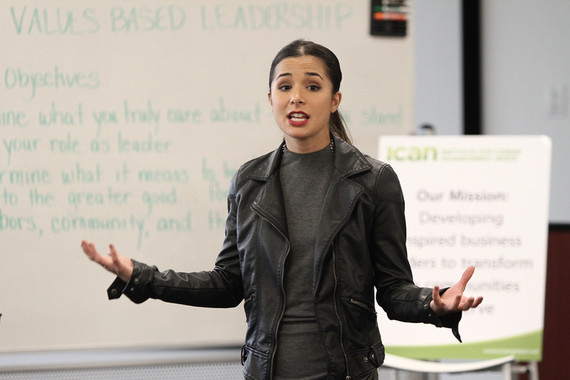 Caption: Josie Loren Speaking at TD Ameritrade New Jersey Headquarters. Photo Credit: Susana Capra/Capra Photography
Last year, Loren noticed that her 12-22 year old fan base was looking for mediums to become involved in the charities promoted by their favorite celebrities. Unfortunately, these young people did not have the financial autonomy to donate funds to these nonprofits. Loren believed that they too could make an impact without financial contributions but through small acts of kindness. As a result, she asked her Twitter followers to "do something kind today and let me know about it." This tweet spawned a huge response and gave birth to Keep It Kind. Loren's influential work is proving that young people have the power to change the world through humanity.
Additionally, this organization provides a platform for members to do kind acts and publish blogs about the impact it had. Loren says, "[Keep It Kind] encourages people to do those kind acts and to tell us about it. You really can give back by simply being kind... it really is that easy."
Recently, TD Ameritrade has joined Keep It Kind through the launch of the Rainy Day Notes initiative. This program creates a platform for employees to write inspirational notes and exchange these letters of encouragement with staffers working in offices around the country. In early October, Loren reintroduced this project to TD Ameritrade offices in New Jersey. As staffers opened these cards, their eyes lit up with excitement at the thought that someone thousands of miles away cherished their work.
The efforts of this organization are crucial in transforming what public service looks like by showing others that you don't need money to make a positive contribution to society. The greater essence of kindness is that it can be passed on and its ripple effect is immeasurable. Choose to commit to kindness by supporting Keep It Kind and creating your own small act of kindness today.
Popular in the Community