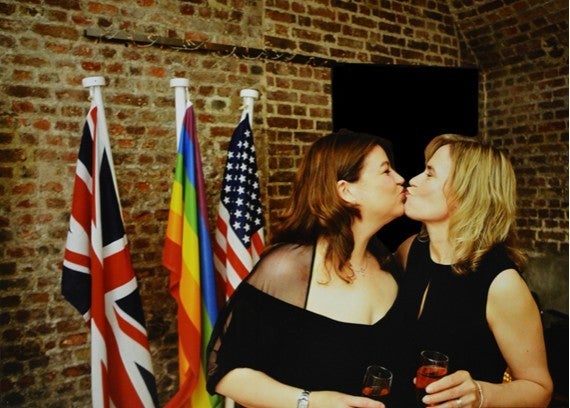 When I sang the wonderful and profound words of Joni Mitchell, "Tears and fears and feeling proud, to say I love you right out loud," to my wife Laurie on our wedding day, they held so much meaning for us and still do! Nothing and no one will ever change that!
As a bi-national, British/American, lesbian couple we have faced more than our fair share of prejudice, learning to deal with it head on, with heads held high and LOVE filling our hearts. We are now in a time where we are met, almost daily, with new anti-gay legislation across the states but here's how we stay positive.
Number one, we LOVE each other with everything we have, never a day goes by when we don't tell one another just HOW much. We know that there are important battles to be won, but we also believe that most Americans are accepting and do not believe in discrimination, we know those that don't protest loudly, but are fortified by those who support same-sex marriage even louder. We are lucky to live in the town of Somerset, in Massachusetts, which has always welcomed us. All our neighbors, past and present, have shown us nothing but complete acceptance. When Laurie and I decided to film a short about our fight for human rights, the high school agreed to let us film there, thanks to Lori Belche, and local businesses supported us by donated food for the cast and crew. Last year we were even chosen as one of five couples who make Fall River (our nearest city) a greater place, which made us feel much appreciated. We are lucky.
We are surrounded by people who are not afraid to show their support for us and the LGBTQ community. This week we were nervous of the impending "Religious Liberty Executive Order" (signed by Trump on Thursday). Immediately friends jumped to our defense, sending messages of support, one posting this on Facebook "Your marriage is in NO way, shape or form threatening or discrediting heterosexual marriages like mine. It's absurd that you're still fighting for equality in 2017!" We are grateful.
Over the years, we have been advocating for human rights, we have always taken heart in all the support we have received, it's what has kept us motivated to be visible, proving our LOVE is withstanding. Our LOVE is important to share because it helps others feel their LOVE is important too and not something to hide. This morning we heard from an LGBTQ friend and ally in Australia "I hope you ladies win this fight, it's not easy I know but you DO have the willpower to do it and you will win, we need someone like you here in Australia for the gay community, so we can have the same marriage rights as straight people, a right that we're still having to fight for, even in 2017."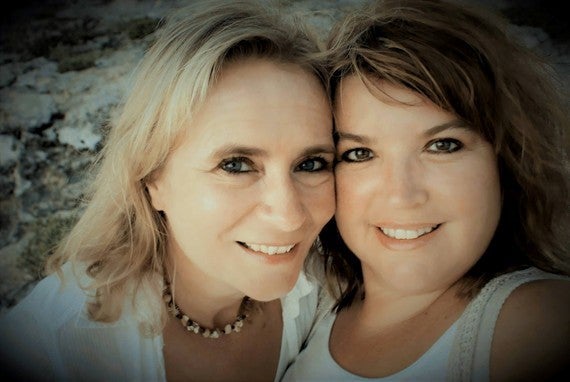 If there is one thing we'd wish to achieve it is to make others feel in-powered, instead of letting bigotry get you down, let it inspire you to LOVE LOUDER, reach out to other folks like us, be a part of the LOVE movement, telling your LOVE story could help someone else. This year we are going to re-new our wedding vows in picturesque Provincetown and be a part of Bride Pride and we are so excited about it! We originally married in July 2006 in Massachusetts, where it was recognized by the state but not federally, now this time it will be different, our marriage is recognized and is equal and we will keep doing everything we can to make sure it stays that way!
Calling all HuffPost superfans!
Sign up for membership to become a founding member and help shape HuffPost's next chapter