As Thanksgiving approaches and we prepare to make a family feast, our tenth in the lovely dining room at Lyman House -- the home built long ago for one of my predecessors -- I think of how it is we landed in this place and of the advice Seth, my husband, gave me once, long ago, which has helped make hard spots easier.
Go West, young family! Possessions loaded, we left Manhattan for Cleveland in the middle of June 2004. Seth, Miranda and Cordelia, ages 11 and 9; an elderly cat, a small dog and a hermit crab were loaded in the mini-van. I, eight months pregnant, flew to Ohio to meet them.
I had been offered my dream job -- Headmistress of Laurel School, an all-girls' school in Shaker Heights. As I approached my final interviews for the position, we discovered that I was expecting, in my mother's euphemistic term, "a late-life bonus baby." Tearfully, I asked a mentor if being pregnant meant I had to forsake this incredible opportunity. Briskly, she reminded me that pregnancy was not a disease, that I could be as good a school head with a newborn as I could be without. When I accepted the offer, I said to the Board Chair, "Yes, and there's something I need to tell you." Without missing a beat, the Chair asked, "Are you pregnant? Another baby for Laurel!" I knew this was the right school for me.
Despite a history of miscarriage, remarkably, I stayed pregnant, and as my belly grew, we tried to figure out how to conclude two decades in NYC and start a new life in Ohio. I had been at Chapin, a school I loved, for 20 years. My husband, too, was a teacher. Our friends were, largely, in the city. Our daughters' lives were New York lives -- Carl Schurz Park, Town School, Mommy's plays at Chapin, the 6 train, gymnastics at the Asphalt Green, the 86th Street Crosstown bus, Chinese food delivered to our apartment door in minutes. Moving meant saying goodbye to their best friend, Ariel, and to our babysitter, Joanne, who had cared for all of us before Cordelia had been born, to the doormen at 80 East End. The girls were supportive of their mom but anxious, too. We were all leaving a rhythm and life we understood.
And still... we moved. But not all at once. Long before the baby or the job were known to us, we had committed to running another season of the Ensemble Theatre Community School, a residential summer theatre program in Eagles Mere, PA, that Seth and I had founded in 1984. The program began at the end of June, which gave us two weeks to get organized in Cleveland before welcoming our new crop of young actors.
I met the moving van in Cleveland and we unpacked, setting up house in a fashion. In my new office at Laurel, I tried to imagine what it might mean to run a school. There were parents to meet and decisions to make. I moved through those two first weeks in a haze, trying to look professional in floral maternity tents. At the end of June, my dear friend, Meg, drove me to Eagles Mere where The Fantastiks and The Royal Family took shape. I lumbered to Sonnet Class, urging students to love the words, to make big choices, and hoping, if I sat on the floor, there would be someone nearby to help me get back up. Our oldest daughter swam the lake at the start of Sports Week. I trundled to the edge of the dock to watch her finish. Like a figurehead on the ship's prow, my belly led me. It was hot. I was huge but happy.
One Sunday night, contractions began. We phoned our doctor, who said, "If you don't want that baby born in New Jersey, you need to come now," so we kissed our sleeping daughters and hurtled through the darkness on Rte. 80. As we crossed the Delaware Water Gap, the contractions stopped. The next morning Dr. Gubala suggested we linger in Manhattan. I passed the time having a pedicure. Later in the evening, while Seth and our niece watched Ocean's 11 on a tiny TV, I paced the apartment, breathing through persistent contractions. Eventually, Benny, our favorite doorman, produced a cab in the driving rain, and Atticus, a no-drug VBAC, arrived just before midnight. He lived in NYC for 72 hours; then back we went to Pennsylvania to his sisters, his grandmother and aunt and a whole summer theatre program, all of whom waited to greet him.
A few nights later, Seth took our girls to the movies as a treat. My new son nestled in my arm in my grandmother's spool bed. Dreamily, I looked out the window at the dark green maple leaves, swaying on trees I had known my whole life. I imagined our new life unfolding. At the end of July, we traveled again across Rte. 80 to our new home, into that new life.
In June, ankles swollen and preoccupied with work, I had relied upon others to unpack and move us in. I knew where nothing was in my cavernous house, so much bigger than my Upper East Side apartment. I couldn't find the light switches in our new home or in the rooms of the new school I had been hired to lead. Across the parking lot I stepped each morning, smiling, taking deep breaths, as I learned to lead a community I did not yet know. We tucked my mother's own wicker bassinette into in my office for the baby, while I pretended a confidence I did not feel. The cat, disoriented and very old, began to scream at the walls and lost weight. Adaptation challenged all of us, except for Atticus, who nursed and slept and cooed, content to snuggle into any loving arms.
One September evening, after dinner, Miranda announced she needed to bake brownies for a class party. I told my husband I'd go get the mix. This was a task even I, directionally challenged since birth, could accomplish. When I arrived at Heinen's -- our local grocery store -- the doors were locked, the lights off. Closed at 8:00 p.m.? Incredulous, I put my head on the steering wheel and wept -- new job, new baby, new life -- no Duncan Hines Brownie Mix. I didn't know how to find any other grocery stores. I longed for the Manhattan grid instead of the five-way intersections of Northeastern Ohio. Soggily, I called home. In those pre-GPS days, Seth, ever patient, navigated me to the Giant Eagle, open 24 hours.
In bed that night, I confessed that I was scared we had bitten off more than we could chew. Looking out an unfamiliar window of an unfamiliar house at unfamiliar tree limbs, fear seeped through me. Maybe I couldn't do this.
Under our ancient comforter, my husband turned to me.
"You know the only thing to do?" he asked.
"Quit," I whimpered hopefully. "Move back to New York?"
His advice has carried us through the past decade, through the vicissitudes of raising a family -- watching two daughters grow up to attend college on the East Coast; watching a son outgrow a wicker bassinette, kick a soccer ball, reach double digits. Through the sinusoidal years in school -- tragedy, joy, frustration, progress, discontent, celebration, disappointment, fun, always too much to do in too little time -- I keep chewing. Seth's advice is practical. It gives me something to do. I've learned to spit out gristly bits and keep chewing on the rest of it, trying not to swallow whole, to break what I've bitten off into manageable chunks and to savor the flavor.
And this Thanksgiving, I will remember, that whenever we bite off more than we can chew, the best advice is to keep on chewing.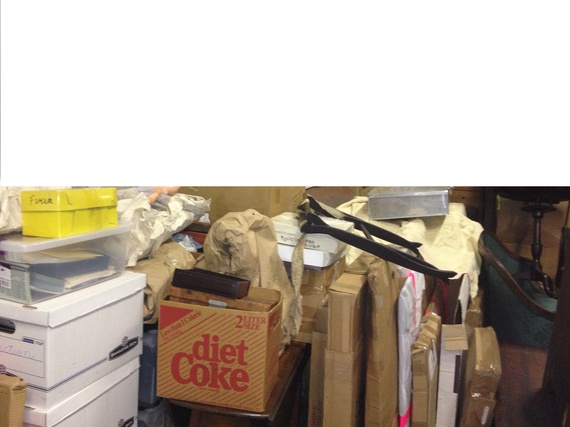 Calling all HuffPost superfans!
Sign up for membership to become a founding member and help shape HuffPost's next chapter