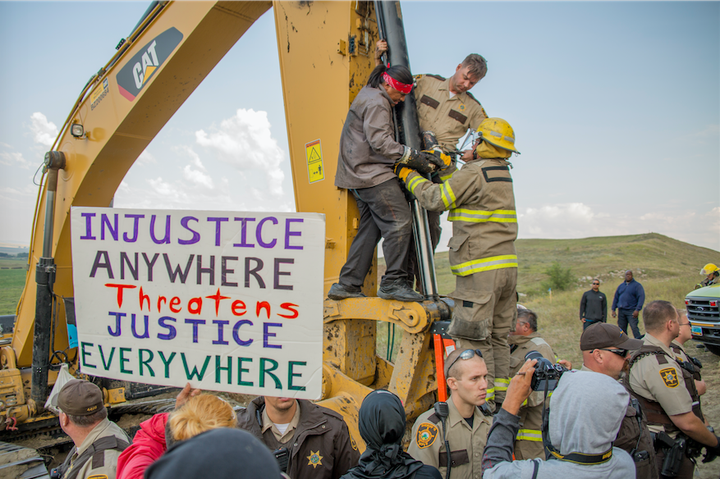 I woke up this morning and was surprised to see that a close friend had checked in at the Standing Rock Indian Reservation on Facebook.
"What's he doing at Standing Rock?" I thought. After scrolling a bit longer I noticed that several of my friends had checked in, and found the following accompanying message.
"The Morton County Sheriff's Department has been using Facebook check-ins to find out who is at Standing Rock in order to target them in attempts to disrupt the prayer camps. So Water Protectors are calling on EVERYONE to check-in at Standing Rock, ND to overwhelm and confuse them. This is concrete action that can protect people putting their bodies and well-beings on the line that we can do without leaving our homes."
Protesters have come from around the globe in opposition to the Dakota Access Pipeline, a $3.7 billion dollar project that would bring hundreds of thousands of barrels of oil through four states daily. The pipeline would extend beneath the Missouri River, which is the primary water source for the Standing Rock Sioux tribe.
Although I'm not sure if the Sheriff's Department has actually been using Facebook to target protesters (it wouldn't be the first time protesters were targeted via social media), nor if the Facebook check ins will actually aid the protestors in their efforts, the fact that so many people are willing to do what they can to mobilize against the Dakota Access Pipeline and in support of Indigenous Peoples' rights is inspiring. Hopefully this will bring those rights to a larger, national conversation.
Keep checking in on Facebook. Keep standing for the rights of Indigenous People. Keep fighting for fair and clean water access. Keep standing at Standing Rock.