On Tuesday, with Iran's nationwide unrest entering its sixth day, Supreme Leader Ali Khamenei weighed in for the first time.
Predictably, he sought to blame "enemies" of the Islamic Republic for instigating and directing activities in upwards of 60 cities. Khamenei is correct, in the sense that the vast majority of Iran's people are hostile toward his theocratic regime. The protesters are less recognizable to expatriates with social networks inside Iranian cities. But as human rights lawyer Gissou Nia pointed out in Politico, this is only indicative of class bias among some observers of Iranian affairs, and explains why the latest uprising came as a surprise to so many.
Unlike the Green Movement in 2009, the past week's demonstrations started with disenfranchised peoples outside of the Iranian capital, including those in rural towns traditionally considered to be conservative strongholds. In this sense, they confirm that regime change is the popular demand of the Iranian people as a whole, not just the intellectual elites who enjoy the most contact with social networks.
In other words – specifically the words of US Ambassador to the UN Nikki Haley – the Iranian Supreme Leader's claim of foreign manipulation is "complete nonsense." She went on to characterize the spontaneous and geographically expansive demonstrations as "the precise picture of a long-oppressed people rising up against their dictators."
Haley's remarks initiated the push for an emergency meeting of the United Nations Security Council. By that time, Khamenei had stepped forward with his predictable effort to discredit the popular slogans that included bold calls for his resignation. The regime's response had already resulted in more than 20 deaths, and hundreds of arrests.
The Trump administration is rightly concerned about the probable escalation in the crackdown, especially after the Revolutionary Guard Corps (IRGC) announced its deployment to three provinces that had been particular hotbeds of activity. Readers may recall that the IRGC was instrumental in the violent suppression of the Green Movement. Its domestic power has only grown since then, and its outsized influence over the Iranian judiciary has allowed it to effective predetermine the outcomes of cases it initiates against political activists.
Tehran's Revolutionary Court has already declared that death penalties could be awaiting those arrested. The head of the IRGC, Major General Mohammad Ali Jafari, has termed the uprising "the new sedition," thus connecting it to the "sedition" of 2009 and, by extension, to its violent fate, with dozens killed and some participants still in prison nearly a decade later.
It is important to note, however, that the Green Movement suffered that fate against a backdrop of silence from potential international supporters. Fortunately, the Trump administration has made several statements of support for the Iranian people, all without lending credence to the ridiculous claims about the foreign origins of the demonstrations. Indeed, far from intervening directly, the White House has so far offered little to the protesters other than expressions of moral support. This is certainly important, as it helps to keep the world's attention focused on the Iranian government's response, potentially forestalling the severe crackdowns that might otherwise be condemned only after the fact. But the US also has a responsibility to outline a policy that will actually support the autonomous calls for freedom and democracy. It should include providing access to the internet and other means of communication to the protesters. And it must do so quickly.
The agenda for any forthcoming Security Council meeting would represent an opportunity to showcase this policy, which should include, at a minimum, serious, multinational efforts to deny the Iranian regime the tools to halt the flow of information within the country, or out of it.
Additionally, Western governments must do everything in their power to counter the Iranian regime's attempts to control the narrative, such the IRGC's claim that only 15,000 people have participated nationwide. If foreign broadcasts do not vigorously address such fabrications, these are the only narratives that the people will hear. In a manner of speaking, information is a powerful weapon in and of itself.
The leading constituent of the organized opposition, the Mujahedin-e Khalq (MEK), demonstrated that fact when it exposed the Iranian regime's nuclear program, leading to a groundswell of international pressure. In the past week, the Iranian people and the opposition have demonstrated that fact once again, utilizing millions of smart phones to organize protests that nobody had seen coming.
The US and its allies could provide tremendous support for the Iranian people, simply by helping to make sure that these resources remain available to them. In this way, the current uprising will remain as it has always been: a true expression of the Iranian people's demand for democracy and freedom.
----------------------------------------------------------------------------------------------------
You can order Dr. Rafizadeh's books on Here. You can contact Dr. Majid Rafizadeh at Dr.Rafizadeh@Post.Harvard.Edu or follow him at @Dr_Rafizadeh.You can sign up for Dr. Rafizadeh's newsletter for the latest news and analyses on Here.
Harvard-educated, Dr. Majid Rafizadeh is a world-renowned business strategist and advisor, a leading Iranian-American political scientist, president of the International American Council on the Middle East, and best-selling author. He serves on the advisory board of Harvard International Review.
Dr. Rafizadeh is frequently invited to brief governmental and non-governmental organizations as well as speak, as a featured speaker, at security, business, diplomatic, and social events. He has been recipient of several fellowships and scholarships including from Oxford University, Annenberg, University of California Santa Barbara, Fulbright program, to name a few.
He is regularly quoted and invited to speak on national and international outlets including CNN, BBC World TV and Radio, ABC, Aljazeera English, Fox News, CTV, RT, CCTV America, Skynews, CTV, and France 24 International, to name a few. . He analyses have appeared on academic and non-academic publications including New York Times International, Los Angeles Times, CNN, Fareed Zakaria GPS, The Atlantic, Foreign Policy, The Nation, The National. Aljazeera, The Daily Beast, The Nation, Jerusalem Post, The Economic Times, USA Today Yale Journal of International Affairs, Georgetown Journal of International Affairs, and Harvard International Review. He is a board member of several significant and influential international and governmental institutions, and he is native speaker of several of languages including Persian and Arabic. He also speaks Dari, and can converse in French, Hebrew. More at Harvard. And You can learn more about Dr. Rafizadeh on here. A version of this post was originally published on the Arab News.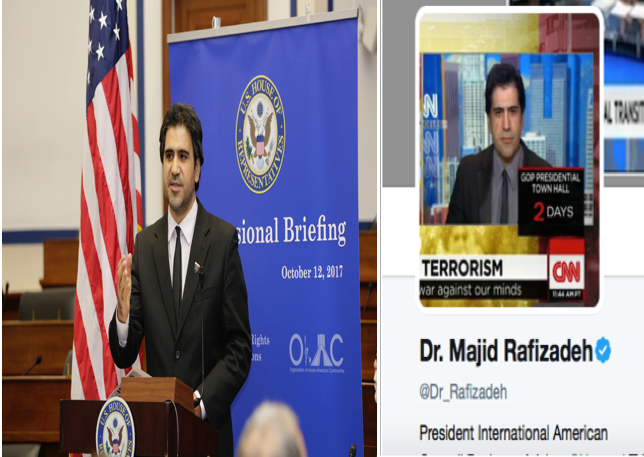 REAL LIFE. REAL NEWS. REAL VOICES.
Help us tell more of the stories that matter from voices that too often remain unheard.
This post was published on the now-closed HuffPost Contributor platform. Contributors control their own work and posted freely to our site. If you need to flag this entry as abusive,
send us an email
.