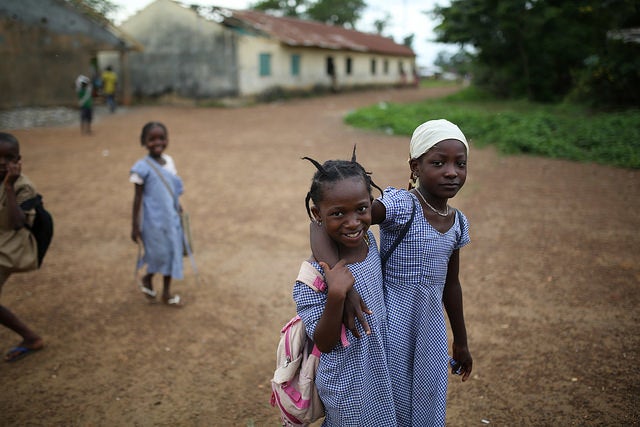 After spending 27 years at the World Bank, I retired at the end of January. I ended my career as Senior Director for the Finance and Markets Global Practice. My career at the Bank spanned diverse roles – from country and financial economist to equity portfolio manager in the World Bank treasury, senior advisor in the Italian executive director's office, manager and then director leading IBRD's financial products innovation work, advisor for the first CFO and then for a managing director, to country director.
In this post, I reflect on my career and argue why it continues to be important for young people to be passionate about international development.
Why international development?
From a very early age whenever I was asked what I wanted to do as a grown up, I knew I wanted to do something with development, even if at first I didn't know that term – international development.
I grew up between Rome, Italy, and Tegucigalpa, Honduras, which still remains one of the poorest countries in the world. Spending part of my childhood in Honduras with my grandmother had a huge impact on me – on understanding poverty and inequality at a very personal level, and on dedicating my professional life to figuring out how to bridge those two societies.
In college, I first studied political science and then economics, culminating with a Ph.D. in international economics. I was a summer intern at the Bank while undertaking my Master's degree and I loved it. Then I started in 1990 as a Young Professional and have never regretted my choice.
The world has made great strides over the last 30 years to reduce extreme poverty – the number of people living below the poverty line fell from 35% in 1990 to 10% in 2013 – but international development needs remain great as the Sustainable Development Goals outline. Globally, we now also need to tackle unprecedented challenges – climate change, disaster risk management, settling displaced people and refugees, to name a few.
And we need young passionate people with expertise in different fields, not just economics, to devote their careers to international development.
The most rewarding experience
The work with countries – staying close to the clients, working with government counterparts, with the private sector, and learning from project beneficiaries – is extremely rewarding. To think that every morning when you come to work, you are truly supporting people throughout the world to have a better life, is an amazing feeling.
At times, it would have been easy to get down bogged by bureaucracy, but that's just part of being in a large international organization.
But even big organizations, like the World Bank, change and innovate to better respond to most pressing and evolving development needs.
In the end, behind bureaucracies are just individual people, so being able to innovate and be passionate is key.
I spent the past two and a half years setting up the Finance and Markets Global Practice, a new joint World Bank-IFC department with 500 global staff dedicated to helping countries and the global community develop stable, efficient, resilient and inclusive financial sectors.
I'm also proud of the work I've done these past 15-20 years on financial innovation, especially leading the team in World Bank Treasury. We expanded the Bank's financial products from just plain vanilla loans and guarantees to a full and flexible menu of innovative financial solutions, which now allow countries to better manage financial risks. Particularly, we developed the tools to help countries address catastrophic disaster risks.
I'm also proud to have been part of a small team which, at the 2006 Annual Meetings in Singapore, positioned the World Bank as the foremost partner delivering global development solutions, such as integrating flexible and innovative financial products, and providing knowledge, advisory and convening services tailored to country circumstances. As an institution, we have come a long way from just giving out loans and writing reports.
However, none of these innovations would have happened without the colleagues with whom I worked over the years. And without those younger colleagues whom I've, hopefully, effectively mentored throughout my career.
For those considering a career in international development
Follow your passion. There are many paths to career growth.
A non-linear career path – not always thinking about and focusing on the next promotion – but taking advantage of opportunities that come your way can be a plus. Having diverse experience at the country and global level really builds the comprehensive vision of development that will help make you most effective.
In the end having that broad vision and passion is what's most important to work in international development.
Related
Popular in the Community