Prior to going over to CES, I had an email that had stuck out in my inbox. It had everything that I was ever looking for. The picture of a super cute and adorable yellow duck!

That duck. His name is Edwin. Once I saw his cute and adorable little face, I knew I had to meet him. Lo and behold, on my first day at CES, there he was. Standing tall and putting a huge smile filled with joy on my face.

And he is more than just a toy or something that you put in the bathtub. Matt MacBeth, CEO and co-founder of pi lab, inventors of Edwin the Duck, saw my immense joy when I went into their showroom. He personally walked me through a demo of all the things that Edwin the duck does.

I was blown away. Edwin is truly no ordinary duck.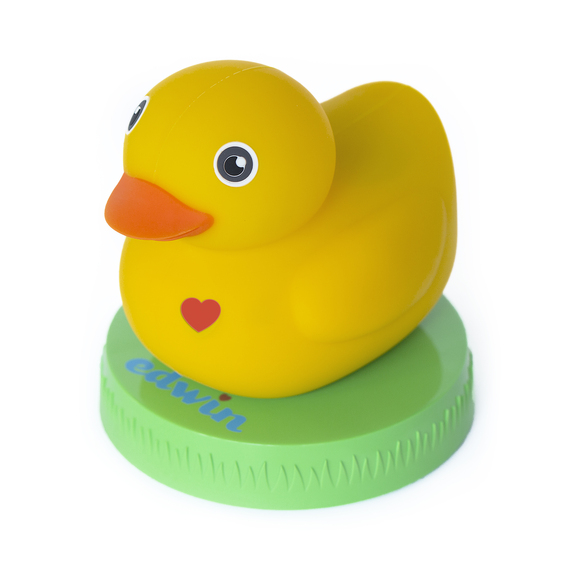 Edwin teaches your children shapes and more

Edwin pairs up with your smart phone and the Edwin the Duck app to play fun, educational games like "Edwin's Shape Matching" and "Shapes with Edwin." Children use motion based gestures to correctly match shapes to their names. Want to identify the triangle? You have to slap Edwin's wing! Want to identify the octagon? Move Edwin's face up!

With more games in development for additional skill and education levels (such as numbers, letters and colors), Edwin's content library will grow with your child.

Edwin entertains through interactive stories and songs

Also contained inside Edwin's app are fun stories and songs. Edwin connects to a game called "Balloons and Bees" that is like flappy bird, where you bounce Edwin up and down and he flies through a field to collect balloons and avoid bees.

Additionally, a bath time song called "Squishy Squashy" features tub-time lyrics, and an educational story called "Edwin Feeling Small" allows children to guide Edwin through a day of activities, including brushing his teeth, putting away laundry and more.

Edwin floats in the tub while playing music

Featuring an IPX7 rating for water resistance, Edwin is completely safe to take into the tub (and buoyant!). Speaking of safety, Edwin is BPA-free and certified by the Consumer Product Safety Commission.

Interact with Edwin in a bathtub while he plays your favorite tunes via his built-in BLUETOOTH speaker, even when he's not connected to an app.

Edwin checks the temperature of your bath water

When you put your child into the bathtub, the water may be too hot, or potentially even too cold. When using Edwin's Bath Time app (coming soon!), he will signal if the water is too warm by providing an on-screen indication. The same goes for if the water is too cold.

Edwin's temperature sensor can also be used to measure skin surface temperature, with readings appearing inside the new Wellness app (coming soon!).

Edwin acts as a bedtime companion

Using Edwin's Sleepy Time app, you can adjust the strength of his built-in LED nightlight and set a sleep timer. If your children like to listen to lullabies, try out one of the built in songs or sleep sounds, which gently play through the night to lull your children to sleep

Edwin can be found in your local Apple and Best Buy for $99.99.

The really neat thing though is that Matt gave me a USB drive with their media kit in the shape of Edwin to take along with me. I carried it around all day. Everyone wanted to learn more about him and how much joy he brought me.

I had so much fun with Edwin the duck. If you are a parent, or a child at heart, you will have so much joy with Edwin as well!