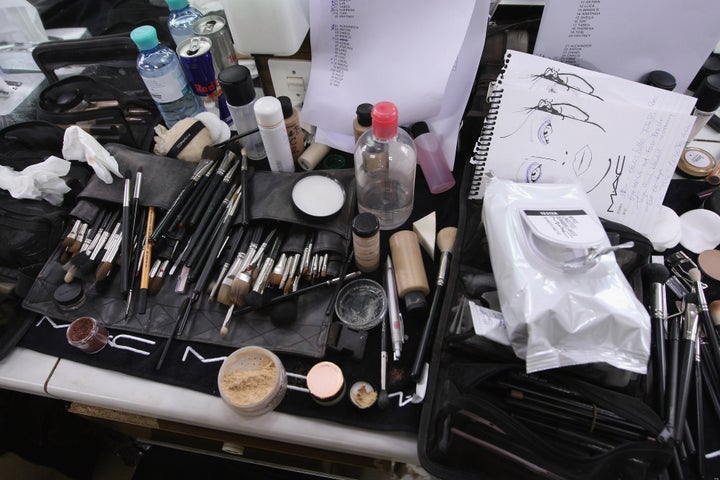 Not so long ago, conventional wisdom held that environmentalism meant abandoning one's vanity, trading in the lip gloss and high heels for unwashed hair and Birkenstocks. A search for all-natural cosmetics rarely yielded more than lip balm. Those of us who couldn't live without powders, lotions, and lipstick were stuck with petrochemicals in our products.
Fortunately times have changed, and the varieties of natural beauty products grow by the day. But no matter how organic your shampoo is, if it comes in a plastic container, it's still a liability to the environment. Better to seek out eco-friendly alternatives that won't take up space in a landfill.
Solid Products
Removing excess water means more actual product per ounce and eliminates the need for plastic packaging -- think bar soap versus shower gel. And if you shudder at the thought of Irish Spring, don't worry! These days, solid toiletries go far beyond mere bar soap.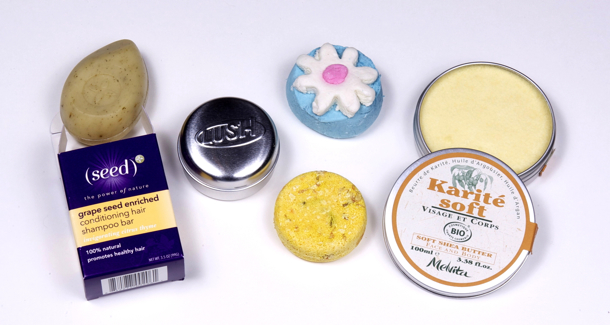 From left to right:
The grape seed enriched conditioning hair shampoo bar by SEED is a mere 3.5 ounces, but lasts as long as a bottle of shampoo three times its size. And the the only packaging the all-natural, American-made shampoo bar requires is a small box of recyclable cardboard. Shampoo bar, $4.49 at SEED.com.
LUSH produces an extensive line of solid products, everything from shampoo and conditioner to massage bars and hair dye. Most of the solids can be purchased "naked," i.e. without any external packaging. Stores supply bags if needed, but encourage customers to bring their own, or purchase a reusable, recyclable tin container. Naked products, $3.95 to $22.95 at LushUSA.com.
Organic, eco-certified Shea Butters by Melvita come in a solid form that quickly melts to the touch. The butters come packaged in recyclable aluminum tins, which are also sturdy and practical enough to re-use as is. The 100% natural formulation is gentle enough for sensitive skin, and so mild it can even be used as a lip balm. Shea butters, $8 to $28 at Melvita.com.
Biodegradable Packaging
Organic compounds that break down when returned to the earth represent the perfect marriage between science and nature.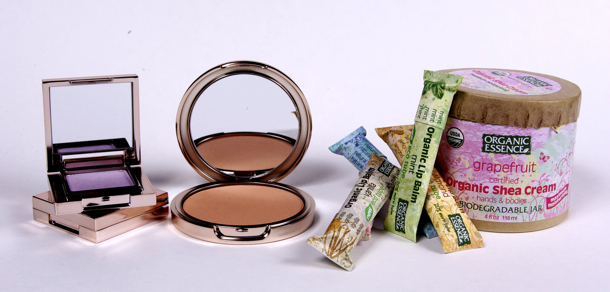 From left to right:
Josie Maran Cosmetics creates compacts out of a biodegradable corn based resin known as polylactic acid, or PLA. Once you've finished the product, simply pop out the mirror and toss in a compost bin. Biodegradable compacts, $20 to $45 at JosieMaranCosmetics.com.
Lip balms and body creams by Organic Essence come in paper packaging. Every part of the package, from the label to the adhesive, is biodegradable. Better still, the products themselves are made with fairly traded and certified organic ingredients. Balms and lotions, $4.99 to $24.99 at Organic-Essence.com.
Reusable
Products with years of use in them are a responsible alternative to dinky and disposable.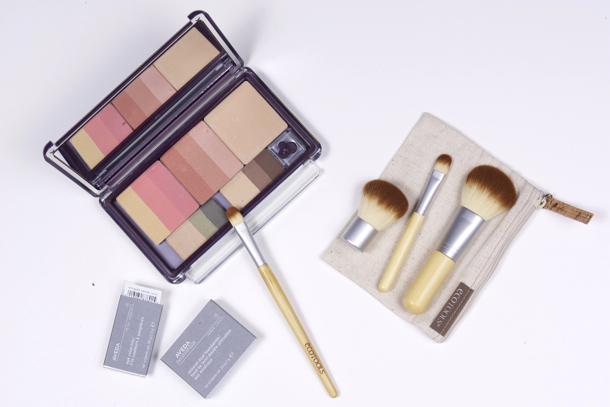 From left to right:
Refillable compacts are a great way to cut down on waste. The catch is that most companies create compacts that can only accommodate their brand of makeup. The UNII Palette is designed to fit all brands of cosmetic refills, allowing you to play the beauty field without having to buy a lot of excess plastic. Magnets keep cosmetics in place, and the solid design is sturdy enough for travel. UNII Palette, $29 at UniiCosmetics.com.
I've filled my UNII compact with Aveda blushes, powders and eyeshadows, all sold in refill form. Aveda refills come in minimalist packaging made from 100% post-consumer recycled paper and plastic. Aveda cosmetic refills, $12 to $22.50 at Aveda.com.
Makeup brushes are built for long term use, making them a green alternative to sponge and foam applicators. The brushes shown above are by Ecotools, and the "eco" part of the brushes can be found in the handles -- they're crafted out of out of recycled aluminum and bamboo, a highly sustainable and renewable plant. Brushes, $3.99 to $12.49 at Walgreens.com.
Related
Popular in the Community