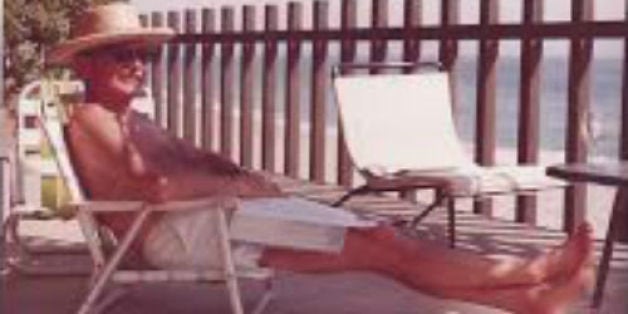 How funny it is that with the loss of a parent, all those quirks, even the things that bugged you, evaporate. Poof! My dad was the most wonderful man.

Now that my father has been gone many years and I am a mother and a grandmother, I recall my father lovingly, warts and all. Some of his lessons weren't lessons at all; they were plain old genes. Others were behaviors I vowed never to do, lessons of a different kind. And still others I am proud to say I learned from my dad. All formed the template for who I am, the kind of wife, mother, and grandparent I am. What I do know is that the lessons I learned from my father came least of all from what he said. As I tell parents daily, kids learn more from living with you and watching you than from your words. This was the case with my father too.
Make copies of everything. This lesson is both good and bad. Recently, when my computer crashed, I had five copies of every password, security code, program purchase I had ever made, thank goodness. The bad news, I now have 10 overflowing file cabinets!
Always have cash in your wallet. I always have emergency money. Always. Phew!
Reading is a great way to spend your time. My father was a literary agent, and he read for a living. He was always reading, and today I am a reader. Getting lost in a fabulous novel is the treat of treats.
Work work work... then collapse with a script (and a cold beer). My father was the Energizer Bunny. Every weekend morning (and in the later years, every day) started in the garden -- mulching, raking, weeding. There were projects all day long. But it always ended with Dad in a deck chair, wide brimmed straw hat covering his face, script on his lap, cold beer in hand, snoring. While I don't drink beer and I never sleep during the day, I sure am a worker. There is always something else to be done, and I love crossing it off my list.

Talk to your spouse. I check in with my husband of 43 years every night. It has always been the case, even when he was in China or Malaysia or another far off work venue, even when we had three kids a foot. Every night when my father came home from work, he sat down with my mother and talked. What a great model for the importance of communication in a relationship that was.
Check in with your kids. While I am not sure how much he actually heard, at the end of every single day, my father asked each of his kids, "How was your day?" And he appeared to listen. It was a bit like reporting in, but it made me feel like he actually cared about me and my life. My kids and their families are scattered across the country, but we don't miss an opportunity to check in throughout the week. It makes us feel tethered to one another. And boy, do I ever care. They know it.

"Keep Your Nose Clean." Every time I left the house, the door closing echoed my father's parting words of warning -- keep your nose clean. He meant, "Don't get into any trouble." I hated it, but I really needed to hear it. Did it keep me out of trouble? Not likely! It did give me the clear message that I had best watch my step, that he was there, watching and caring. And every time my own kids left the nest during their growing years, I said the very same thing -- keep your nose clean! They knew their Poppy had said it to me. I doubt that my words stopped them from doing whatever naughty stuff they may have done. But they knew I was here, that I care, and that they were connected to our family.
Related