A muse and a mentor can go a long way toward helping an artist transform music into magic. While labanotation is a wonderful tool for documenting choreography, it can't capture the more intangible aspects of dance.
How does one translate the electricity that transpires between a dancer's eyes and the gestures of his hands?
How does one package the thrill of an audience experiencing a charismatic artist's performance?
How does one capture the excitement of an ensemble of talented, muscular dancers as they perform seemingly impossible and highly stylized tricks of their trade?
Like pheromones, these phenomena are powerful, yet often ethereal; functionally vital yet transcendent and occasionally transformative. In terms of dance, they are as precious as the smell of fresh rain on hot pavement. But how long can that last?
Theatre companies may rely on dramaturgs, opera companies on musicologists, and museums on their curatorial staff. But to keep dance alive, it often helps to have someone on hand who has gotten the moves into their body and whose memory is not just mental and musical, but also physical and spiritual. The transmission of accumulated knowledge from one generation to another is part of an artistic tradition which has kept certain types of dance alive for centuries.
As part of the 2014 San Francisco International South Asian Film Festival, audiences were given an opportunity to enjoy Upaj: Improvise, a fascinating dance documentary written and directed by Hoku Uchiyama which brought together two dancers from vastly different backgrounds who were known for their unique specialty acts.
Jason Samuels Smith is a tall, 32-year-old African-American tap dancer who was mentored by Savion Glover (who had himself been mentored by Gregory Hines) in a freestyle, streetwise American tradition of contemporary tap dancing.
Pandit Chitresh Das, the short and fiery master and guru of kathak (a classical dance of North India which requires speed and clinical precision) who died on January 4, 2015 at the age of 70.
Uchiyama's documentary follows the conception and progress of India Jazz Suites, an East-meets-West collaboration in which two of the leading practitioners of dance forms native to their cultures share their experiences and skills as their artistic bonds bridge a cultural and generational gap.
Filmed on location (both backstage and on the streets of India, New York, Los Angeles, and San Francisco), Upaj: Improvise is unlike reality television dance contests in that its two stars have a keen interest in keeping their respective art forms alive. At 68, Das was close to the end of his performing career, but both had acquired a wealth of practical knowledge to be passed down to a new generation of dancers.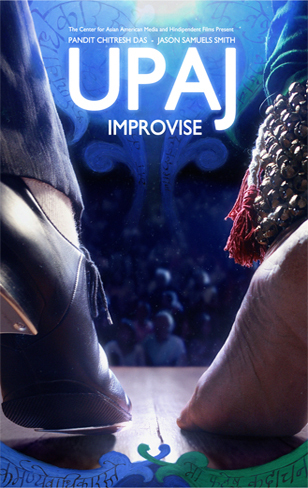 Poster art for Upaj Improvise
The improvising that takes place during their live performances often seems like a friendly competition between two dancers. But, as one watches Uchiyama's film, it becomes obvious that each man is simultaneously improvising with the accompanying musicians (on one side of the stage is an American-style jazz combo, on the other side is a group of musicians playing traditional Indian instruments). Upaj: Improvise is a fascinating cross-cultural, cross-generational dance documentary that is well worth the attention of any dance fan. Here's the trailer:
When one thinks about the great choreographers of Broadway, one's mind quickly zeros in on:
Agnes DeMille (Bloomer Girl, Oklahoma! Carousel, Brigadoon, Gentlemen Prefer Blondes, Paint Your Wagon, 110 in the Shade).
Jerome Robbins (On The Town, High Button Shoes, Call Me Madam, The King and I, Peter Pan, West Side Story, Gypsy, Fiddler on the Roof, Jerome Robbins' Broadway).
Onna White (The Music Man, Take Me Along, Irma La Douce, Half A Sixpence, Mame).
Gower Champion (Bye Bye Birdie, Carnival! Hello, Dolly! The Happy Time, Sugar, Mack and Mabel, 42nd Street).
Michael Bennett (Henry, Sweet Henry, Promises, Promises, Coco, Company, Follies, A Chorus Line, Ballroom, Dreamgirls).
Susan Stroman (Crazy For You, Steel Pier, Contact, The Producers, Young Frankenstein, The Scottsboro Boys).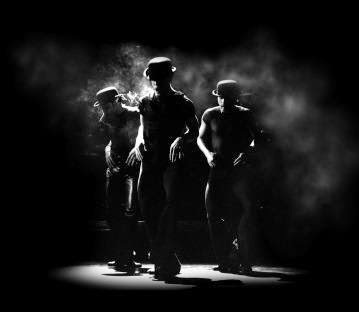 The men of Chicago perform one of Bob Fosse's smoky
tap dance numbers (Photo by: Catherine Ashmore)
While some started out as Broadway dancers before moving on up to choreographing. directing (and introduced important musical concepts such as the dream ballet), the above-mentioned mega talents were most famous for their versatility and adaptability. By contrast, as his career grew, Bob Fosse (The Pajama Game, Damn Yankees, New Girl in Town, Redhead, How to Succeed in Business Without Really Trying, Little Me, Sweet Charity, Pippin, Dancin') may be the sole Broadway choreographer who worked at developing a dance vocabulary that would evolve into a choreographic brand. From hip rolls to jazz hands, from pelvic thrusts to hat tricks, Fosse's style may have reached its peak in Kander and Ebb's 1975 musical, Chicago (which opened on June 3, 1975 at the 46th Street Theatre and ran for 936 performances).
I saw the original Broadway production twice: once with its original stars (Gwen Verdon as Roxie Hart, Chita Rivera as Velma Kelly, and Jerry Orbach as Billy Flynn) and again after Liza Minnelli took over the role of Roxie in August of 1975 while Verdon was recovering from an injury.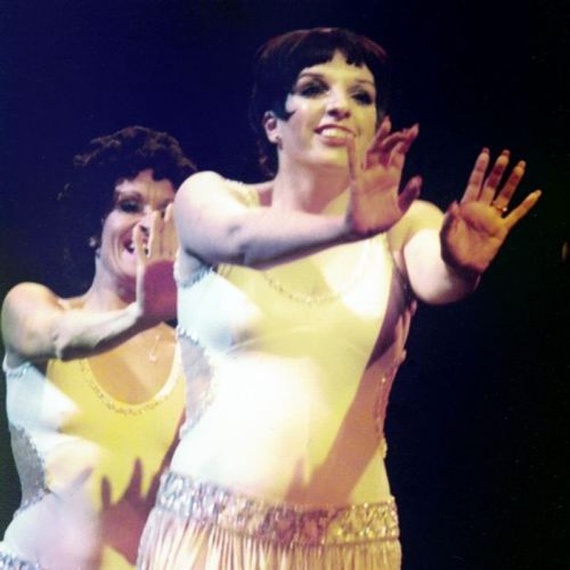 Chita Rivera and Liza Minnelli in Chicago
In 1996, Walter Bobbie directed a revival of Chicago for New York City Center's popular series entitled Encores! Great American Musicals in Concert which featured a new script by David Thompson and choreography by Ann Reinking "in the style of Bob Fosse" (Reinking had taken over the role of Roxie Hart from Gwen Verdon in the original production and been romantically involved with Fosse). The production starred Reinking as Roxie Hart, Bebe Neuwirth as Velma Kelly, James Naughton as Billy Flynn, and Joel Grey as Amos Hart. Following its transfer to Broadway, the revival of Chicago sparked numerous touring and foreign productions while achieving landmark status.
The list of Broadway and Hollywood celebrities who have stepped into the roles of Roxie Hart, Velma Kelly, and Billy Flynn is simply astonishing.
For some dancers, Chicago has offered a rare opportunity for long-term employment while performing Fosse's signature moves (in short, it has become a dancer's meal ticket).
Because of the musical demands for the actor portraying gossip columnist Mary Sunshine, each production of Chicago has provided employment for two countertenors (featured player and understudy).
The success of the 1996 revival paved the way for the 2002 screen adaptation directed and choreographed by Rob Marshall that starred Renée Zellweger, Catherine Zeta-Jones, and Richard Gere.
On November 23, 2014 the Broadway revival of Chicago became the second longest-running Broadway show ever, even surpassing the record set by Cats (7,485 performances).
In 2011, at a benefit performance of Broadway Backwards 6, Fosse's "Cell Block Tango" was performed by men instead of women.
The recent national tour of Chicago blew into San Francisco's Orpheum Theatre with the kind of sizzling opening night performance that made it perfectly clear to audiences that no one in the cast had any intention of sitting on their laurels. With Reinking's choreography recreated by David Bushman and Bobbie's direction recreated by David Hyslop, the production's three leads had already racked up numerous performances in their roles.
A petite powerhouse of a performer, Bianca Marroquin (who starred in the 2003 national tour of Chicago) proved to be a rock-solid Roxie.
Terra C. MacLeod's portrayal of Velma Kelly anchored the show from start to finish (McLeod has been performing in Chicago for more than six years).
John O'Hurley has portrayed Billy Flynn on Broadway and on tour as a slick Chicago attorney who is only it for the money (rather than love).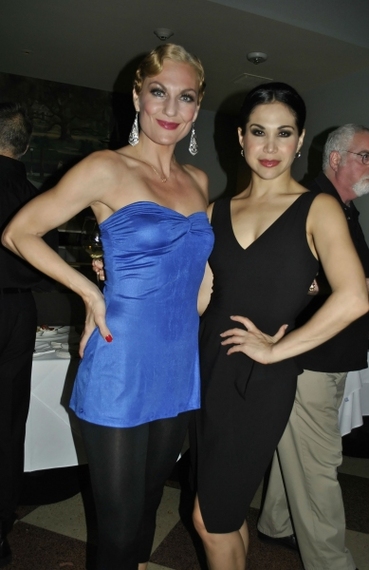 Terra C. MacLeod and Bianca Marroquin
after a performance of Chicago
I have always preferred the revival to the original production of Chicago for a variety of reasons. The dancers seem more comfortable without having to negotiate a steeply raked stage and the location of the orchestra upstage (rather than above the stage) is much more aesthetically pleasing. The reliance on costumes that are primarily black and/or white gives further impact to the production's occasional splashes of color (especially the pink lighting on the white ostrich feathers used by the women in "All I Care About Is Love").
The current touring company has a snap, crackle, and spark that seems almost impossible for a production that has been making the rounds for nearly 20 years. Roz Ryan is a bawdy Matron "Mama" Morton with countertenor Christopher Newcomer as Mary Sunshine. In smaller roles, Jacob Keith Watson shines as Amos Hart while Bradley Gibson is appropriately slimy as Fred Casely.
While the men and women of the ensemble do spectacular work, the bulk of the show rests on the shoulders of the two women starring as Roxie Hart and Velma Kelly. Bianca Marroquin and Terra C. MacLeod delivered breathtaking performances that, despite their long associations with Chicago, made it feel as if their roles were new to them.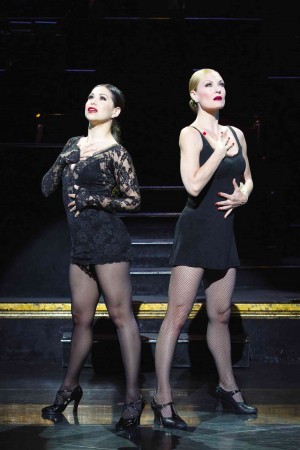 Bianca Marroquin (Roxie Hart) and Terra C. MacLeod
(Velma Kelly) co-star in the national touring
company of Chicago
REAL LIFE. REAL NEWS. REAL VOICES.
Help us tell more of the stories that matter from voices that too often remain unheard.