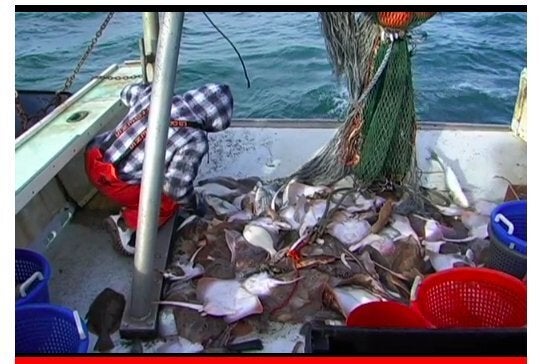 Meet Phil Karlin, the founder and commercial fisherman behind PE & DD Seafood in Riverhead, Long Island. Phil's passion is fishing. A passion you can only really understand if you've spent as much time on the water as he has. I met up with Phil a couple weeks ago to learn all about small, family-owned commercial fishing operations in the New York area. For 7 hours, I watched as Phil and his grandson Carl dragged for fish in the Long Island Sound. It's a lot of manual labor for a 2-man operation...a lot of nets, gear, fish sorting, fish gutting and fish packing while exposing yourself to whatever elements Mother Nature decides to bring that day. Luckily, I had 60-degree weather, a light breeze, and sunshine (in early December no less!!).
PE & DD Seafood is one of a handful of local seafood companies that sell their catch to customers at the NYC Greenmarkets, supplying a variety of fin fish, lobsters, shellfish and conch. By supporting local fishermen, you can help keep these hard-working, small family-run fishing businesses alive; in addition, you are also supporting a form or fishing that Phil believes does minimal damage to the environment.
So I hope you enjoy this intimate peek into the life of Phil Karlin. It's fascinating to see how fish are harvested on these small boats and the types of seafood coming into season in the Northeast. Unfortunately, striped bass season has come to an end (December 15th), but now's a good time to start looking for local lobster, bluefish, butterfish, squid, fluke, herring, porgies and sea robins. Hope you come pay them a visit!
* MONDAYS & SATURDAYS: Union Square Greenmarket
* SATURDAYS: Abingdon Square Greenmarket (on Hudson & W 11th St.)
Related