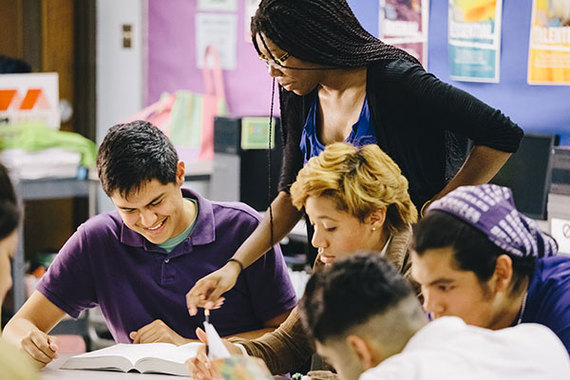 During the last 15 years, our country has made some amazing strides. Few, however, compare to the leaps we have made in the field of education. More of our students are succeeding in high school. More of our students are graduating from college than ever before. And more of them are applying the skills they learned in the classroom to their work in nonprofit, corporate, and faith-based organizations.
Still, too many of our students are entering school unprepared, which makes it tough for them to keep pace with their peers. Others lose interest along the way because they lack the guidance or support they truly need. However, with the help of national service, volunteerism, and social innovation, students are getting the extra boost they need to succeed in school and beyond.
AmeriCorps members, Senior Corps volunteers, and Social Innovation Fund grantees are the support system that ensures students are ready for that next exam. They are the guides who prepare our students for their next job opportunity. And they are also the role models that our students follow as they find ways to give back to their own communities.
An AmeriCorps alumna named Naomi is a great example of this.
As she attended classes in the California Bay Area, Naomi was struck by AmeriCorps' ability to transform the lives of students in her high school. AmeriCorps members served as mentors, advocates, teachers, and friends.
"I saw what a big difference service in the community could make," she said.
That's why when Naomi got the chance, she decided to become an AmeriCorps volunteer coordinator with the national non-profit Reading Partners. She served to recruit, train, and coach volunteer tutors at the program's Washington, D.C., location.
Every day, stories like Naomi's excite me. I have used these stories as a source of inspiration to create a new program that I hope will transform how we prepare our students for academic and career success. It is called Operation AmeriCorps. Through this program, AmeriCorps members are working in select communities -- including Tucson, Arizona; Orlando, Florida; Los Angeles, California; and Pawtucket, Rhode Island -- to boost attendance, hone students' study skills, and organize college and career planning workshops.
Along the way, our mighty team of AmeriCorps members will help ensure that every high school senior in these communities graduates with a job offer, an internship, an apprenticeship, or a commitment to serve in the military or in AmeriCorps. Imagine living in a community that guarantees every high school graduate receives an offer like one of these to help boost their career and/or educational opportunities. I expect graduation rates to increase and graduates to thrive.
I could not be more excited about this first-of-its kind opportunity because I know that the work of service and innovation truly matters. It matters in classrooms where AmeriCorps members give both teachers and students the additional support they need. It matters in the communities where Senior Corps volunteers serve alongside residents to help them create a tutoring program. And it matters in collaborations between organizations that focus on youth development, economic opportunity, and healthy futures.
I hope you will join me in making service a central part of our country's mission to help students be the best they can be. I know that together, we will continue to create more ladders of opportunity for those who need them the most.
Wendy Spencer is the CEO of the Corporation for National and Community Service, the federal agency that engages more than 5 million Americans in service through its AmeriCorps, Senior Corps, Social Innovation Fund, and Volunteer Generation Fund programs.
Popular in the Community