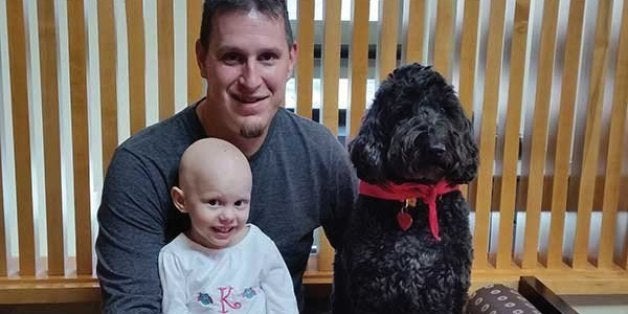 In early August 2014, when my fiancée, Jennifer, was six months pregnant with our newest daughter, our two-year-old daughter Katelyn became ill. Katelyn was diagnosed with advanced stage neuroblastoma and over the next five months she endured multiple biopsies, five rounds of chemo, surgery to remove a large tumor in her abdomen, and a stem cell harvest procedure. This whole ordeal was further complicated by the fact that pregnant women cannot be exposed to the dangerous drugs used in chemotherapy, so Jennifer had limited contact with Katelyn around her chemo treatments. That is how I started taking on a bigger role in Katelyn's care. About three weeks after she came home from the hospital on October 31, 2014, our baby Madison was born. Jennifer and I were thrilled to have a reason to celebrate, but we still had to be careful about the contact between Katelyn and Madison, depending on Katelyn's treatment.
At the end of January 2015, Katelyn and I traveled from Phoenix to Ft. Worth, TX so she could undergo MIBG treatment, an injectable radiation therapy, at Cook Children's Medical Center. The medical team urged me to stay at the Ronald McDonald House of Ft. Worth and today I'm grateful that they did, because being at the House made my time in Ft. Worth much easier than it would have been otherwise. My wife stayed behind because Madison couldn't be exposed to the high levels of radiation in Katelyn's system and that meant I was on round-the-clock duty, caring for Katelyn in her isolation room at the hospital miles from home.
In the isolation unit, parents handle much of the daily care like changing diapers and sheets and administering medications. Since I was on my own, I kept odd hours, sneaking away only when Katelyn slept. Being able to walk quickly to the Ronald McDonald House for a shower, a change of clothes, and a quick meal was a huge help. I'm so thankful that everyone at the House treated me so well and I enjoyed a sense of camaraderie with other families facing similar situations.
Katelyn was in the hospital again from mid-April until mid-May for a stem cell transplant to help her body start re-generating healthy bone marrow. Her mom and I are thrilled that she has done so well with all of her treatments. She is in the maintenance phase of her treatment now and we are optimistic she will continue to improve. But we also know we will be in wait-and-see mode for quite some time.
During the ordeal and scary moments at the hospital, we were able to find family moments, hugs, smiles and laughter thanks to the Ronald McDonald House. Before this experience I didn't know why RMHC was so important. But I can certainly tell that story now. And I'm a big fan.
Nearly six million children and families around the world have benefited from family-centered care programs pioneered by RMHC. They are designed to support dads and families like me, so we can focus on what matters most: the care of our child. At least one RMHC core program provides support for families at 89 percent of the top children's hospitals worldwide. Research shows that RMHC families, like mine, have a more positive overall hospital experience, get higher quality sleep, and have strengthened coping abilities thanks to programs like Ronald McDonald House.
As families around the country come together to celebrate Thanksgiving, consider honoring a family member in your life on #GivingTuesday. Learn more about how you can help at www.rmhc.org.
This post is part of a series produced by The Huffington Post and the 92nd Street Y, founders of #GivingTuesday, a global day of giving that will take place this year on December 1. These stories highlight the work of organizations and people around the world who are committed to giving back and doing good this #GivingTuesday.
Calling all HuffPost superfans!
Sign up for membership to become a founding member and help shape HuffPost's next chapter