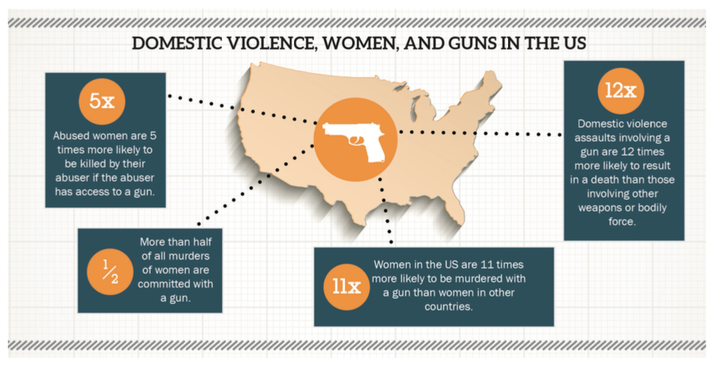 As a gun violence prevention activist, it remains a mystery to me why we can't do more to stop the endless cycle of gut-wrenching tragedy, followed by an outpouring of public sympathy, and yet still little to no progress made in the fight against senseless gun violence.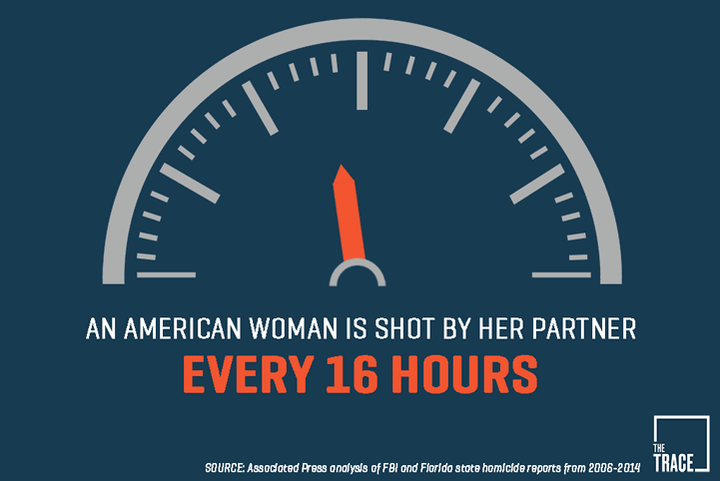 When you stop to consider the specific actual tragedies that make up those statistics (such as the San Bernardino teacher recently shot to death by her estranged husband in a classroom filled with special needs children, two of whom were caught in the crossfire), it's even more heartbreaking—and frustrating. Surely this is an area where we can find common ground and make some real headway through public policy and legislation? Who would want a domestic abuser to possess a gun when we know that this is a recipe for disaster, impacting not just the direct victim of abuse but also collateral victims, such as her children, fellow workers, law enforcement officers, and bystanders?
It turns out that pertinent legislation has been enacted at the state and federal level, though inconsistent and riddled with loopholes. In 2014 alone, six states—as geographically, politically, and culturally diverse as Indiana, Louisiana, Massachusetts, Minnesota, Washington, and Wisconsin—enacted laws to protect domestic violence victims, indicating that this is indeed an area of potential bipartisanship.
Unfortunately, setbacks and disappointing failures persist in this seemingly black-and-white realm despite valiant efforts by advocates, activists, and lawmakers. Earlier this month, New Mexico Governor Susana Martinez (R) vetoed a proposed law requiring abusers subject to protective orders to surrender their guns for the duration of the order—a bill that managed to be passed by both the state house and senate—claiming that domestic violence is a "complex" matter. Complex? How is it possible to look at these grim statistics and study findings and then veto a bill carefully crafted to reduce future tragedy due to domestic violence? Likewise, the Maryland General Assembly recently failed to pass a bill that simply required courts to enforce a law already on the books—informing convicted domestic abusers that they must give up possession of their guns and providing a process for doing so. But what good is a law on the books when nobody even bothers to enforce it? Simply put, we can and must do better.
The Current Federal Law Regarding Domestic Violence and Gun Possession
Congress has made strides over the years to prohibit domestic abusers from buying or possessing guns. Specifically, abusers convicted of domestic violence felonies or misdemeanors, as well as abusers subject to certain domestic violence restraining orders, are precluded from purchasing or owning firearms. While this sounds fairly comprehensive on paper (and the Supreme Court has clarified that by domestic "violence," Congress intended to include even a battery under state law), the law has gaping loopholes that even the least savvy of domestic abusers can slip through to buy or continue to possess a gun. While not an exhaustive list, here are some of the problems with current federal law:
The Current Patchwork of State Laws Regarding Domestic Violence and Gun Possession
Some states have stepped up to fill in at least some of these gaps in the federal law. Other states don't even have laws similar to the federal law, which presents obvious enforcement issues. State laws that restrict access by domestic abusers to firearms literally save lives; such laws are associated with a 19 percent reduction in the risk of intimate partner homicides. Nevertheless, the NRA routinely lobbies against such life-saving measures.
What Can Be Done To Close The Loopholes and Help Protect Victims of Domestic Abuse?
There is tremendous public support for laws barring abusers or stalkers from owning a gun, but that doesn't necessarily translate into legislation, which is why it's so important for everyone reading this piece to contact their own lawmakers—in Congress and in their state legislatures—and demand that they take action to help keep their constituents and victims of domestic abuse safer.
As is clear from the current landscape, there is much room for improvement regardless of where you live (although residents of a handful of states such as Connecticut, Illinois, California, New York, Hawaii, and Minnesota can take heart that their state laws in the area of domestic violence and gun possession are already among the most comprehensive and toughest in the country). Click here to see a handy guide of your own state's laws. Also, examples of common sense solutions that states can use to make their domestic abuse victims safer (and advocates and activists can use to push state lawmakers for reforms) can be found in this helpful report by Americans for Responsible Solutions and Law Center to Prevent Gun Violence.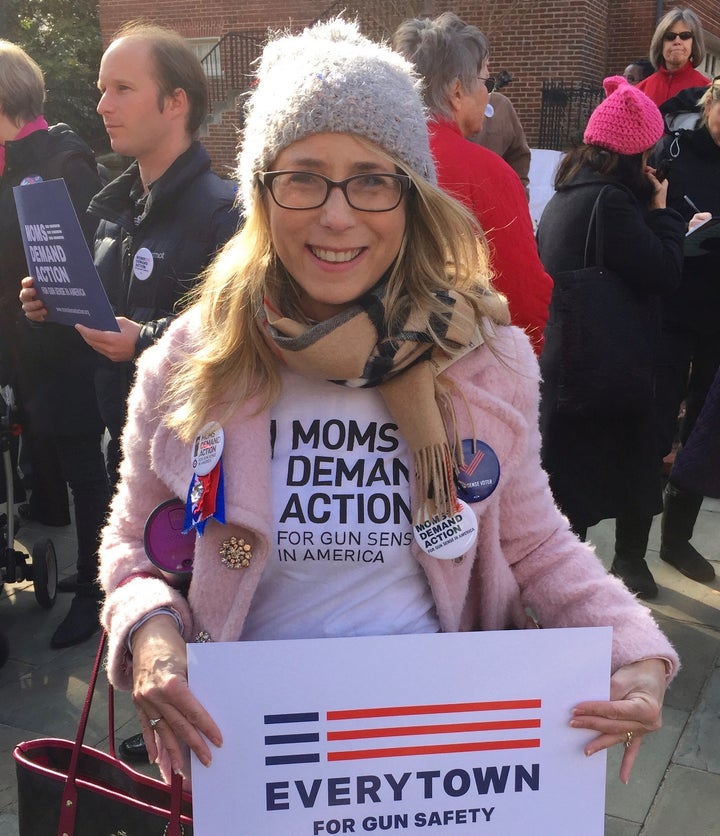 The author is one of the earliest members of Moms Demand Action for Gun Sense in America—a grassroots gun violence prevention advocacy and activist group that was formed in the wake of the Sandy Hook Elementary School mass shooting in 2012. To join a local chapter of Moms Demand Action or learn more about the group's mission, click here.
Calling all HuffPost superfans!
Sign up for membership to become a founding member and help shape HuffPost's next chapter
BEFORE YOU GO