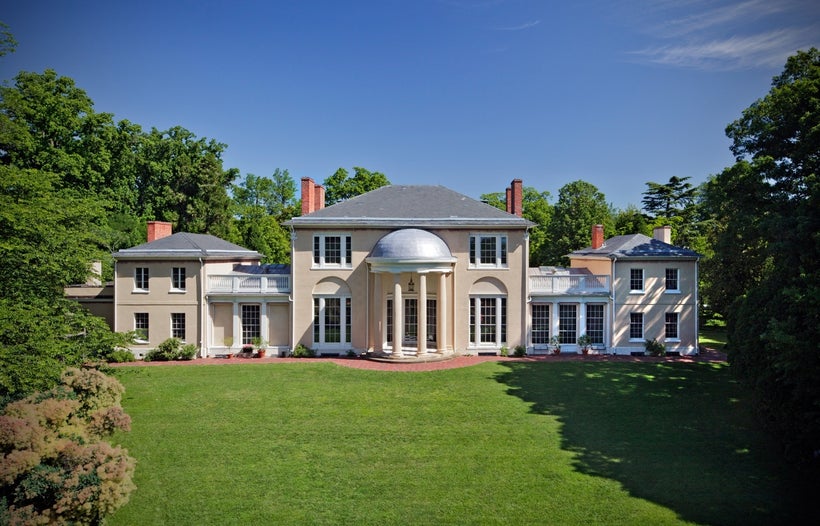 Our Founding Father, George Washington had a significant role with Tudor Place. In his will, he left his step-granddaughter, Martha Parke Custis Peter, a land that her husband later sold for $8,000, which they used to purchase the property that would become Tudor Place in 1805. Designed by Dr. William Thornton, the mastermind of the United States Capitol, Tudor Place, is a Federal-style mansion in the neighborhood of Georgetown in Washington, D.C. Because of its rich history, Tudor Place is home to the largest public collection outside Mount Vernon of George and Martha Washington objects, with over 200 items that were passed down through the Peter family over six generations.
In 1890, when Britannia W. Kennon was the oldest living descendant of Mrs. Washington, The Century Illustrated Monthly Magazine published an extensive article that detailed the collection of Martha Washington's relics that were maintained inside Tudor Place. The architecture of her home is also noteworthy. The center section features the only fully round portico in America, with half the circle projecting from the front of the home and the second half dipping into what Martha Custis Peter called her "saloon," the main room for music, dancing and entertainment.
Tudor Place was declared one of America's first National Historic Landmarks in 1960.
Over the years, both the home and gardens have been enriched by 178 years of Peter family ownership. After the death of Armistead Peter 3rd, the founders' great-great-grandson, the site was opened to the public in accordance with his wishes in 1985. Tudor Place gives a rare glimpse into American cultural and social history.
In 2014 the Ross Merrill Award for Outstanding Commitment to the Preservation and Care of Collections went to Tudor Place in recognition of its leadership and, since 1984, its "systematic and strategic" success in inventorying, cataloguing and conserving buildings, objects, an archive and book collection, and the landscape. Tudor Place also holds one of the largest repositories of George and Martha Washington objects in the country, with over 200 items that were passed down through the Peter family over six generations.
Tudor Place remains one of America's last intact urban estates from the Federal Period with 5½ acres of open lawns and garden rooms. The garden's charming outdoor "rooms" host heirloom plantings and blooms under towering heritage trees. The 1794 Smokehouse on the property is one of the District's oldest existing "dependencies" or outbuildings. And the 1920s freestanding garage, with the 1919 Pierce-Arrow motor car it houses, is a reminder of both early automotive history and, as in the Smokehouse, adaptations in technology and the uses of space over time.
The best way to visit Tudor and Keep History alive is to attend their Annual Garden Party. The party is taking place on May 22nd on the five acres of grounds of Tudor Place and is an integral part of raising funds to support preservation of the historic estate.
"The Garden Party is a great way to bring in new friends and potential supporters of Tudor Place, especially younger ones and those beyond Georgetown, who may not know our work to preserve and share history. The experience of a warm spring night in the garden and socializing in the tent below the Portico have a way of enchanting people!," said Director of Development Mary-Michael Wachur.
Why Should You Invest in Tudor Place?
Investing in places like Tudor Place is important because of its historic and educational value. Heritage sites, as markers of the past, are part of people's identity and memory, and we cannot forget the importance of places like this. It is our job to keep this rich history alive for generations to come. History is important because people are important. Their stories, possessions, inventions and artifacts speak to the values and progress in communities and museums are essential contributors to the vibrancy of communities.
"Tudor Place is history. It's heritage. It's the future, too. It's a vehicle to connect the past with the future," said board of trustees member and Bicentennial Garden Party chair Marcia V. Mayo.
Let us come together as a community to invest in the future and preserve the past.
#InvestInHistory #NationalHistoricLandmark #RossMerrillAward #TudorPlace #AnnualGardenParty
*This article reflects my personal views only.
Calling all HuffPost superfans!
Sign up for membership to become a founding member and help shape HuffPost's next chapter
This post was published on the now-closed HuffPost Contributor platform. Contributors control their own work and posted freely to our site. If you need to flag this entry as abusive,
send us an email
.