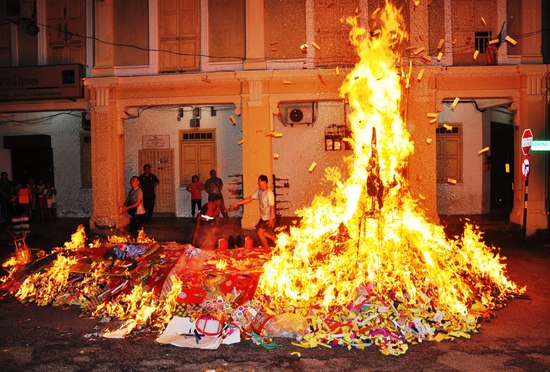 The Gates of Hell are open and peckish spirits from the Underworld are wandering about. This can only mean one thing: it's time for the Hungry Ghost Festival.
Hungry Ghosts is a traditional Chinese month-long event, and the Straits Chinese who came to the Nanyang hundreds of years ago continue to celebrate it.
In the Malaysian state of Penang, Hungry Ghosts means at least 100 shrines, opera troupes and puppet shows in the streets, along with smokey joss sticks, tables of food for the ghosts (who don't get fed down below) and burning effigies (above) to appease the spirits.
It's best not to attract the Ghosts -- don't be drunk in public, don't wear red, and watch the kids because the spirits might think a stray child is an extra-large snack.
Celebrated annually, the 15th day of the seventh lunar month is Ghost Day. This year the festival began on August 7 and continues until September 4.
Various types of offerings are made to appease the Ghosts, from burning money (Hell banknotes) to entertainment in the street. One form of entertainment is mounted by traveling Chinese opera troupes.
I visited one troupe in George Town, the capital on Penang island, and watched them preparing for their performance.
The troupe brought their own costumes and instruments, George Town provided a wooden stage with corrugated iron walls and roof. Mounted on stilts, hammocks were slung underneath for the troupe members lucky enough to make that area their home base.
Backstage it was noisy and chaotic, full of costumes, people applying thick pancake make-up, various stage managers, significant others, tourists, and reporters. It was very hot.
With my local tour guide friend Ang Huah acting as a translator in Teochew, I spoke to one of the singers.
Ms Kanokthorn Tangkitithorn, 43, explained that she has been performing in operas for 30 years, always playing the same character -- the male scholar. She doesn't care if real audiences are in decline, as she performs for the Gods and the Ghosts. As a bonus, she also gets some personal peace and prosperity. On this trip she was accompanied by her two-year-old son and musician husband.
Before a show, the troupe must pray to the opera goddess at their Taoist shrine backstage. Men can touch this but not women, Ang Huah said. He explained that parents need to watch their children during the festival because the legend is that a woman put her child on a table so she could pray, and the Ghosts thought this was an offering.
On this evening the opera was about two brothers who love each other, lose each other for a decade then find each other. After some discussion, we settled on its English title as Brothers For Eternity.
Performing is considered an offering to the Taoist/Buddhist Gods or to dead ancestors. With the lights, elaborate outfits and tropical temperatures, the performers really work up a sweat. But the audience just sees bright colors and dramatic characters. If you go to watch some opera, remember the two front rows of seats should be left vacant for the Ghosts.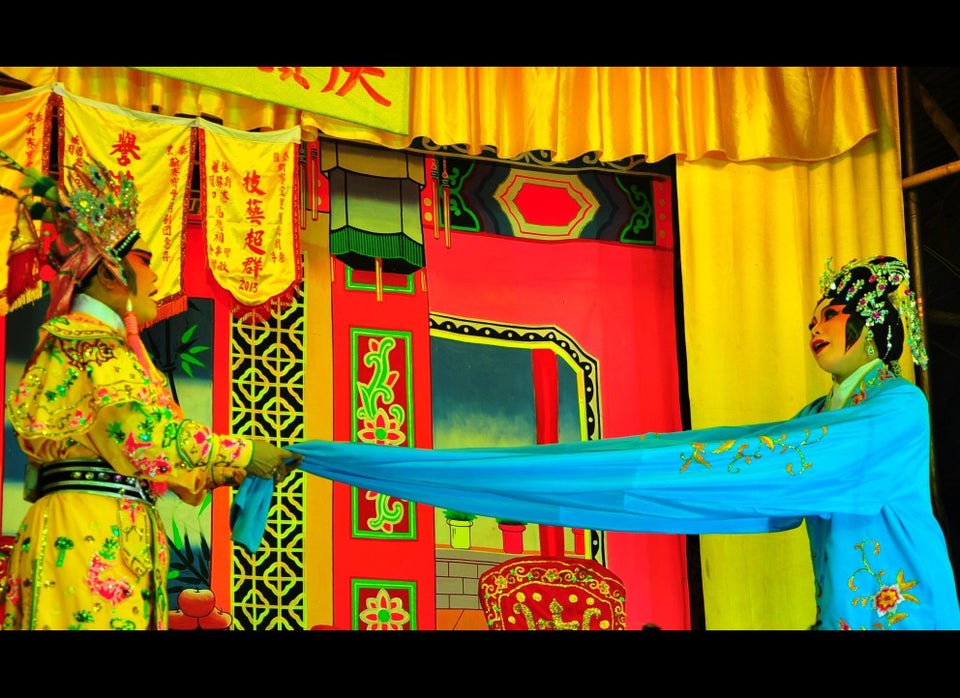 Scenes From an Underworld Festival
Related