Keeping your faith while studying in college is one of the biggest difficulties of being away from home. Usually, my family would gather around the menorah, and we would light the menorah and sings our prayers. However, for the third year in a row, I will not be home to celebrate with my parents. Instead, I light my apartment menorah with my roommates while we all cram for finals.

It's a far stretch to try and compare apples to oranges. You simply can't. This is how I feel celebrating away from home; there is nothing like being home with family during the holidays. College students, over the past few nights, have lit the menorah solo while they study for exams. Fortunately for me, my apartment fully observed the Jewish holiday --- we made latkes and brisket, the closest thing to being home.
Other friends of mine didn't actually have menorahs. I received a few texts actually asking for one, and for that, I am proud. People are preserving the Jewish religion, which is unfortunately slowly dwindling. It seems younger generations care less and less about the Jewish history, but rather care about the benefits of them. For example, I have many friends who don't observe Yom Kippur, but fight diligently for days off of class for it. The importance of the Jewish religion is that there are practitioners. The good news at the University of Florida is that there does seem to be practitioners.
In fact, both Jewish organizations on campus (UF Hillel and Chabad) are encouraging celebrating Chanukah. On the first night, UF Hillel co-sponsored a menorah lighting. That same night, the Chabad rabbis' walked around Turlington distributing free menorahs. It is encouraging to see that these two organizations care for the Jewish community and the need to preserve it.

For those who couldn't get a free menorah and/or didn't have one, I was ecstatic to see that regardless they made their own makeshift versions. As humorous as the image below is, I'm thrilled my friends made the attempt to keep Chanukah.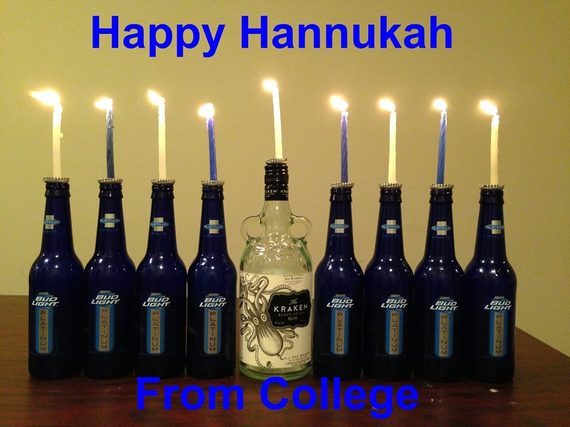 With this mentality, we can be assured the religion will never die. The flames of the Jewish religion (both metaphorically and realistically) will never die. Regardless of how someone chooses to practice and celebrate, I am just grateful there are people who are still doing this.
As a Jewish student on campus, I am proud to be who I am. Everyone should be proud of who they are. Ironically enough, my fraternity actually has an award called the Bagel, which goes to the brother that the brotherhood believes is the most Jewish. I have won this same award every year I have been a brother. This is not just to serve as a humorous ending to the article, but it serves a bigger purpose. Everyone should embrace who they are, and love that aspect about themselves. I am a proud Jew, not just on campus, but for life. Happy holidays to everyone, and to all of my Jewish readers --- Happy Chanukah.
REAL LIFE. REAL NEWS. REAL VOICES.
Help us tell more of the stories that matter from voices that too often remain unheard.