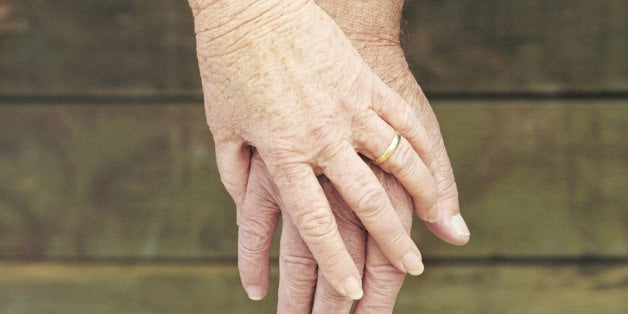 February is the month to celebrate love, relationships... and family. For those with aging parents, this day can be a reminder of the positive impact companionship can have on the health, happiness and safety of aging loved ones. While browsing CNN, I came across a reference to an article in the Journal of Health and Social Behavior regarding the impact of marriage on a person's health. The article stated "divorced or widowed people have 20 percent more chronic health conditions such as heart disease, diabetes or cancer than married people. They also have 23 percent more mobility limitations, such as trouble climbing stairs or walking a block."
As a long-time senior living advisor with A Place for Mom (APFM), North America's largest senior living referral service, these statistics were not so shocking. According to our company's data, couples who are looking for a senior care or housing, are often more independent than single female or male seniors who are looking. In fact, for the families who worked with APFM to find senior living options between 2011 and 2014, 40 percent of those who were looking as a couple were able to take medications on their own, compared to just 29 percent of single females and 25 percent of single male residents, and 42 percent of couples are able to get around by themselves without the aid of a walker or wheelchair, compared to 39 percent of single females and 40 percent of single males.
The search for senior care for one aging parent or both parents can be similar in nature, but there are unique misperceptions and challenges involved with the search for senior living options for a couple which may prevent families from seeking options, even if it's the most logical choice. In many cases, the ability to live together can make or break a couple's decision on whether or not to move to a senior living community. Some of these myths include:
Myth 1: There is a lack of care options that meet the needs of both partners. Oftentimes, a change in the health condition of one partner is what propels a couple to start the search for senior housing -- one partner may even have drastically different health care requirements than the other. It's important for families to start doing their research and to understand the breadth of senior housing options available today -- before a health emergency occurs.
Senior living communities today are different from the facilities of 20 years ago, and can cater to the unique needs of each senior. For example, an assisted living community may also offer skilled nursing services, allowing a couple to continue to live in the same suite or apartment, while enabling the partner who is in good health to take advantage of activities and other amenities that an assisted living community may offer, and also ensure that their partner, who may have more health concerns, is also able to receive the help they need in managing their medication and other activities of daily living and/or medical issues.
Myth 2: Two people in an assisted living community means double the price. This is not necessarily true, as the price of senior living is affected more by the level of care needed than by how many people are residing in one apartment. Communities may differ in their pricing structures, but affordable options are available for couples who are looking to move and want to stay together. It is possible for a couple to be charged for only one room, with an additional fee for two people and the care services that may be needed for one -- or both -- partners.
Properly planning for long-term care and tapping senior living advisors for help during the senior care search process can help families ensure they are leveraging all possible resources they have to continue residing together.
Myth 3: Mom or dad will receive better care from their spouses at home than they would at a senior community. Whether out of love or guilt, we often see cases of one spouse caring for their partner even if it becomes very difficult for them to manage on their own. This may lead to the decline in the health of a caregiver, and can affect the quality of life -- and the relationship -- for both partners. Knowing the options available today not only helps families keep aging couples together in the same community, but can also help alleviate the stress of caregiving for both partners. When mom is able to get the daily help she needs to take care of dad, who may be in the early stages of Alzheimer's, she is able to have the time to attend to her own needs, allowing her to regain her role as wife to her husband.
Furthermore, the fellowship that a senior living community can offer can be beneficial for both partners. A couple that moves together to a community may make friends together with other residents, which gives them much-needed social interaction, not to mention an established support network should anything happen to one member of the couple.
Making the move to a senior living community can be a major life change, but when a couple can make that move together, the transition becomes a little easier. Whether or not a couple or family have considered senior living, starting to do your research now on the options available can help alleviate the stress that comes with this new stage of life, and prolong the health benefits that come from staying together.
REAL LIFE. REAL NEWS. REAL VOICES.
Help us tell more of the stories that matter from voices that too often remain unheard.