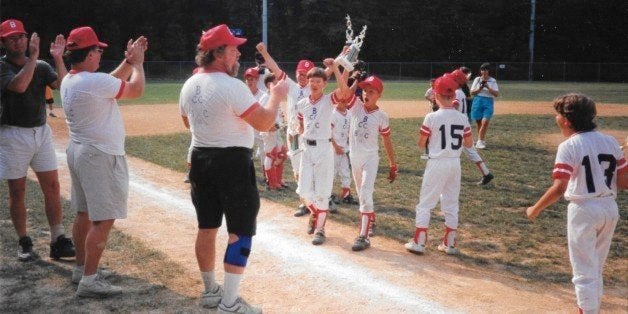 By Hunter, Sam and Nick Young
The Plumfund Story: Miller Young -- Dedicated Father, Grandfather and Sports Fan
My earliest memories from childhood were the twice annual "Tri-Sport" events that my father, Miller Young, hosted at the family poultry farm, the last large private farm inside the Washington, D.C. beltway. As a kid, I saw what seemed like millions of people laughing, drinking, playing games, eating the best ribs in the D.C. Metropolitan Area and, in general, having a great time. My father was at the center of it all, making sure the large masses had their fill and left with a smile on their face.
What I didn't comprehend at the time was that these gatherings weren't just parties; they were fundraising events for the local youth sports groups in which my brothers and I participated. My father would plan these events weeks in advance, preparing food and entertainment for hundreds of people in order to support the Maplewood Football Club, Bethesda Chevy Chase Baseball Club, University of Maryland wrestling team and Team U.S.A. baseball team. He worked late nights in the hospitality industry, helped coach our baseball teams, and organized and operated the football club's concession stand to boot, yet he still managed to find the time to host these events to benefit the local sports programs and kids who participated in them. For those that knew him, it was the perfect combination of his passion for high-quality food, entertainment, sports, and FUN.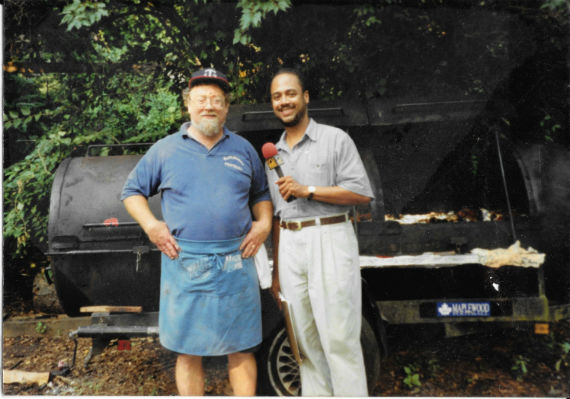 The local Fox Affiliate in Washington, DC, Channel 5, sent their news team to our house to interview our dad for a segment regarding his involvement in fundraising for local youth athletics through his cooking and barbecuing events.
Dad passed away in September and we wanted to do something that would honor his memory for years to come. His proudest honor was receiving the Charles Reynolds Memorial Award for Outstanding Community Service to Youth in the Washington D.C. Area in 1993. This award, bestowed upon him by the Home Plate Club in Washington, D.C., was earned through his efforts to support Bethesda Chevy Chase Baseball Club little league through multiple fundraising channels including his Tri-Sport fundraising events. In lieu of flowers, and in the spirit of my dad's selfless dedication to youth sports programs, we created a Plumfund to carry on his legacy of supporting Maplewood Football as well as several other organizations dad was passionate about.
Plumfund in Action: Keeping Miller's Legacy Alive
Dad always encouraged youth participation in athletic programs of all kinds to maintain their focus and keep kids out of trouble. He rarely missed any of my brothers and my games. Dad would stay up through most of the night and lose sleep to ensure food was prepared for game days; his concessions for Maplewood were notorious throughout the county for being the best and most elaborate refreshments. Dad was always happy to do whatever he could to make everyone feel at home and he never complained about anything.
Our initial goal was to raise $310, enough to provide equipment and registration support for at least one child in need to participate in the Maplewood Football Program. We have already surpassed that goal, and are now working toward a new one: a $1,000 athletic scholarship fund in dad's honor. Dad dedicated his life to giving children the gift of healthy sports programs, and inspiring others to do the same. We know he would be proud of this scholarship fund and that his giving legacy will continue for years to come.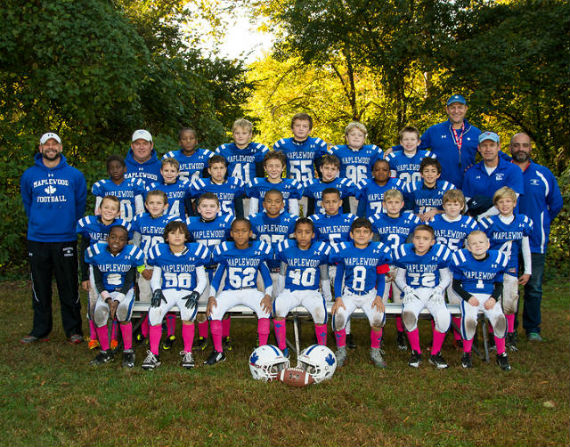 The Maplewood Football Team
This post is part of a series produced by The Huffington Post and Plumfund, in conjunction with Giving Tuesday. In the series, we'll feature inspirational stories of giving and receiving from users and friends of Plumfund, the free crowdfunding site. You'll find one post every weekday in November leading up to Giving Tuesday. To learn more about this campaign or start your own, visit Plumfund.com.

Calling all HuffPost superfans!
Sign up for membership to become a founding member and help shape HuffPost's next chapter