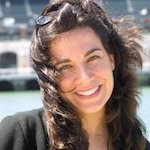 By Joni Blecher
Joni Blecher is a freelance writer who has spent her career covering tech and a myriad of lifestyle topics. When she's not writing, you can find her exploring the food scene in Portland, Oregon.
By the year 2050, more than 20 percent of the world's population will be over the age of 65, and a considerable number of these senior citizens will go it alone. This trend will have a particularly profound effect in Japan, where the percentage of people 65 and over is projected to spike from the current 25 percent to 40 percent. What better place then to test a program aimed at improving seniors' quality of life thorough technology?
Apple, IBM, and Japan Post Group are planning to provide millions of iPads loaded with apps and services designed to help senior citizens in Japan thrive. The pilot program, which will start in the second half of this year, will be an extension of Japan Post Group's "Watch Over" service, where for a nominal fee, postal workers check on elderly customers and report back to their families. The iPads are designed to complement these in-person visits and provide a way for the elderly recipients to manage their lives and stay connected to family members and the community.
"We are joining with two of the world's most respected leaders in technology to bring our elderly generation into the connected world, expand our businesses by deepening relationships, and discover new ways to strengthen the fabric of our society and economy," said Taizo Nishimuro, CEO of Japan Post Group.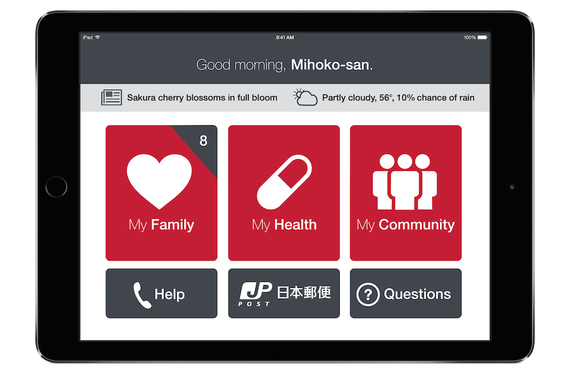 Apple iPads pre-loaded with custom-built apps provide reminders and alerts about medications, exercise and diet, and direct access to community activities and supporting services. (English translation of apps. Source: IBM)
In addition to some of the apps already found on an iPad (FaceTime, Mail, iBooks, and Photo Sharing), the tablets are loaded with custom-built apps designed by IBM Global Business Services. The apps, which are geared toward the elderly, include exercise and diet monitoring, reminders and alerts for taking medications, and access to support services. The iPads also have accessibility features for seniors who have poor vision or are hearing impaired.
After the pilot program launches, Japan Post Group says it will expand the service in stages with the objective of reaching 4 million to 5 million customers in Japan by 2020. If successful, the program is likely to be replicated in other countries.
This isn't the first time iPads have been tested as a tool to help senior citizens function better, often with mixed results. In Norway, researchers gave 28 elderly men and women iPads to control the lighting and heating in their homes. Unfortunately, more than half of the participants in the study were unable to use the tablet to turn their lights on and off. (How do you say "The Clapper" in Norwegian?)
Another study done at the University of Worcester found iPads were helpful in improving the quality of life for patients with dementia. In addition to helping caregivers interact with patients, they also served as an aide to help the patients remember day-to-day things, such as food preferences. Some were even able to recover childhood memories when using the device to search the Internet.
There are of course many variables to consider when judging the success of these programs, such as the individual subjects, ease of use, program goals, and if they improve quality of life. Thanks to its touch screen, size, and portability, using a tablet to augment elderly care seems to be a step in the right direction. Adding more accessibility features to tablets will only make them a more viable solution, because ultimately, the applications and use case scenarios will determine their success.
Calling all HuffPost superfans!
Sign up for membership to become a founding member and help shape HuffPost's next chapter