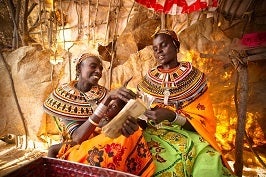 by Kathleen Colson, Founder and CEO of The BOMA Project
Nick Kristof, in his January 6 column in the New York Times, shared his optimistic view that 2017 was the best year ever. We agree. Even in the face of climate change, global conflict and stories of famine and natural disasters, we see profound positive change in the lives of thousands of people in places that were once considered hopeless.
According to the website Our World in Data, run by Oxford University economist Max Roser, the number of people around the world living in extreme poverty (less than $1.90 per day) goes down by 217,000 individuals every day. In northern Kenya, where we have been implementing our poverty graduation program since 2009, a transformation is underway in how humanitarian aid programs are delivered, with tremendous implications for ending extreme poverty. By working to create sustainable, systemic solutions that build resiliency and self-sufficiency, BOMA and other organizations are helping the ultra-poor become active participants in their own success, rather than passive beneficiaries of donated aid.
By implementing a proven approach that breaks the generational cycle of extreme poverty, we have the opportunity to forge a pathway to prosperity for millions of vulnerable people. We do this not only by delivering a data-driven program that demonstrates impact, but also by focusing on real systems change. Our goal is to change humanitarian response systems in fragile states and regions while also seeking to incorporate the graduation model into the Government of Kenya's social protection systems.
We know our model works, and we see success every day in the faces of the more than 15,000 women who have participated in our program. Our goal of helping 1 million women and children overcome extreme poverty by 2022 is possible. As Nick Kristof says, despite the headlines and the very real challenges the world faces, it is important to step back and "take note of genuine progress." And look forward to the next best year ever.