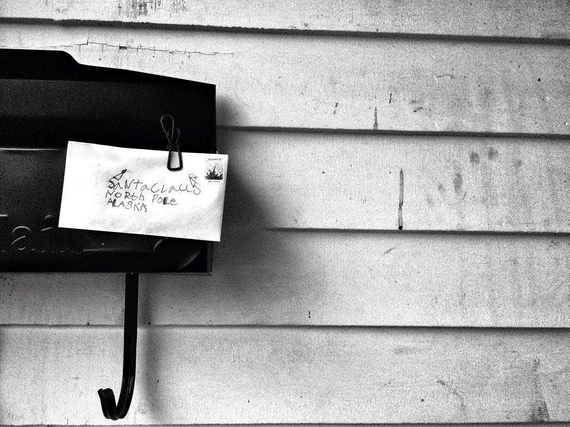 Credit: Ashley McKee
Christmas has rarely been a joyous time for me. I'm estranged from my family, and sometimes I don't have my oldest daughter with me. I struggle to provide for my family year-round, but Christmas adds an extra pressure to be Santa Claus. To cultivate a magic in our house when often I am exhausted, overwhelmed, and stretched too thin.
When it comes to presents, I haven't had much to give over the years. But I still make it work, somehow scraping together the last of any available funds I can pull out of any source. There have been some years where if it hadn't been for charities, my daughter wouldn't have received many gifts, or any at all.
As my daughter, Mia, has gotten older, she has a 7-year-old's fierce belief in Santa Claus. She treats him like a pen pal, sending him letters as early as March. She carefully plans her requests, and colors pictures for him. I encourage their friendship, though I get caught in my own web of lies from time to time, then have to ramble on in explanations: "Well, he has helpers who take his place before Christmas to keep the spirit so people still believe in him. That's why he's in the mall."
Last year, we had so little, I couldn't afford to buy any gifts for her and my then 6-month old daughter. By the grace of friends, we received various donations in the form of cash, gift cards and presents for the girls off my Amazon Wish List.
One friend offered to send Mia an "official" letter from Santa, which she offers from her Etsy site. When she asked me what I wanted written, I thought back on the year. I'd had a baby on my own, and we'd had some unexpected hardships. My older daughter's birthday was just five days after the birth of her little sister, and I'd relied on donations for her few gifts.
I worried about the impact of all of that on Mia. The kid had a rough year with an exhausted mom driving her around with a screaming baby. We'd just moved, and I wasn't earning enough to make ends meet, let alone the kind of money to pay for special activities, such as dance classes or recitals. I tried to make up for our lack of financial means by telling her daily what a good kid she was, especially when I hugged her.
So I knew a letter from Santa would give her the attention and recognition she needed.
When the letter came, Mia read it with wide eyes. She was on the brink of not believing in the man in the red suit, and for a moment her faith was restored because he had faith in her. He told her he'd been watching her closely that year and wanted her to know how impressed he was that she was such a good girl.
"He said he got my letters!" she said. She hugged the letter, then asked if we could hang it in her room.
"Of course," I said. "I think I even have a frame for it." I tried to be nonchalant. "What did he say?"
"He said Mrs. Claus and him are going to make this Christmas special and he can't wait to eat my cookies," she said. "He knows about my little sister, too! And that my family loves me."
This tiny gesture, I think, gave her so much confidence and made it a Christmas she won't forget.
The small things that make Christmas magical are the things children will remember. It doesn't matter what they open on Christmas morning, I don't remember what was in half the boxes I opened as a kid. What mattered were the decorations, the cookies that were mysteriously eaten, and the stockings that were filled. Keeping the magic alive can be as simple as going to the mall to sit on Santa's lap or reading special stories on Christmas Eve.
When you don't have a lot of money for gifts, a little creativity goes a long way to create magical holiday memories and traditions that maybe one day they will share with their own children.
Stephanie Land is a writing fellow for the Center for Community Change.