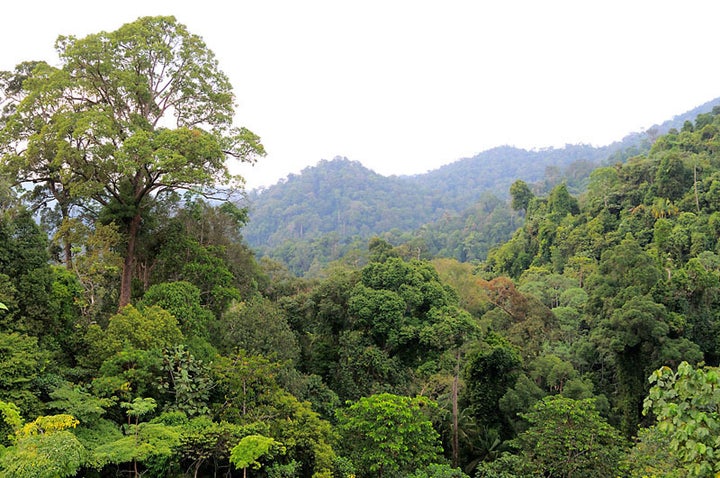 Sumatra breaks my heart, over and over again. But still I go back.
For years, I've been drawn to this special place, a tropical island on the equator so teeming with life that science has only begun to catalog its secrets. Jungles so dense that they have greater plant diversity than the Amazon. The only place on the planet where rhinos, tigers, orangutans and elephants all co-exist.
In the last 30 years, the Indonesian island of Sumatra has lost more than half of this spectacular forest cover to development and clearing—at one of the highest rates of deforestation in the world. The forests growing on its peatlands, deep with carbon, have been cut down at such a rate that in some years, Sumatra releases more greenhouse gases just from deforestation than the industrial emissions of the entire country of The Netherlands. Think about that.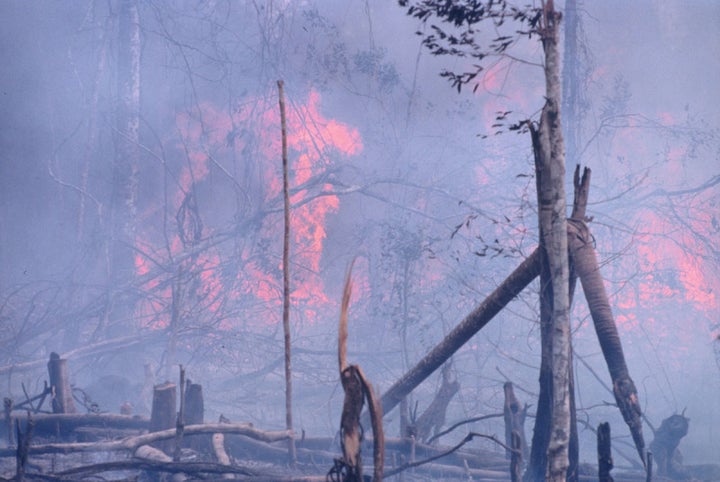 And the haze from annual fires deliberately set to clear forests for planting is on such a scale that it has become an international embarrassment, with the nearby government of Singapore this year taking legal action against Indonesian business operators connected to the suffocating haze that shuts down the airport in Singapore at times and forces school cancellations due to dangerous air quality.
The key drivers of Sumatra's tropical forest degradation, as in other parts of the world, are unsustainable logging and uncontrolled fires. But I have hope for this place. How can I not when the stakes are so high? Four of the species of highest concern to World Wildlife Fund (WWF) live here, and all four are critically endangered: Sumatran elephants, tigers, orangutans and rhinos.
Amidst all the deforestation, the illegal palm oil development and the slash-and-burn clearing, there remain pockets of healthy forest in Sumatra. Thirty Hills, or Bukit Tigapuluh, in central Sumatra is one of them. It's a rainforest straight out of central casting: cloudy up in the canopies, massive trees called dipterocarps whose roots dwarf the tallest man, exotic tropical birds and insects.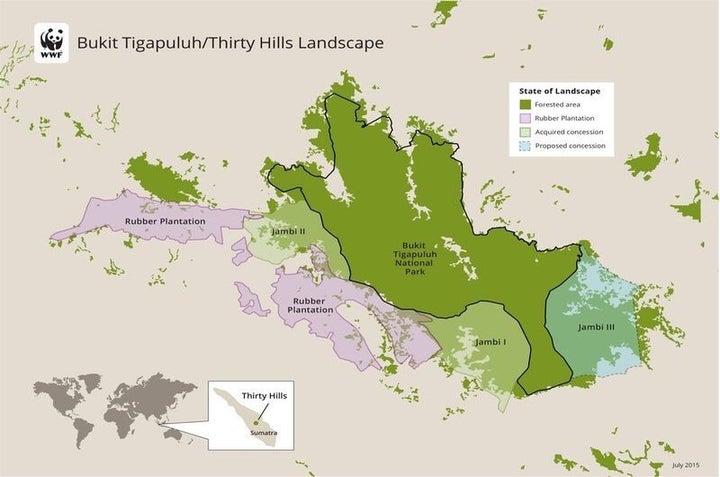 It was in Thirty Hills that a small group of conservationists decided we would – must – try something different. And so WWF and our partners, the Frankfurt Zoological Society and The Orangutan Project, are embarking on a novel project that puts us more in control of the fate of a piece of the spectacular, lush rain forests that once gave Indonesia the nickname "Emerald of the Equator." The project makes us land managers of 100,000 acres of tropical forest here, operating a forest concession for the benefit of the wildlife and people who live there.
The reason Thirty Hills has been protected as long as it has been is that it's hilly, as the name suggests, and harder to clear, so it's been less desirable for both commercial companies as well as illegal loggers. But as forest disappears around it, once-off limits Thirty Hills has increasingly become a target for land clearing.
And as the forest disappears elsewhere in Sumatra, more and more wildlife is moving into Thirty Hills. It's a place where Sumatran elephants are still able to find forest. Same with tigers and a total of 59 species of mammals and hundreds of bird species. And because it's becoming a refuge as Sumatra's forest cover elsewhere thins, it's becoming even more important for wildlife. That also creates its own problems, as increased wildlife density brings wildlife into closer contact, and conflict, with local communities living in Thirty Hills.
From 1970 to 2012, there was a 58 percent overall decline in vertebrate population sizes globally, according to WWF's 2016 Living Planet Report. This is a dramatic change even from the 2014 report, which saw a 52 percent overall decline in populations. Sumatra embodies this statistic. When there is competition for land between people and animals, wildlife is always the loser.
In Thirty Hills, WWF is working to make the neighbors our partners, from the indigenous nomads living inside the forest to the mega rubber and pulp companies managing adjacent concessions. That includes setting up joint patrols to monitor the elephants as they move through the whole landscape, mapping land use across the forest collaboratively with the indigenous tribes and neighboring villages, and sharing intelligence on illegal activity with the other concession holders.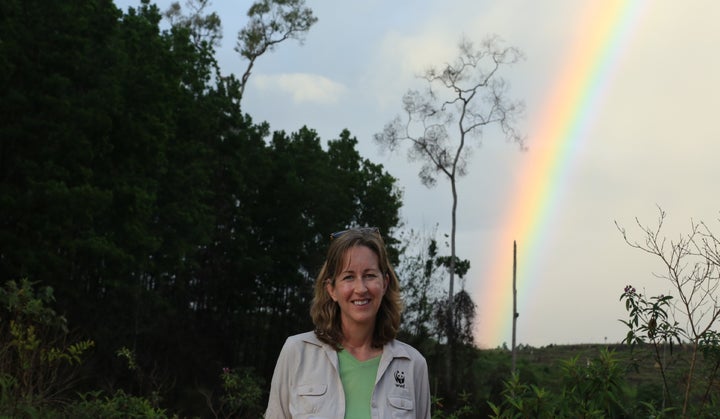 As so many other pristine landscapes have been lost to deforestation, it's easy to become defeatist. But Thirty Hills and the wildlife clinging to survival there can be saved. And this new economic and conservation model -- with indigenous people, conservationists and multinational corporations working together to prove that commerce and conservation don't have to be at odds -- can provide a path for a new conservation approach that goes beyond the stunning forests of Sumatra.
Related
Popular in the Community