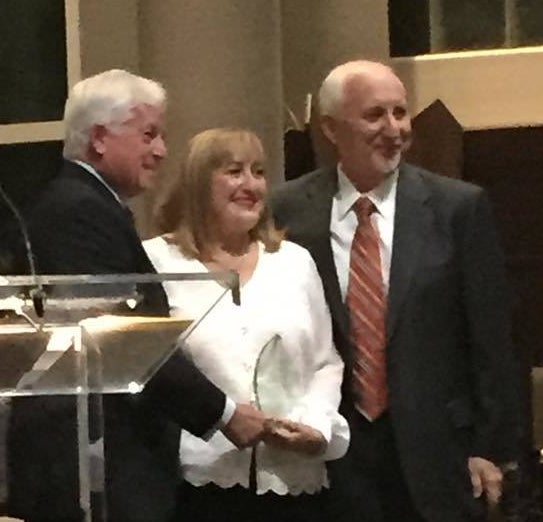 "How does one take on the memories of another person, let alone the collective memories of millions?"
That was a question posed by Andrea Bolender at a tribute dinner last night to benefit the Holocaust Museum and Tolerance Center of Nassau County. The question is a conundrum, but one that must be answered by all who are committed to keeping the memory of the Holocaust alive.
In remarks after receiving the organization's Legacy Award, Andrea drew upon the definition of legacy by Lin Manuel Miranda, who created and starred in the Broadway musical, "Hamilton."
"A legacy is planting seeds in a garden you never get to watch grow," she quoted.
I have been deeply involved in the quest to keep my family memories and legacies alive for almost 10 years – ever since the death of both of my parents within 18 months. As I have researched, written, and spoken about the topic, I learned how to heal myself by keeping alive positive memories. I am gratified that I have also helped others find comfort and strength in living and loving memories.
My focus has been on upbeat memories. I am not a child of Holocaust survivors like Andrea and other friends of the second generation.
But I deeply support and embrace HMTC's mission of teaching the history and the lessons of the Holocaust through education and community outreach to students and adults of all ages. Through a myriad of programs, the center warns against the dangers of anti-Semitism, racism, bullying, and other expressions of intolerance and prejudice while promoting respect for all.
But why must we take on the mantle of keeping alive a legacy that is disturbing, catastrophic, and tragic?
"(The atrocities of the Holocaust) happened long before my birth, yet their memory persists," Andrea told the audience. "This is the legacy I have been entrusted with. It certainly is a weighty one, both a burden and a gift. But we are not alone. Our feelings are shared by countless others….
"(The Holocaust) is a part of YOUR history too. Do not let anyone deny that your parents, grandparents, or family suffered so greatly. Remember this not only for your forefather's sake, but for your children's sake…for one day you will be called to pass the legacy to them."
She noted that as the last of the witnesses of the Holocaust enter advanced age, it is up to succeeding generations to keep their memories alive. She said that her involvement honors the memory of her father, Benek Bolender, a survivor of Auschwitz-Birkenau. His final wish to her was, "Never forget."
Andrea also spoke about her efforts to build a lasting relationship between HMTC and March of the Living International. The March of the Living is an annual event that takes place in Poland and pays tribute to all of the victims of the Holocaust. Participants retrace the steps of the infamous death marches as they walk 3 kilometers to Auschwitz.
Andrea also showed a short film of this years' trip, which she said reflects what she wants to leave: "A legacy of remembrance, respect, and education so that the signs of future genocide can be recognized and swiftly addressed."
"The stories of our parents' past constitute a traumatic experience for children of survivors. As the last of those witnesses to this centuries' greatest atrocity move into their 80's and 90's, we MUST become the torchbearers of their legacy!"
"How can we fill those shoes; how many of us even want to?
Our voices cannot possibly have the same impact as the voices of actual survivors, but we must accept the responsibility to be the transmitter of these stories. We are the "eyewitnesses TO the eyewitnesses" and must continue to nourish this garden of memories so that our children and grandchildren can enjoy the ultimate beauty of a rich Jewish culture, which has been called for destruction since time immemorial. "
One survivor still telling her story is Anita Weisbord, who was born in Vienna, Austria.
"I was 15 years old in March of 1939 and eligible for the Kindertransport to England," she recalled in her remarks at the dinner. "My mother made the heart-wrenching decision to send me alone to live with a stranger."
Anita has made it her mission to tell her story to young people so that the Holocaust will be imparted to a new generation.
"When I share my story with students I say the same thing to every class --whether they are from Long Island, Vienna or Idaho," she said. "We, the survivors, are telling you the story of the Holocaust to show you what hate can do. You are the future. It is up to you to do what you can to see that this doesn't happen to another child again."
Others honored at the event were: Steven Dubner, Public Service Award; David B. Samadi, M.D., Community Leader Award, and Emily Berkowitz and Ilise Friedman, Bruce Morrell Education and Humanity Award.
Meryl Ain, Ed.D., The Comfort Coach, inspires people to transcend their losses by keeping alive the memories, passions, values and legacies of those they have lost. She helps to promote healing by providing professionals, organizations, and individuals with the tools to foster optimistic thinking, positive projects, and resilience. A former teacher and school administrator, her articles have appeared in The Huffington Post, MariaShriver.com, The New York Jewish Week, The New York Times, and Newsday. Her new book, My Living Memories Project Journal, is available on Amazon. She is the coauthor of The Living Memories Project: Legacies That Last.
Related
Popular in the Community