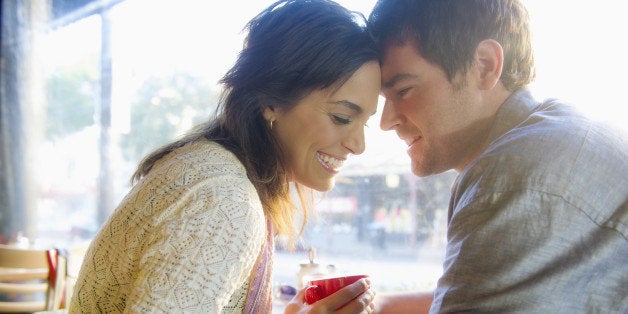 Relationship Appreciation Season has come and gone. First, there was Christmas, where the romance of the holiday -- and the twinkle lights -- illuminated your adoration for your significant other while a parade of advertisements reminded you to buy gifts. Valentine's Day quickly followed and, once again, you were encouraged to take stock in how much that special someone meant, professing your love through clichés of poetry, jewelry, chocolates and bouquets.
But after February, you're off the hook, and gratitude for your number one emergency contact may go dormant. With the exception of Mother's Day, Father's Day or your sweetheart's birthday, it could be 10 more months until you even consider showering your loved one with the gift of affection again. This, I'm afraid, is far too long.
Although holidays and commercialized celebration days are wonderful excuses to acknowledge your significant other, it is just as meaningful -- and maybe even moreso -- to show your appreciation on a random day. According to data collected from Relationup, an app that provides live dating and relationship advice, 24% of clients in committed relationships seek help on how to cope with feeling underappreciated and neglected by their partner.

Unexpected recognition is a powerful way to let your partner know how much he or she truly means to you and how you value them in your relationship. Not sure how to demonstrate your love without red hearts and wrapping paper egging you on?
Here are 5 easy tips for you to keep the spark alive all year long:
Volunteer to take on a routine task normally reserved for your partner. Whether it's running to the drug store for him or volunteering to drive the carpool for her, these are thoughtful, effective ways to give your partner a much-needed break from their regular responsibilities. A simple, "let me take this over this week" or "you sleep in and I will go" can feel like the most generous gift in the world.
Share one appreciative comment a day. When you've been together for a while, it's easy to fall into a routine and you may naturally begin to take one another for granted. At the beginning of a relationship, we all tend to notice and express appreciation for the other person's actions. As time wears on though, these behaviors become expected and that special feeling no longer registers. So, take the time every day to acknowledge your partner with a simple thank you or compliment. This sends the message that you recognize and appreciate all the little things they do for you and your relationship.
Spontaneously bring home something you know your partner would love. Don't wait for a designated holiday to bring home a thoughtful gift that says "I listen, I 'get' you and I know what you like." Being recognized or "seen" resonates powerfully on a very deep level for people. If he loves chocolate, surprise him with a specialty bar from a famous chocolatier. If she loves cheese, bring her home a wedge she's never tried with fig jam from a local cheesemonger. You'd be surprised how touched a person can be by this random act of kindness.
Be a curious, active listener. Nothing says you're important and meaningful to me more than someone caring enough to ask how you're feeling. Remembering specific details about your partner's work, family and social life and taking the time to reach out about how things are going can be the highlight of your partner's day. Take an interest in his life, ask her questions, follow up about important events that are scheduled in the future and, most importantly, ask how your significant other is feeling. And remember, it's not enough just to ask. You need to be an engaged listener and file details away for next time.
Reciprocate and share with your partner. There is nothing worse than not having a clue about what's going on with the one you love. Don't leave your partner hanging or bury your feelings. Make an effort to share what's going on in your world and what you're going through. This will not only result in you feeling close to and supported by your partner, but your partner will feel more connected too.
While the glow of Valentine's Day is wearing off and you head toward relationship hibernation, think about how you can institute the above behaviors and set up new patterns for your relationship that will result in better communication, an enhanced sense of closeness and, most likely, more physical intimacy.