The online security industry is getting all shaken up. You might have avoided the Cyber Monday promises that we wrote about some weeks ago, but since then there have been a number of big-time breaches that made an impact on hundreds of thousands of people's lives, if not more.
I never knew what a Mac computer feels like until I got one of my own. The design aspects are wonderful, but what intrigued me the most was the constant feel of safety, or rather, the lack of need to think about what I am downloading, launching or viewing through my computer, especially the browser.
But personal and work data were never the two things that I would take lightly. Shortly after getting used to my new computer, I came across an application called SyncMate, a modern Mac application that promises to keep all your data synchronized across a variety of devices: Android, iOS, Portable Devices, Cloud Services, and many more.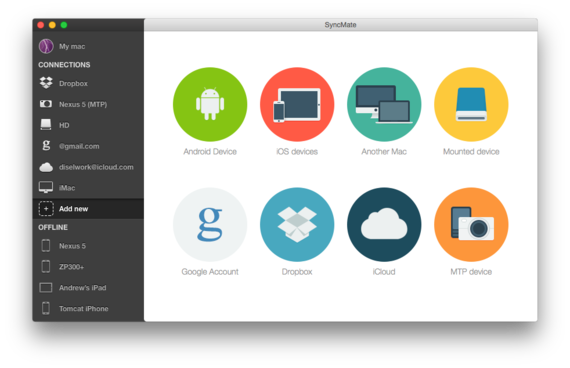 The thing that captured my attention with SyncMate was the ability to synchronize to 3rd-party services and third-party devices that were out of the scope of iOS itself. I might be a Mac user, but I'm very pleased with my Android phone, which I can now use to sync all my important files and use it as a real-life backup device.
As someone who works a lot at the computer, the most important feature for me was, of course, the ability to use this application as a means of making other devices and services as a backup platform.
Eight Devices to Synchronize With
Here is the full list of devices that SyncMate lets you synchronize with: Android, iOS, Mac, Mounted (External), Google (Drive), Dropbox, iCloud, MTP Devices.
So, even if you don't own any physical devices, you can still keep your files synchronized among three popular cloud providers, all of which provide enough free disk space to get you started.
Even bigger of a concern is how frequently your files are being synced across the devices, given that you frequently work with sensitive data, or data that you can't afford to lose. Technically, those who work from the browser can rely upon the browser's built-in sync features, but what about all the other files?
The second feature that stood out for me was the ability to synchronize as frequently as I like. One, two, five, or ten minutes -- it just works.
Whether it's your contacts or calendar dates that you need to keep synched, the software doesn't ask questions, but simply does the job. And yes, it works just as fine for music, photos, or folders if you have the need to carry around your work stuff.
While the application itself doesn't actually sync messages. You can manage SMS archives (send, delete, search through) in app window and export it in TXT, CSV and HTML.
"At the end of the day, the goals are simple: safety and security."
-- Jodi Rell
Having been a Windows (and a little bit of Linux) user all my life, I was accustomed to the idea of having to purchase an anti-virus to protect my computer (which always came at the cost of performance), but not with my Mac; things just work out of the box.
That's great, but what if you're consciously aware of the security concerns in the World right now? And if you're not, you should be. SingleHop has put together a report of the top five industries that were breached during 2014.
Many of these services we use on daily basis -- for work, business, general tasks! The worst thing is that you never know when those breaches are going to unfold, so your data is always holding on by a tread.
Which is one of the many reasons why I'm enjoying the amazing features that SyncMate offers, especially offline synchronization across multiple devices. I'm in total control, and everything stays in sync without having to worry about my data going into the cloud.
For me, as someone who works with multiple clients and produces work in multiple areas, being able to be reassured that all my stuff is always with me on all my devices provides an immense feeling of comfort, especially in the age of cyber wars, which aren't really going anywhere, but only evolving in more serious attacks.
As I wrap this up, my question to you is: How do you tackle your safety and computer security concerns, and what are the solutions that you use in your daily life to feel a little more on the safer side?
Support HuffPost
The Stakes Have Never Been Higher
Related
Popular in the Community