"Economy of Grace," Kehinde Wiley's new exhibition at Sean Kelly Gallery, taps into his familiar ornate portraits that mix Renaissance pomp and contemporary street swagger. Except this exhibition, for the first time, features portraits of women.
Kehinde Wiley is known for his bombastic portraits of black men as hip-hop aristocracy, dressed in their own street garb and crowned with Wiley's ornate patterns and golden frame. His photorealistic paintings show a portrait's historical ability to empower the disenfranchised, endowing a royal importance and street cred with his distinctive aesthetic.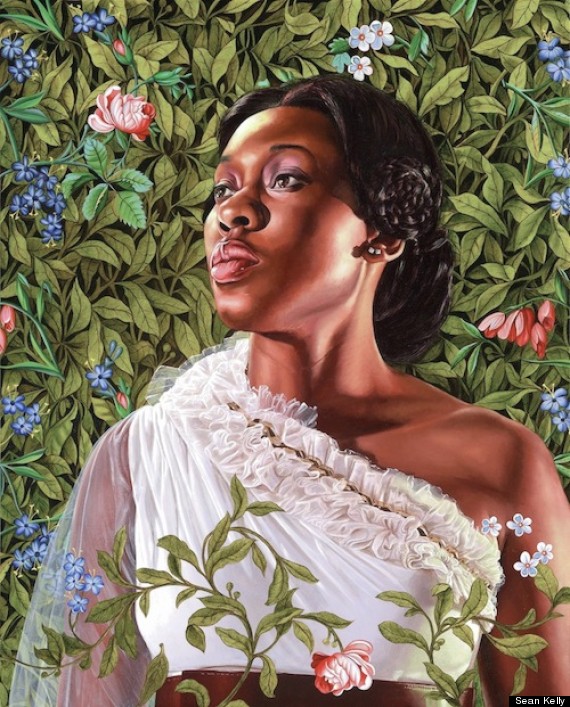 Dacia Carter
30" x 24"
oil on canvas
2012
Copyright Kehinde Wiley
Courtesy of Sean Kelly Gallery, New York
For the exhibition Wiley teamed up with Givenchy designer Riccardo Tisci to design costumes for the subjects, studying the history of female portraiture at the Louvre to find inspiration for the historical guidelines for femininity and beauty.
Aside from stunning couture, the decision to commission costumes for the portraits hints at the consumption of supposedly inherent traits such as grace. Thus the exhibition title "Economy of Grace," shows how grace, like power or nobility, can be manufactured, bought or painted. The models, who Wiley cast from the streets of New York, are retroactively inserted into the art historical cannon, filling the longstanding gap of black women in the history of art.
Just as Wiley showed the ability of a portrait to empower his male subjects, he shows the ramifications of the representation of women in art history. He inserts his portraits into the Western cannon, like a technicolor Thomas Gainsborough. Comparing the male portraits to the female, you can see the ways presence and pride manifest themselves in gendered ways. The female image of power exudes poise and coyness over the traditional Wiley male bravado.
We asked Wiley a few questions about his exhibition: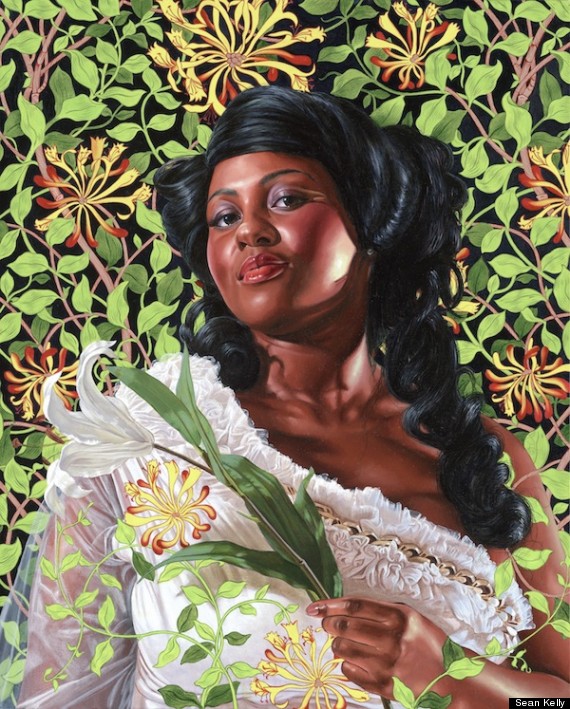 Mary Little, Later Lady Carr 30" x 24" oil on canvas 2012 Copyright Kehinde Wiley Courtesy of Sean Kelly Gallery, New York
HP: What inspired you to portray women for the first time?
KW: The reason why I am painting women now is in order to come to terms with depictions of gender and the way it is featured art historically--a means to broaden the conversation. Any consideration of male power in painting naturally includes the presence of women within that dialogue. "An Economy of Grace" is an investigation of the presence of women in painting, but in a broader sense, it is a investigation of the negotiation of power in image-making.
HP: Male models in your works often wear their own clothes, but this time, you gave women costumes custom designed by Givenchy. Why?
KW: For this body of work I looked to 18th and 19th-century society portraits for inspiration. At that time it was common practice for nobility to commission unique clothing for portraiture. Working with a major fashion house, we're revamping that tradition for the 21st century. I've always been a big fan of Givenchy and Riccardo Tisci's work, so it was a wonderful opportunity to work with him.
HP: You have described the poses of your male models from previous collections as 'macho.' How would you describe the women?
KW: Powerful yet elegant.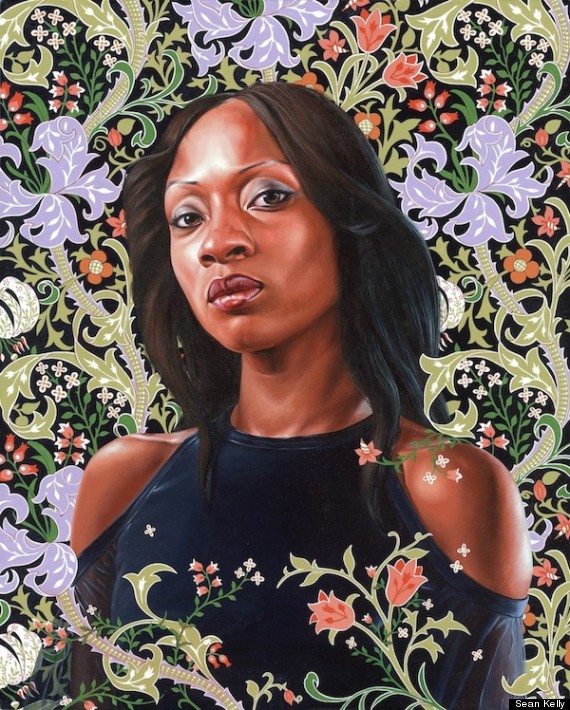 Kancou Diaovno 30" x 24" oil on canvas 2012 Copyright Kehinde Wiley Courtesy of Sean Kelly Gallery, New York
Calling all HuffPost superfans!
Sign up for membership to become a founding member and help shape HuffPost's next chapter
BEFORE YOU GO