This post originally appeared on Slate.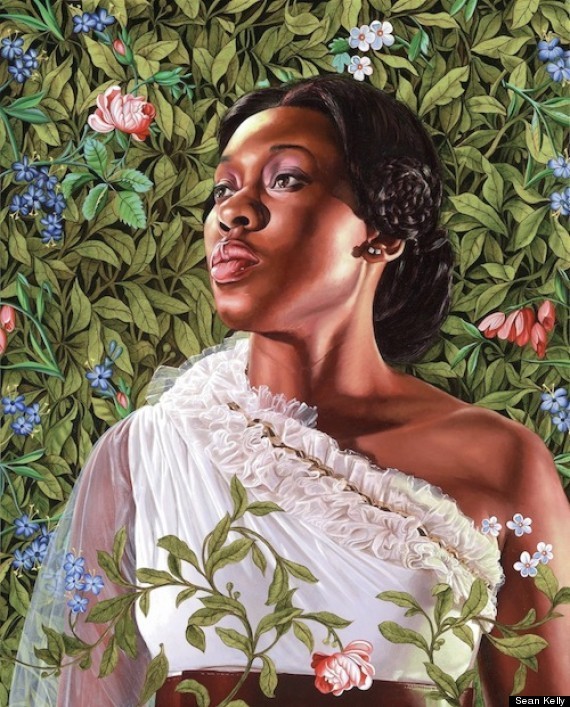 When it comes to visual art, I'm far from a connoisseur. I'm much more of a dabbler who will occasionally dip her toes into the world if a particularly cultured artist friend invites her to accompany them to an exhibit or fancy gallery opening. After viewing the documentary Kehinde Wiley: An Economy of Grace, which airs Friday night at 9 p.m. Eastern, I wish I'd attended the artist's exhibit when it was shown in New York two years ago. For the show, Wiley, who has risen to prominence in the art world for his naturalist, period-bending portraits of young men of color, painted portraits of women for the first time in his career.
The documentary traces the entire trajectory of 'An Economy of Grace': We see Wiley and his assistants scouting for black women muses on the streets of downtown Brooklyn, Wiley's preparatory photo shoots, the painting process, and opening night. For artists and fans of Wiley's work, the glimpse into his creative process is sure to be the lure, and it's a fascinating one indeed. Most compelling though, to me, were his actual subjects—the women Wiley ultimately chose to model for his portraits.
They span a panoply of backgrounds and looks: a prison worker who, by nature of her profession, spends most of her days dressed down; another, a heavily tattooed woman who takes pride in her ever-changing hair styles, and is quite skeptical of Wiley's project throughout the entire process; another eager to pose out of frustration with the lack of representation of woman of color in contemporary culture.
The ladies' candor is refreshing, revealing, and a little sad all at once. They're fully aware that Wiley has made Cinderellas of them all; their participation in the project is an ephemeral, all-too-rare opportunity for women who look like them. "Yeah, there's a change," the prison worker says after her shoot in a glamorous custom-made Givenchy gown. "And then tomorrow, it's back to work."
That's probably what makes the documentary almost as striking as the resulting paintings themselves—nearly everyone involved in the process is fully in on the prevailing notion that women like them aren't "supposed to be here," as Sean Kelly, owner of the self-titled gallery where the exhibit opened, puts it. The lack of visibility and the desire to be seen drives both Wiley's art and the women's participation, and as spectacular as the bigger-than-life portraits are, it will take more than this single exhibit to begin to solve any of those problems.
Still, seeing the women's reactions to the unveiling of their portraits is touching, and speaks to both the power of Wiley's intricate brushwork and the rare, wondrous feeling of seeing yourself reflected in beautiful art. When one of the models exhales, "I'm in love with me right now," it's a truly inspiring thing.
Aisha Harris is a Slate staff writer.
REAL LIFE. REAL NEWS. REAL VOICES.
Help us tell more of the stories that matter from voices that too often remain unheard.
BEFORE YOU GO
PHOTO GALLERY
30 Black Artists Under 40