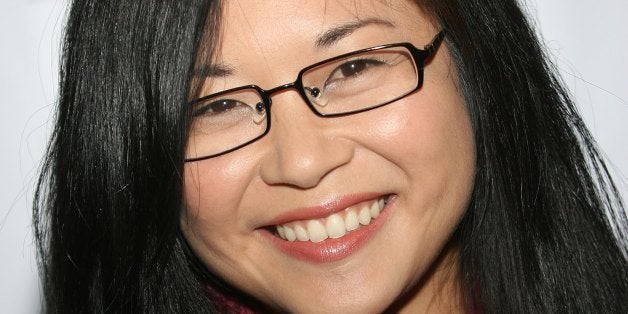 On June 6, the cast of "Gilmore Girls" is expected to reunite at the ATX Television festival. The actors will be joined by show creator Amy Sherman-Palladino, who, alongside husband and collaborator Daniel Palladino, exited the show abruptly amidst contract disputes before its seventh and final season.
One of the most heavily criticized elements of the last Palladino-less stretch was the storyline of Lane Kim, Rory Gilmore's longtime best friend. Throughout the series, Lane, played by Keiko Agena, struggled to pursue her dream of being a rock 'n' roll drummer under the strict rule of her very religious mother. After finally breaking out and living her life in the open in later seasons, the final episodes find Lane pregnant with twins after having sex with her brand-new husband and bandmate, Zach, just one, unenjoyable time.
At series close, Lane stays in Stars Hollow to take care of the babies as Zach embarks on a two-month long tour as guest lead guitarist in a band.
In anticipation of the ATX reunion, The Huffington Post got on the phone with Agena to talk about Lane's future as a drummer, what she really thought of the infamous pregnancy story arc and the possibility of a "Gilmore Girls" movie.
It's been reported that you'll be joining your cast mates at ATX.
Yes. A bunch of us are going to be there!
Will this be the first time you're seeing a lot of them?
For a lot of people, it will be. I saw some people recently, unfortunately, because of Ed Herman's memorial service. So I saw some people I hadn't seen in a long time. But for a bunch of people -- like Milo [Ventimiglia] and Jared [Padalecki], a lot of people -- it will be the first time I'm seeing them in forever. I think it's going to be a great time. I can't imagine it not being fun to see all of these people after such a break.
Scott Patterson recently said there had been some "conversations" about reuniting outside of ATX. Have you heard anything about these conversations?
I haven't, but I was just as intrigued. I was watching all of the hubbub on the Internet and I was like "Oh, Scott, what's happening?" I don't know but I'd love to hear more about it. I'm sure he'll share!
If there was some kind of reboot or film reunion, would you want to be a part of it?
Oh, sure. I mean I'm as curious as anybody of what happened to Lane. I want to find out what the story is with her in her adult life. And her kids.
Speaking of which, what did you think of Lane's pregnancy arc in the final season?
To be totally honest, I think it would be fun to find out what happens after that. I think it's great to have a different path than some of the other young people on the show. I think it's perfectly fine and interesting to have someone get married at a young age and have kids at a young age. But I think there is something about wanting to make sure that ... I don't know what she had to sacrifice. I guess that's the question that I have in my mind: What happened after that with her music? Was she able to continue it? Also what kind of mom did she become? Because we leave her as a very young mom.
Considering she had a complicated relationship with her own mother, it would definitely be interesting to see.
I know! Does she become her mom in some other way? Be as strict, or ... I almost feel like there's a certain kind of anxiousness to Lane that would manifest itself in some ways as a parent. Which would be kind of fun to see.
I know a lot of fans wanted to see more what would happen with Lane's music career. What did you think about Zach going on tour while Lane stays behind?
It's interesting about motherhood. I have a friend who's a stylist. She's amazing to me because she has four young kids, but she is nonstop. She has her own business, her own career. She never quit that creative side of her. So maybe in my mind I think that Lane wouldn't have been able to stop that creative push. Because nothing was able to stop that, it didn't seem like it, in her storylines.
It seems like after everything she did to keep that part of her alive growing up, it would be a shame if she didn't get to pursue that.
Yeah!
Do you think fans will ever see Hep Alien play together again?
I don't know! I hope so. I mean I love those guys and I know Todd [Lowe, who played Zach] has a band called The LA Hootenanny, and he's so charismatic and awesome to watch. My husband and I go to see him once in a while when we can. And I play drums still a little bit. So who knows.
You guys should do a music video! The Internet would love it.
[Laughs] Oh my gosh. That would be funny. I just saw Sebastian [Bach, who played lead guitarist Gil] at a birthday party for his son and yeah, Sebastian's the best. I adore him also. It would be funny to film something with him, like a music video.
Since the show came out on Netflix there's been a lot of new articles cropping up about it. Some critics (and re-watchers on the Internet) have focused on the fact that Lorelai and Rory are kind of bad people.
[Laughs]
Like, we love them, but they're selfish.
Well, I have a theory! Because of the financial crash and this whole situation -- the show ended in 2007 -- since then it's been a lot harder for people coming out of college to find jobs at all. So I think that when you look at "Gilmore Girls" now, especially young people who have grown up in this environment when it's so hard to have financial security. When you see Emily offering all of these things to Lorelei, and all she wants [is] personal interaction ... After 2008, Lorelei seems a lot more selfish than maybe she did back when it was originally created in 2000.
It does strike you when you watch now. You're kind of like ... why don't you just take some of her money, Lorelai?
[laughs] Yes! Just. Take. The money. But then there's no show, because then there's no struggle. Cause I feel like that was the whole back and forth -- how much do I sacrifice, or how do I have my own independence? Where I feel like independence isn't as much a priority nowadays. Independence feels like a luxury, where the reality is that it's hard to survive financially for so many people out there.
Do you think that Rory was a good friend to Lane in the series?
I think that she was. I don't think that Lane ever questioned it. Maybe in that first season we had a storyline about how much she can depend on her. But I think that they wanted to make the most of that Dean storyline, him being her first boyfriend and the fact that Rory and Lane as friends had never dealt with an actual boyfriend, which throws everything out of whack the first time you have to figure that out. I guess I always took it for granted that regardless of how much, physically, they were in each others' lives, that was always someone she could depend on.
You've been doing a lot of improv these days, right?
I am obsessed with improv. It is true.
Do you think there's ever hope that you and Melissa McCarthy [who has a background in improv] can do a "Gilmore Girls" reunion improv show?
[Laughs] Oh, that would be the best. She kept doing Groundlings a lot during "Gilmore Girls," so -- I think this might have been right when it ended -- but I saw her do one of her Groundlings shows. And I mean, obviously she had all that talent before all the movies and everything. She's so phenomenal. Her two "SNL" episodes were some of my favorite ones. She was such a great host.
Well, maybe one day fans will get to watch you two onstage together.
Yeah, let's put that out there.
This interview has been edited and condensed.
Support HuffPost
The Stakes Have Never Been Higher
Popular in the Community