Twenty years ago the first captive orca to be successfully rehabilitated passed away in the wild, where he had lived for five years before succumbing to pneumonia. Like other semi-orphaned animals that are raised by humans, he remained engaged with people even though he was fully capable of living life on his own.
Nine years later, another orca was rehabilitated and released, she now lives wild with her young calf and her extended family in the ocean around British Columbia, Canada.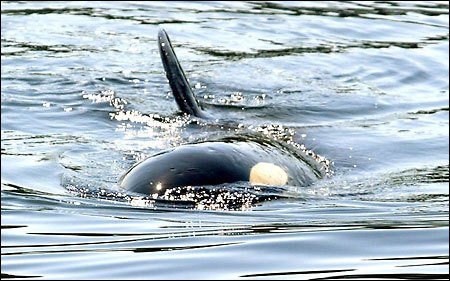 Springer, a young orca who was captured, released, and reunited successfully. (Photo Courtesy Leah Robinson, Orcalab Aug 16 2011)
While the circumstances between the first whale, Keiko, and the second, Springer, were different, their stories are the same. Both were captured from the wild at very young ages, and both were eventually returned to live in the wild. Both required a huge commitment, public support, and funding. Both got it, and both got to live free. And both of their stories could have turned out very differently -- one faced certain death and the other faced a life in confinement.
After his starring role in the move Free Willy, Keiko was left to languish in a tiny pool in Mexico in such poor health that veterinarians predicted he would die within months, but he was purchased and moved to a place where his health was restored. When Springer turned up thin and lost near Seattle, Wash. the amusement parks offered to help -- SeaWorld in particular was eager to offer her a life in a tank, but Washington specifically forbids SeaWorld to capture wild orcas in state waters. She was given her freedom.
Having chosen to rehabilitate and release Springer, our government acknowledges that returning orcas to the wild is not only worthwhile, but can be the best option for them. In the teaching curriculum for elementary grades, "Saving Springer: How NOAA helped an orca go home", NOAA (National Oceanographic and Atmospheric Agency) explains why rescuing and rehabilitating Springer was the best choice:
Discussion points -- why did NOAA make this decision?

• Chance of success outweighs risks
• Strong community support
• The right thing to do for this specific whale, and for the orca population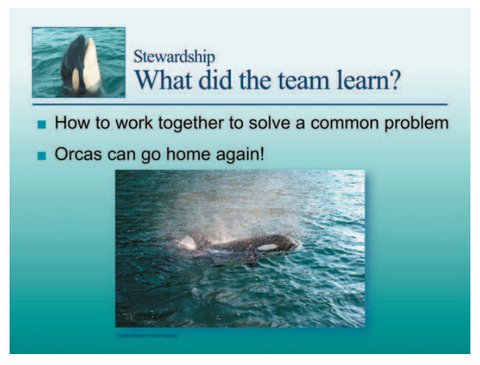 Graphic from NOAA, public access.
Keiko was 27 years old when he died -- in captivity male orcas seldom live past 20 -- and according to the Center for Whale Research's Stefan Jacobs, on average captive orcas survive less than nine years. He was never far from people who loved and cared for him -- according to the Human Society marine mammal expert, Dr. Naomi Rose "The Free Willy/Keiko Foundation and the U.S. Humane Society tracked Keiko in near-real-time with a satellite tag the entire trip across the Atlantic and knew where he was at all times. His caretaking team went to Norway and cared for him for the remaining 15 months of his life."
By any measurement, Keiko's release was a phenomenal success, and the process of giving him years of health and freedom is symbolic of what we cherish most in ourselves -- the ability to act with compassion and to right wrongs; when we know better, we do better.
And Springer -- she can be seen in the wild with her baby, living life as a normal whale. If that doesn't seem like reward enough, her contribution to the genetic pool can increase the viability of the population at a time when the resident orcas of the Pacific Northwest still struggle to recover from the devastation to their population by wild captures, as can be seen in this video clip:
Rehabilitating these whales is costly (please see the list below of contributor's to Springer's effort), but the money comes in from everywhere specifically for the animals -- it is not as though the money for Keiko and Springer was taken from a huge pot, or would have gone elsewhere. Kids gave up ice cream cones and sent their allowance, groups had bake sales and car washes, companies gave supplies, government agencies put their funds where they were supposed to, into protecting wildlife.
Considering the numbers of whales and dolphins that face extinction at our hands, rehabilitating and releasing these whales is the least we can do.
"The organizations and companies listed below contributed to the NOAA rescue, rehabilitation and return of orphan orca A73 to her pod in Canada. These lists are for information purposes only, and do not indicate endorsement of the organizations, entities, their products, or any commercial enterprise.

Conservation Organizations
American Cetacean Society

Earth Island Institute

Friends of the San Juans

Orca Alliance

Orca Conservancy

OrcaLab

People for Puget Sound

Project SeaWolf

Seattle Aquarium

The Whale Museum

Corporations
Busch Entertainment - Sea World
Veterinary services & laboratory analysis
San Diego, Calif.

Cypress Island Inc.
Logistical support, rescue barge & live salmon
Bainbridge, Wash.

Diametrics Medical, Inc.
Blood Gas Analyzer
St. Paul, Minn.

The Friendly Foam Shop
Foam pad for transportation
Seattle Wash.

Home Depot
Supplies for whale-care pen
Seattle, Wash.

Manson Construction Co.
Barge-mounted crane on transportation day
Seattle, Wash.

Nichols Bros. Boat Builders
High-speed catamaran transport
Freeland, Wash.

Northwest Cascade
Sanitation
Seattle Wash.

Ocean Systems
Underwater monitoring cameras for whale-care pen
Burtonsville, Md.

Point Defiance Zoo and Aquarium
Transport stretcher
Tacoma, Wash.

Six Flags Marine World
Transport container
Vallejo, Calif.

Underwater Sports
SCUBA tanks for whale-care team
Edmonds, Wash.

West Marine Corp.
Transportation supplies & safety equipment
Seattle, Wash.

Woodland Park Zoo
Blood centrifuges
Seattle, Wash.

Woods Hole Oceanographic Institution
Monitoring cameras for whale-care pen
Woods Hole, Mass."
Related
Popular in the Community