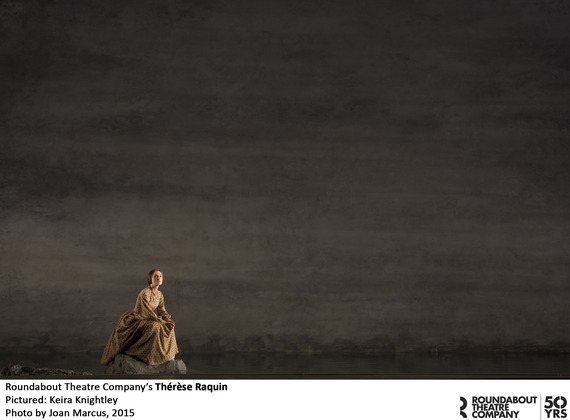 "Sometimes I think the water is a creature. A silent animal that pretends it doesn't see me. And one day it will swipe, lash out with its strong paws, with its claws, and it will try to drag me down. But I will be ready for it. And I will wrestle with it, and ride upon its back, lying flat, like a reed, with the sunlight falling on my face."
Thérèse crouches on a rock, staring menacingly into the river, as though she cannot decide whether to dive in or shy away. Her escapism and survival instinct argue; they are at odds with one another. Any possibility of freedom -- even a momentary gasp of fresh air -- feels like ecstasy, like hope. And yet a darkness lies behind her bulging eyeballs: she knows to fear the water. Her bones recognize its charm and danger.
In her Broadway debut, Keira Knightley brilliantly embodies this tormented monster -- the titular protagonist/antagonist of Thérèse Raquin. She fumes, and rages, and withdraws, and you can watch her psychological evolution from stifled wife to impassioned mistress to haunted murderer. Her face grows taut, concentrated, stiff. Sometimes, she looks as though she might implode, or else explode. For the first 30 minutes, Knightley barely talks save the monologue above, but her performance is more immediate than any words. Behind her pupils burns a brooding mind aching for change.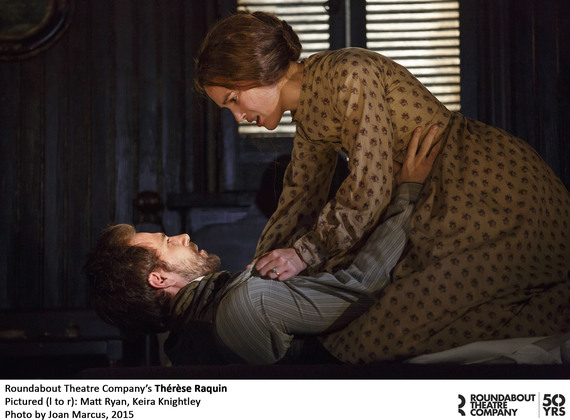 In Helen Edmundson's adaptation of the 19th-century novel-turned-play, Knightley captures the melancholy Émile Zola chose for Thérèse when planning his narrative around the four temperaments, but she also feels terrifyingly, vulnerably human. It is precisely this accuracy and relatability that makes Thérèse Raquin unsavory to watch; the action feels too real, and especially the second half torments the viewer almost as much as the characters themselves. The show is beautifully awful, splendidly agonizing. It hurts, it shocks, and as you exit Studio 54, your eyes may spread as wide as Thérèse's at the river.
The thriller centers on a quartet: Camille, his mother Madame Raquin, her niece Thérèse, and the last's lover Laurent. None of them are blameless, and most of their faults track to their egoism and lack of empathy. They want what they want when they want it, and morals aside, they will do anything to get it. Despite the anachronism, Thérèse Raquin feels oddly modern: in a world where the self almost always comes before anyone else, and ambition and desire corrupt compassion, the mentality Zola criticizes strikes a cord. His story seems perfectly suited to Halloween, too; there's blood, insanity, ghosts... everything that causes nightmares and more.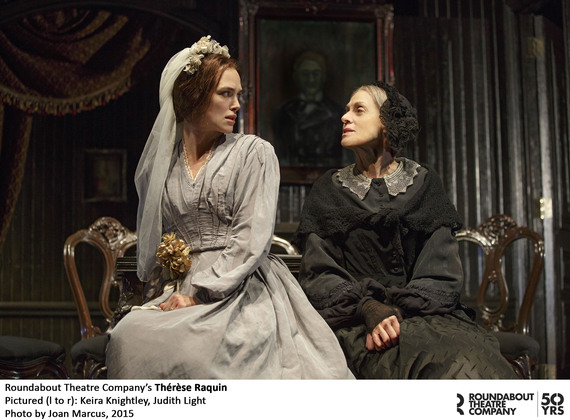 Joining Knightley is an expert cast, including Tony winner Judith Light, who distinguishes herself as Madame Raquin. While Thérèse spends most of the beginning shrouded in noiseless mystery, Madame quiets near the end. Light uses these pockets of silence to express the deepest of emotions with a slight lip quiver or deliberate eyebrow shift. Both women merit serious consideration from this year's award committees, for who knew a jawline could say so much?
Gabriel Ebert plays Camille, and is perhaps the least effective of the group. He's certainly irritating, but he's also forgettable. Camille cannot be forgettable; he must make an impression. As Laurent, Matt Ryan seems smooth, possessive, suave, hazardous, handsome, putrid -- everything lovely and its antithesis at the same time.
Sets by Beowulf Boritt hold unquestionable weight and majesty -- gruesome majesty, like a fairytale gone wrong. He has somehow brought a river to midtown Manhattan, with Ruby Foo's on one side and Columbus Circle on the other. But the water does not possess the calming swoosh of the ocean, or the unbreakable stillness of a lake. It's ominous, the stage lights casting shadows upon its surface; you feel the ache of a storm coming.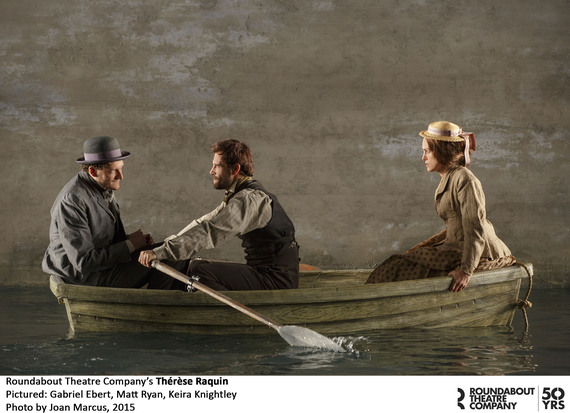 For its 50th Anniversary Season, Roundabout Theatre Company has pulled out all the stops. Knightley at her best, supported by an adroit ensemble. An ambiance that is equally enticing and disgusting. The only misfortune is that Studio 54 does not harbor the gravity for a play of such magnitude and meat; rows stink of jolly alcohol, and horns honking outside disturb the prickly hush of some of Thérèse Raquin's most aggressive scenes.
Still, it is hard to not feel moved as the curtain closes. The show is not fun to watch; there is nothing pleasurable about it. It will leave you perturbed, upset, flustered -- so much so that goose bumps swell on your arms and you cannot even think of sleeping.
But there's value in that.
The pity would have been if you felt nothing at all.
Related
Popular in the Community