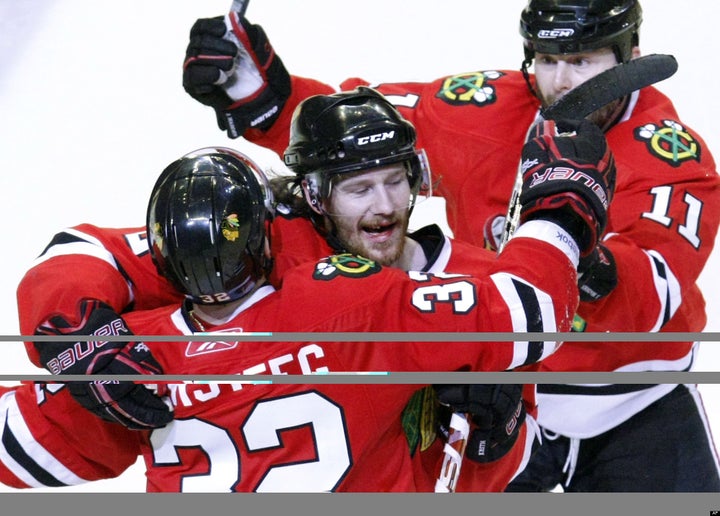 Duncan Keith. Five games. So what?
I get that this looks like a big deal by NHL standards because this is Keith's first suspension for headhunting a superstar, but I'd be more inclined to take it seriously if it included the stipulation that in the event the Canucks meet the Hawks in the playoffs (for their fourth annual death match) and Daniel Sedin can't dress because of an "upper body injury" Keith has to watch the series beside him in the press box.
Last week I wrote about Sidney Crosby's concussion and how the more the NHL claims they're taking head shots seriously, the harder it is to believe they're taking head shots seriously. This week the hockey Gods felt I hadn't made a strong enough case so they smote the best player on the team I cheer for.
With Crosby sidelined last year there was a vacancy in the spot for top scorer and Daniel Sedin stepped up and filled it. Now Sedin may get to meet Crosby to discuss the best specialists for dealing with head injuries. You know how they talk about rock and roll heaven having a helluva band and the NFL being able to put together a team of ex-cons who could compete for the Superbowl -- the NHL's all-concussion squad would be a lock if the Stanley Cup finals were played with Olympic rules... and that's just including players who are still young enough to lace up the skates.
Years ago I remember reading about the curse of the Sports Illustrated cover story. I'm starting to think that in today's NHL the Hart trophy and the Art Ross come with a similar curse -- a bounty on the winner's head.
I've scoured the interweb to get the official Chicago fanboy response to the hit and after getting past the cracks about the Sedins' sexuality because, you know, they're Swedes and they're dumb enough to believe NHL referees will occasionally enforce the NHL rulebook, there seem to be five complaints about the ruling by the NHL's director of discipline and damage control, Brendan Shanahan.
1. Daniel hit Keith first.
Okay, easy one to deal with. NHL referees have a hard enough time noticing when there are seven players on the ice, or when Swedish players are punched in the face during playoff games, without adding extra rules dealing with "attempted elbowing." Heck, the referees for the game where Keith delivered his elbow to Sedin's skull seemed to think it only warranted a two-minute minor. I've even seen calls for Daniel to be suspended for his hit on Keith. Um... the only reason Keith even got two minutes is because Daniel didn't get back up to play. If Keith had spent the rest of the game in the dressing room and the next day with a concussion specialist I'm sure Shanahan would have suspended Daniel for you.
2. The Keith hit wasn't that dirty.
Only if they were playing Ultimate Fighting on skates or, you know, in the Stanley Cup finals where the games are played by Aussie Rules (also known in Canada as Cherry rules).
3. Daniel will probably play again next game and was just playing possum to force a longer suspension. Heck, I've even read that Daniel will sit out the season just to make Keith look bad.
To this one I will reply as tactfully as possible in two parts. Part one: "Did you get an elbow to the head recently?" The Canucks are still in a fight for the President's Trophy and they're gonna sit their top scorer so that a defenseman on a team in their rearview mirror um, feels guilty? It's not like Shanahan's gonna revisit the suspension -- even if Daniel never plays again.
Part two: Even if Daniel had come back to the ice in the third period and scored the winning goal in overtime, Keith very likely guaranteed Daniel's career will end before his twin brother's. Concussions are cumulative. Keith guaranteed Daniel is susceptible to headshots for the rest of his life.
As a Canucks fan I remember way too many of the details of one of the ugliest incidents in NHL history -- the Todd Bertuzzi attack on Avalanche player, Steve Moore. If you weren't following the Canucks that year -- and no one outside of Vancouver was -- it sure looked like the Canucks lost all their mojo after Bertuzzi's savage and unforgiveable attack that broke Moore's back and ended his career. But the truth was they'd lost their mojo, their MVP and the league's leading scorer in the previous game against the Avalanche when Moore knocked the Canucks captain, Marcus Naslund, into the next century. The NHL being the NHL, Moore's cheap hit wasn't penalized or punished in any way and even though Naslund kept playing, the former Hart and Ross contender never recovered his A-Game.
4. If the refs called the first hit by Sedin, this wouldn't have happened.
Maybe, maybe not. But these refs also took the whole head hit concept so lightly they only gave your choirboy a two minute penalty when the NHL just admitted by the suspension that the right call was a five minute match penalty and game misconduct -- and if the refs had made that call then maybe the Hawks lose the game by a touchdown. Here's how former NHL ref Kerry Fraser called it in his column for TSN.ca
The deliberate elbow delivered by Duncan Keith directly to the head of Daniel Sedin was at bare minimum a five-minute major and game misconduct for elbowing. The best call would have been a match penalty under Rule 45.5 for deliberate attempt to injure under the elbowing rule!
Duncan Keith demonstrated absolutely no intent on playing the puck that flew off the glass and was well out of range of Sedin when contact was made. Instead, once the opportunity for a payback on Daniel's non-penalized shoulder contact to Keith's head six and a half minutes earlier reared its ugly head, Duncan Keith seized the moment in an open-ice assault.
5. Duncan was innocent... It was an accident... It's a fast game... "I'm so sorry officer Shanahan, but this big, tough Swedish guy just came out of nowhere. Intent to injure, gee gosh, golly I've never even met this Daniel, what did you say his last name was?"
Yeah, if you believe that one I've got this great used stadium I'd love to sell you.
If you told a Canucks fan who spent the last week on the moon that someone scrambled Daniel Sedin's brain with an elbow to the head the first question after "will he ever play again" would be "Hawk" or "Bruin?"
I get that Duncan Keith is officially a first offender.
I get that Keith is an all-star, not a goon.
I get that the Hawks are fighting for playoff position and losing Keith for five games means they could finish lower in the standings.
But mostly I get that that the likeliest way either the Canucks or Hawks get to the Stanley Cup is through each other and Keith just made it a lot easier for his team (or any other) to get past the Canucks -- and with only a handful of games left before these teams could conceivably meet in the playoffs I don't have a clue how this suspension is supposed to be viewed as a deterrent for taking down a top player from a team you're likely to meet in a few weeks when it matters.
I'm not a basketball fan, but I've heard the NBA officials protect their superstars. In the NHL apparently All-Star jerseys come with signs that read: "cheap shot me please."
So here's one other suggestion for disciplinary action... Dan O'Halloran, the referee who missed Sedin's initial hit on Keith and who thought Keith's "open ice assault" on Sedin only merited a two minute slap on the wrist - the same ref who didn't even give the Bruin's Brad Marchand a dirty look for playing Whack-a-Mole with Daniel's face in the 2011 finals -- should be spending the rest of his year in the press box too.
REAL LIFE. REAL NEWS. REAL VOICES.
Help us tell more of the stories that matter from voices that too often remain unheard.