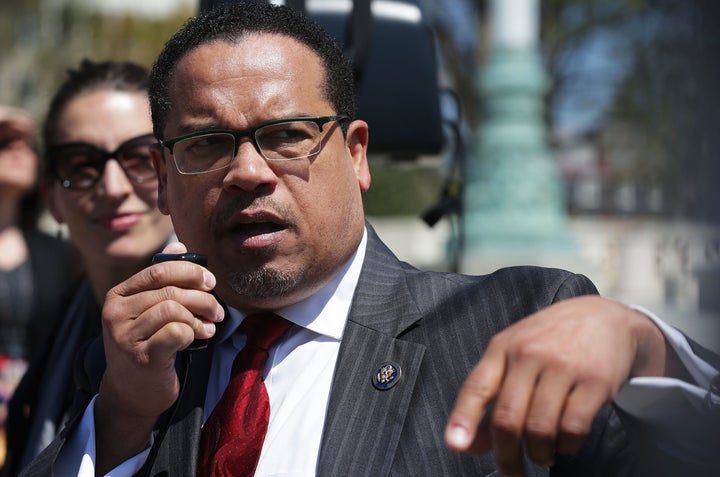 WASHINGTON ― America's largest federation of labor unions on Thursday endorsed Rep. Keith Ellison (D-Minn.) to be the next chairman of the Democratic National Committee.
"Representative Ellison meets the high standard working people expect from leaders of our political parties," AFL-CIO President Richard Trumka said in a written statement. "He is a proven leader, who will focus on year-round grassroots organizing to deliver for working families across America."
The AFL-CIO represents 56 different labor unions. The New York Times reported last week that a few labor unions had pushed back against the federation offering an early endorsement in the DNC Chair race, but several large unions, including Communication Workers of America and United Steelworkers, had already announced their support for Ellison, as had key labor figures like the chiefs of the American Federation of Teachers and the American Federation of State, County and Municipal Employees.
The official nod from the AFL-CIO, moreover, suggests that a recent smear campaign attempting to brand Ellison as anti-Semitic is not scaring off major Democratic-allied institutions. Ellison would be the first Muslim to head the party.
Ellison has long been one of the most aggressive congressional supporters of the American labor movement. He has repeatedly rallied with striking workers, and participated last month in a demonstration by Minneapolis fast food employees seeking a $15 minimum wage. His DNC policy platform calls for Democratic leaders to embrace "labor as a full partner," which would represent a shift from recent decades in which union concerns have been subjugated to Wall Street and Silicon Valley interests within the party.
Ellison backed Sen. Bernie Sanders (I-Vt.) during the Democratic presidential primary, and his candidacy has quickly converted the DNC race into a proxy battle over the direction of the party after Hillary Clinton's loss to president-elect Donald Trump. Ellison is pressing to refocus party attention on working people by emphasizing small-dollar fundraising, much as the Sanders campaign did. Most recent DNC chairs, including Rep. Debbie Wasserman Schultz (D-Fla.), have focused on major corporate donors.
The AFL-CIO endorsement consolidates Ellison's status as front-runner in the DNC race. More than 100 lawmakers have already backed his candidacy, including Sanders and progressive Sen. Elizabeth Warren (D-Mass.), along with establishment leaders like Senate Minority Leader Harry Reid (D-Nev.) and Sen. Chuck Schumer (D-N.Y.).
But the DNC election remains more than two months away, and other candidates have also secured prominent supporters. South Carolina Democratic Party Chairman Jaime Harrison, a former corporate lobbyist, has been endorsed by the third-ranking House Democrat, Rep. Jim Clyburn (D-S.C.). President Barack Obama has signaled support for either Labor Secretary Thomas Perez or former Michigan Gov. Jennifer Granholm, who both endorsed Clinton in the Democratic primary. New Hampshire Democratic Party Chairman Ray Buckley won the endorsement of his state's all-woman Democratic congressional delegation on Thursday.
Popular in the Community