WASHINGTON ― Rep. Keith Ellison (D-Minn.) has faced a bipartisan barrage of attacks from groups and individuals accusing him of harboring ill will toward people and Israel since announcing his bid to head the Democratic National Committee last month.
Ellison, one of just two Muslim members of Congress, has held public office in Minneapolis for more than a decade. And many of his Jewish constituents ― including some critical of his stance on Israel ― have rallied to his defense.
The idea that Ellison is anti-Semitic is "unkosher hogwash ― it's 'narishkeit,'" said Michael Latz, using the Yiddish word for nonsense. Latz first met Ellison seven years ago, when he became the senior rabbi at the Minneapolis synagogue Shir Tikvah.
Other Jewish community leaders who have known and worked with Ellison on social issues like poverty reduction and gun control over the years said they've seen him lead discussions about combatting anti-Semitism, and have had extensive conversations with him about the Middle East. Even when they didn't agree, they said they found Ellison receptive.
Shortly after Ellison entered the Minnesota House of Representatives in 2003, another member made a speech on the floor suggesting that "homosexuals" were not targeted in the Holocaust. Though the remarks were aimed at denying protections to LGBTQ people, members of the Jewish community also perceived them as a form of Holocaust revisionism.
"It was a really distorted history of the Holocaust," recalled Frank Hornstein, a Democratic member of the state House who sat next to Ellison at the time. Ellison took the lead in filing ethics complaint against the member, a move that formed a lasting impression on his former colleague.
"I really got to see him in action then, not only as an attorney, but as someone that I concluded had deep empathy for the Jewish community in terms of our need to understand and properly memorialize Holocaust history," Hornstein said.
The anti-Semitism allegations stem from comments Ellison made in the 1980s and '90s expressing support for radical black leaders like Louis Farrakhan of the Nation of Islam, who has made anti-Semitic statements. Ellison himself did not speak negatively about Jewish people, and he has disavowed and apologized for his past remarks ― both in 2006, when they first surfaced, and again recently.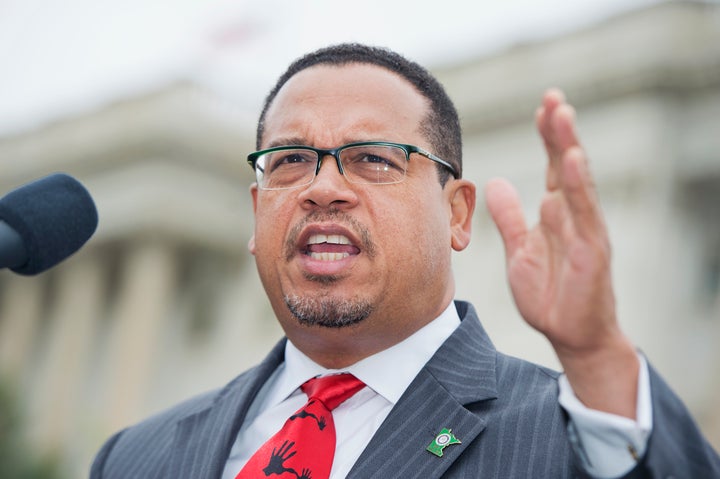 Ellison's allies in the Minneapolis Jewish community say they accept his apology.
"For me, and the vast majority of Jewish Minnesotans, this full-throated apology for past mistakes is exactly the kind of t'shuvah (repentance), which our tradition honors," wrote Sami Rahamim, a self-described pro-Israel activist who began working with Ellison on gun control after his father was killed in a workplace shooting.
"People evolve, they grow," Hornstein said. "He should be judged on his public record and his actions as it relates to anti-Semitism. He's been a strong ally."
Rabbi Sim Glaser of Minneapolis' Temple Israel is critical of Ellison's views toward Israel, but said he is willing to move past Ellison's past ties to the Nation of Islam. Farrakhan "is a nasty bedfellow to have, but people change," Glaser said. "I can't deny him the right to."
That hasn't stopped an array of Jewish advocates from lining up against Ellison. Some of the critics are purely partisan; The Republican Jewish Coalition, for example, slammed Ellison, but has also defended Donald Trump's strategic counsel Steve Bannon, who headed a website that traffics in white nationalism.
But other critics are within Ellison's own party. Haim Saban, an Israeli-American billionaire and mega-donor to the Democratic Party, said last week that Ellison is "clearly an anti-Semite and an anti-Israel individual." And the Anti-Defamation League, a nonpartisan group with hawkish views on the Middle East, reversed its initial support of Ellison after a 2010 recording surfaced of him saying that U.S. foreign policy shouldn't be governed by a country of 7 million people ― Israel's population at the time.
Ellison has been critical of the Israeli occupation of Palestinian territories, a stance that is rare on Capitol Hill. He supports a two-state solution ― the official position of most lawmakers. But unlike his colleagues, Ellison has spoken out against Israeli settlement expansion in the West Bank, an effort that violates international law and that liberal pro-Israel groups say undermines prospects for peace.
Many progressive Jews appreciate Ellison's willingness to share his views, and bristle at the suggestion that any criticism of Israel amounts to anti-Semitism. But the politics around the U.S.-Israel relationship is a delicate issue, and even some who support the congressman think he has, at times, taken it too far.
Latz said that he and Ellison agree on the need for a two-state solution, and that most American Jews feel similarly. But Latz said he was "profoundly disappointed" that Ellison voted against additional funding for Israel's missile defense system, Iron Dome, in 2014, during the most recent Gaza war.
Ellison pointed to his past support of funding for the missile defense program. But in the midst of a war, he said, the U.S. should be pushing for a ceasefire rather than escalating military support.
Glaser said Ellison's feelings about Israel "really leave me cold."
"I don't think that at the end of the day, he loses any sleep about Israel's security, and I do," Glaser said.
But neither of the rabbis who objected to Ellison's Iron Dome vote said they think it indicates any ill will toward Jewish people.
Ellison instinctively allies with the underdog, Glaser said. "If [Jews] were being pushed around in this country, if we were being degraded and oppressed, he'd probably be on our side."
Sign up for the HuffPost Must Reads newsletter. Each Sunday, we will bring you the best original reporting, longform writing and breaking news from The Huffington Post and around the web, plus behind-the-scenes looks at how it's all made. Click here to sign up!
Popular in the Community