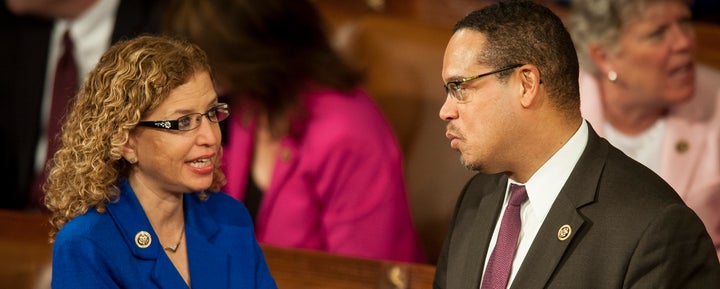 Labor Secretary Thomas Perez will challenge Rep. Keith Ellison (D-Minn.) in the contest to run the Democratic Party, a top-ranking party official confirmed to The Huffington Post.
A second party source said Perez was merely "exploring" a bid, first reported by The New York Times, but he would likely announce his intention to run in the next few days. Should that happen, the contest would pit two proven progressive candidates against each other, exposing a new rift in Democratic politics between the party's emerging new establishment in Washington, D.C., and the forces that remain in the White House ― after eight years in which those two factions were one and the same.
Perez will have to scramble to become chairman of the Democratic National Committee. Leading Democrats in Washington, D.C., view Ellison as a critical figure for uniting the party after a bitter 2016 presidential primary. The Minnesota Democrat was the most prominent Capitol Hill supporter of Sen. Bernie Sanders (I-Vt.) during that contest, and the city's top Hillary Clinton backers have flocked to his banner after the party's devastating loss in November.
"It's time to heal the party," says American Federation of Teachers President Randi Weingarten, an influential Clinton surrogate. "What Keith brings to this process ― in one person ― is both a fight for working-class economic issues and the fight for justice … he also brings together some of the biggest partisans for Bernie and the biggest partisans for Hillary."
Already, Ellison has racked up endorsements from establishment Clinton loyalists including Senate Minority Leader Harry Reid (D-Nev.) and his successor, Sen. Chuck Schumer (D-N.Y.), civil rights icon Rep. John Lewis (D-Ga.) and immigrant advocate Rep. Luis Gutierrez (D-Ill.) ― without losing the enthusiasm among the Bernie camp. The nation's largest federation of labor unions, the AFL-CIO, typically either backs establishment Democrats or stays quiet in contested races. The group endorsed Ellison last week.
But several long-serving party officials and Obama administration veterans appear to be throwing a wrench into the "Kumbaya" session. Perez has met with Vice President Joe Biden, along with advisers to President Barack Obama, Valerie Jarrett and David Simas. Former Obama advisor David Axelrod has talked up a Perez candidacy with The New York Times, and first floated the idea on Twitter that Ellison wouldn't have time to serve as DNC chairman because he is also a congressman. Last week, Ellison said he would give up his House seat ― one of the safest in the country for Democrats ― if elected to run the DNC, an announcement cheered by his backers.
"I was so happy to hear him say if he gets elected he would resign from Congress — good," Reid told HuffPost in an interview. "We need a full-time person running the DNC. That's why I have the operation I have in Nevada, the so-called Reid machine. We worked hard not a year prior to the election, but 24 months before. We never stopped. That's what the DNC is — it's hit or miss. It works for a while, then we have another election. It needs the model I have in Nevada."
Perez is well-liked by progressives as well and enjoys ties to officials throughout the party owing to his service in the administration. One Democratic National Committee member said that if the Labor Secretary entered the DNC race, "he will have an immediate base of support" among the committee Latino members and the so-called "Obamacrats." These are members who supported the president when he first ran for office in 2007-'08 and those who were appointed to the DNC during Obama's two-terms in office. The 447 sitting DNC members will vote on the next chair at the end of February.
A source close to Perez, who said he will have an announcement later this week, said he's talking to elected officials and party leaders to gauge their support.
Still, many Democrats in Washington, D.C., view the idea of turning to an Obama ex machina as a bad move. It is not just because they hoped Perez would run for governor of Maryland, where a Republican, Larry Hogan, currently runs a traditionally Democratic state. (A top Democrat said that Hogan's high-approval ratings has convinced strategist that he is nearly unbeatable).
It's also because they believe a Perez bid for DNC chair could undermine party reconciliation. They also note that the Obama team's party-building record isn't all that sterling.
Obama tapped Rep. Debbie Wasserman Schultz (D-Fla.) to head the DNC in 2011, and her tenure is widely regarded as disastrous. Part of that was the president's own doing. Obama made a strategic choice to deploy time and resources into his own Obama-branded Organizing for Action group rather than the dysfunctional Democratic Party organization. Democrats hemorrhaged seats in state legislatures across the country and suffered steep setbacks in both chambers of Congress in Washington.
During the presidential primary, Sanders supporters accused Wasserman Schultz, who co-chaired Clinton's 2008 campaign, of attempting to rig the debate schedule to favor Clinton, burying the events in time slots with few viewers to prevent Sanders from gaining ground. Sanders camp resentment against party leadership exploded over the summer when WikiLeaks released DNC emails hacked by Russian government groups. Some messages appeared to show the DNC plotting to help Clinton put away Sanders. Many Sanders Democrats are still steamed.
"It's not about Perez. He's really great," said one Senate Democratic staffer, who requested anonymity due to the sensitivity of the race. "Obama just let the DNC fall apart under Debbie, and the hack exposed some pretty stupid emails. She didn't cost Bernie the nomination, but a lot of Bernie voters out there are still mad about it. They need to make the next chair a Bernie person. Obama didn't earn this one."
Another Senate Democratic aide had even stronger words: "The White House didn't just let the DNC whither on the vine, they actively undermined it by steering money, resources, time and staff to OFA. It takes a lot of nerve for the White House, at the 11th hour, to meddle in race to head an organization they thwarted for eight years."
Democratic leaders generally agree the next DNC chair needs to do a better job organizing working Americans and sharpening an economic message for the working class. In a narrow loss such as Clinton's, any single factor can be blamed for the defeat. But the primary consensus is that the party could have done a better job targeting working people.
"I was in 40 states, in the field, all the time, with my members and with communities. And there was a disconnect between what we said and what we stood for and what was heard," Weingarten says.
That's Ellison's pitch. His DNC platform calls to "focus on working people" by making "labor a full partner" and emphasizing small-dollar fundraising over big donors ― not too different from Sanders' $27-a-person donation strategy. His organizing credibility stems from years working as a pro bono lawyer for low-income people and from his willingness ― rare among Beltway elected officials ― to join political protests, including striking workers. Elections in his district aren't typically very close ― he usually wins by at least 40 points ― and voter turnout is among the highest in the nation.
Perez has been one of the most consistently progressive voices within the Obama administration. As the top Department of Justice civil rights attorney, he brought the Seattle Police Department under federal supervision with a case over abuse of minority groups, and he sued notorious Maricopa County Sheriff Joe Arpaio. After shifting to the Labor Department, Perez pushed through regulations expanding overtime pay to 4.2 million people and requiring Wall Street advisers to manage retirement accounts in the best interests of their clients. (Both rules will likely be undone by the Trump administration before going into effect.)
"Tom is a great guy," Weingarten says. "He has a great economic vision and has been a great Labor secretary. But we need both vision and organization, and Keith brings both."
There is concern about Ellison becoming DNC Chair owing to past associations and statements and, for a time, his intention to serve in Congress simultaneously. However, his critics have kept relatively quiet while Perez was being courted. The loudest voice against the congressman has come from a conservative corner of the party infrastructure. Harold Schaitberger, president of the International Association of Firefighters, a union that does not hesitate to spend big on political matters, has railed against the AFL-CIO for backing Ellison. But Schaitberger oversees a divided house ― his rank and file includes so many Donald Trump supporters that the IAFF refused to endorse Clinton in the general election.
"There is a faction at the Federation that seems to want to push our movement further and further to the left," Schaitberger said after the labor endorsement announcement. "That is a recipe for disaster as the most recent election results just showed and as we try to get things done in the next Congress and with the next president."
The other part of the party that seems squeamish about Ellison includes those who, put simply, aren't fans of Senator Sanders. "Bernie's not a Democrat," Rep. Marcia Fudge (D-Ohio) recently told the Charleston Post & Courier in South Carolina. "I don't care what Bernie says. This is the Democratic Party."
The race for the next party chair will be decided on this question: whether the Sanders model is, indeed, the future or whether Obama and his loyalists continue to call the shots.
It is a race over how best to bring about political change and a party revival. One man has worked an inside game with the administration while the other has pressured Obama, and his party, from outside.
Before You Go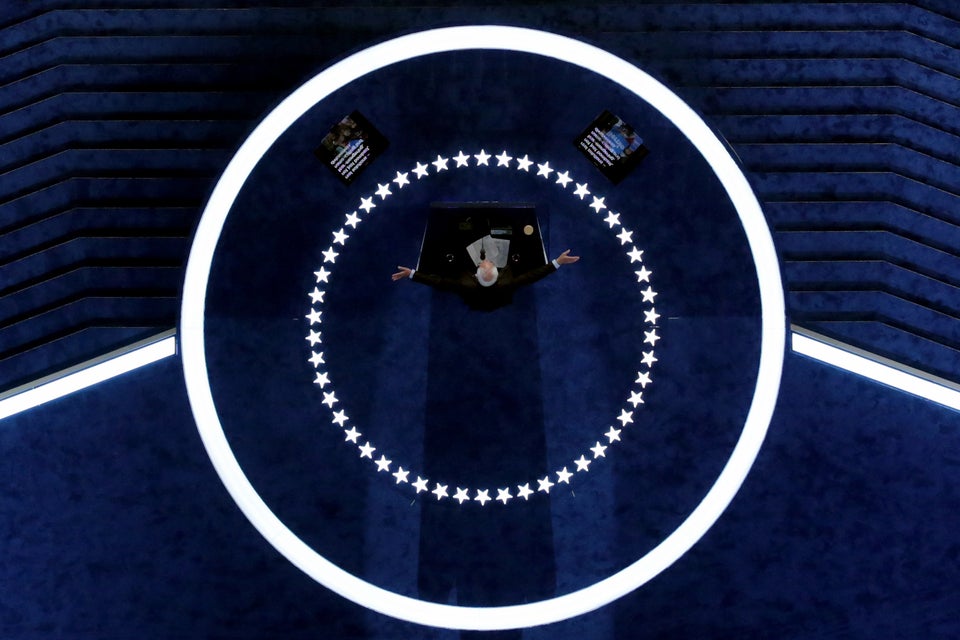 Best Photos From The Democratic National Convention
Popular in the Community