Rep. Keith Ellison (D-Minn.) extolled Sen. Bernie Sanders (I-Vt.) as an "awesome" health care advocate in an interview with HuffPost on Wednesday, dismissing those who questioned the timing of Sanders' rollout of single-payer legislation.
Days after Sanders introduced his "Medicare for All" bill earlier this month, it started to look like the Graham-Cassidy bill, a final Republican bid to repeal the Affordable Care Act, stood a chance of passing.
Prior to Graham-Cassidy's death on Tuesday, some Democrats complained that Sanders had created an opening for a last-minute GOP health care push by distracting attention away from the party's nightmare scenario of an Obamacare repeal. 
The griping peaked when CNN revealed that Sanders had agreed to debate Graham-Cassidy on live television.
Asked whether those charges had any merit, Ellison responded, "Of course not."
"We create the time, by pushing the issue. The issue becomes ripe because we push it," Ellison said. "If we sat around waiting for the most opportune moment then we wouldn't have been able to gain the support we acquired."
Rather than undermine efforts to fight Obamacare repeal, Sanders' single-payer push had merely expanded the bounds of the debate, shoving a once fringe cause into the mainstream, according to Ellison. 
"Bernie is changing the national conversation," Ellison said.
As evidence of Sanders' success, Ellison pointed to support for the idea among one-third of the Senate Democratic Caucus and more than half of the House Democratic Caucus. As recently as Tuesday, Annette Taddeo, a Florida Democrat who backs single payer, won a GOP-controlled state Senate seat, he noted.
"There was a time in our nation's history when you couldn't even get in the door to discuss it," Ellison said. "Now it is a well-researched, often-discussed policy proposal. It's an idea whose time has come."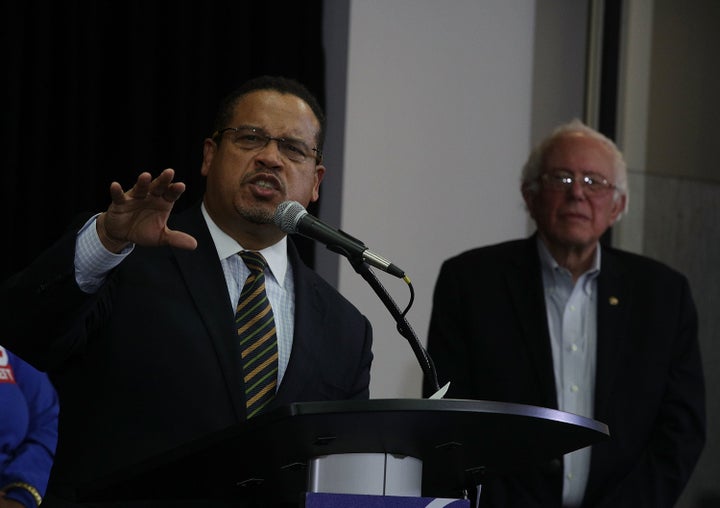 Ellison added that progressive activists, himself included, had been pushing for single-payer for decades, implying that Republicans would find a way to attack Democrats for it one way or another. "It's not a new idea," he said.
And Ellison brushed off a question about whether it would be better if Sanders formally affiliated as a Democrat, rather than merely caucusing with the party. Sanders' ongoing independence, despite a spot in Senate Democratic leadership, is a frequent sore point for his moderate critics.
"No thoughts on that. It's more the substance than anything," he said.
Ellison, who serves as deputy chairman of the Democratic National Committee, is perhaps the highest-ranking Democratic official to publicly defend Sanders against recurring criticism that he has either harmed the fight to protect the ACA, or otherwise proved insufficiently loyal to the Democratic Party.
Hillary Clinton gave new fuel to the intra-party feud in recent weeks with the release of What Happened, her book about the 2016 election, and a series of interviews in which she suggested that Sanders was still not pulling his weight for the party. Sanders is "not supporting Democrats now," Clinton said in an NPR interview earlier this month.
Sanders' fans in the progressive movement have chafed at what they regard as disingenuous attacks from Democratic opponents who use tactical criticism to mask their ideological disagreements with Sanders.
Some of Sanders' defenders noted that few of the Democrats concerned about his participation in the CNN debate with the ACA repeal bill's co-authors ― Republican Sens. Lindsey Graham (S.C.) and Bill Cassidy (La.) ― spoke up when the Vermont senator delivered a strong and spirited defense of Obamacare alongside Sen. Amy Klobuchar (D-Minn.).
Over the course of the debate and in many other public appearances, Sanders repeatedly made it clear that despite his long-term goal of single-payer, his priority in the short term is to preserve protections and coverage expansion enacted by the ACA.
"These gentlemen have on five occasions tried to repeal the Affordable Care Act, throw tens and tens of millions of Americans off of the health insurance they currently have, and make it impossible or very difficult for people with pre-existing conditions to get the health care that they can afford," Sanders said, in one of many memorable lines from the debate stage.
Members of Sanders' staff have been keen to point out that Sanders has used his own campaign funds traversing the country to hold rallies in defense of Obamacare. 
But few Democrats volunteer praise for these efforts.
Last week, HuffPost asked the Democratic National Committee and the offices of Senate Minority Leader Chuck Schumer (D-N.Y.), Sen. Elizabeth Warren (D-Mass.), Sen. Chris Van Hollen (D-Md.), chairman of the Democratic Senatorial Campaign Committee, and House Minority Leader Nancy Pelosi (D-Calif.) whether, contra what Clinton said, Sanders helps Democrats.
Only Schumer gave a definitive reply, stating that Sanders has "been a good member of our leadership team in the Senate."
Xochitl Hinojosa, communications director for the DNC, did not address Sanders directly at all. "All of our leaders should want to do more to help Dems win in Virginia, New Jersey, Alabama and races up and down the ballot," she said.
The other offices either did not respond or declined comment.
Ellison declined to indict his fellow Democrats for failing to appreciate Sanders' contributions the way he does. Senate Democratic leaders have acknowledged Sanders' importance, Ellison argued, by naming him outreach chair.
Besides, Ellison reasoned, "I don't think Bernie's in it for credit." 
"Bernie is answering to a higher call," he concluded. "He is motivated by the noblest ideals of our country."
Calling all HuffPost superfans!
Sign up for membership to become a founding member and help shape HuffPost's next chapter
BEFORE YOU GO
PHOTO GALLERY
2017 Scenes From Congress & Capitol Hill