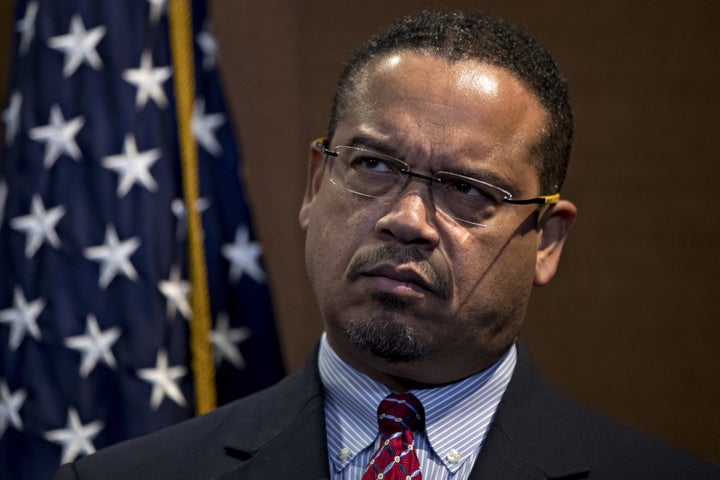 "Karen and I were in a long-term relationship which ended in 2016, and I still care deeply for her well-being," Ellison said in a statement to CBS Minnesota. "I never behaved this way, and any characterization otherwise is false."
Karen Monahan's son, Austin Monahan, wrote in his Facebook post on Saturday that his mom had "come out of pure hell after getting out of her relationship" with Ellison. Austin said that in mid-2017 he discovered a video, as well as dozens of text and Twitter messages between his mother and Ellison, that allegedly show the Minnesota lawmaker physically and verbally abusing her.
Ellison, who has served as deputy chair of the Democratic National Committee since 2017, denied the existence of the video on Sunday.
In his Facebook post, Austin said his mom "has always tried to protect me and my brother. She doesn't have to protect us anymore and we aren't letting her stand alone."
He described how he first uncovered the alleged abuse: 
In the middle of 2017, I was using my moms computer trying to download something and I clicked on a file, I found over 100 text and twitters messages and video almost 2 min long that showed Keith Ellison dragging my mama off the bed by her feet, screaming and calling her a "fucking bitch" and telling her to get the fuck out of his house. The messages I found, were mixed with him consistently telling my mom he wanted her back, he missed her, he knew he fucked up and we wished he could do things different, he would victim shaming, bully her, and threaten her if she went public.
Austin said he confronted Ellison about the alleged abuse in a text message soon thereafter, though his post does not specify whether the congressman replied.
Karen Monahan confirmed the abuse to Austin and his brother, though she asked them not to go public with accusations, her son wrote in the post. He felt comfortable alleging the abuse Saturday on Facebook because his mother is "planning on sharing her story," he said.
Karen Monahan stood by her son's allegations in a series of tweets Sunday. Neither the Monahans nor a representative for Ellison immediately responded to HuffPost's requests for comment.
Karen Monahan also tweeted text messages she said she sent to Ellison in December 2017 and April 2018.
"The relationship changed my personality and so much over time," she allegedly texted Ellison. HuffPost has modified screenshots of the alleged texts to remove a phone number allegedly belonging to Ellison.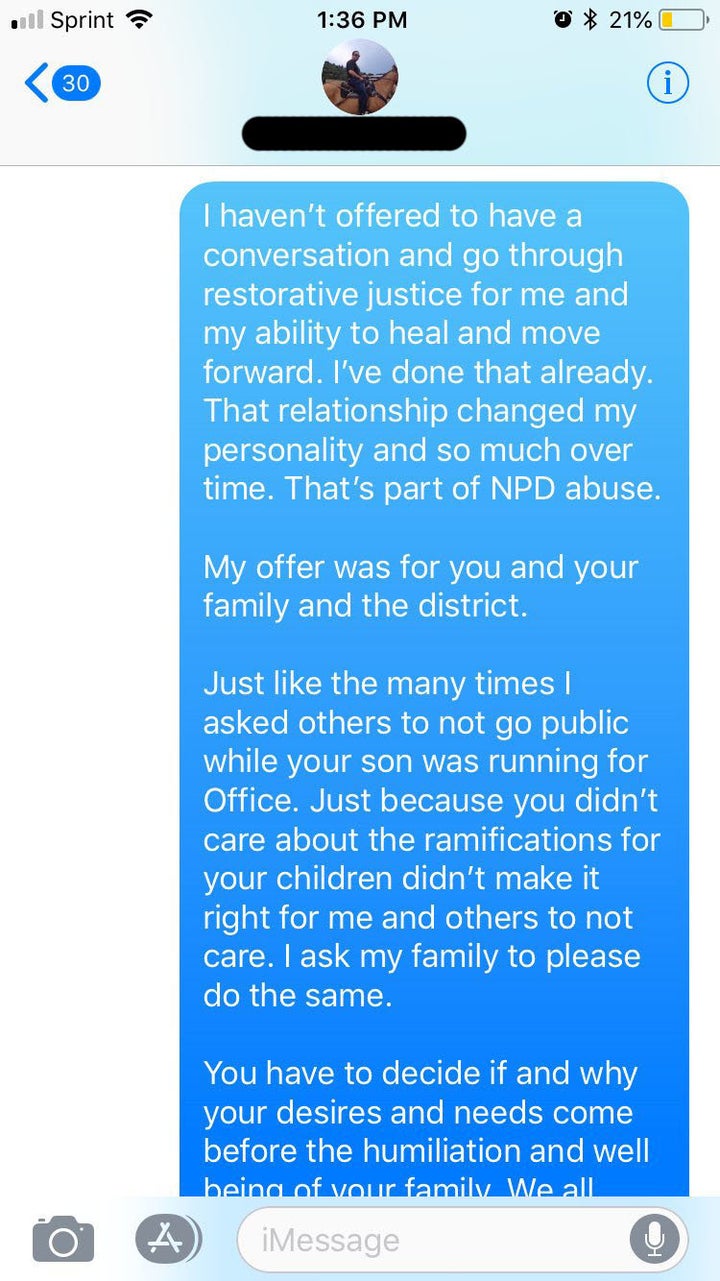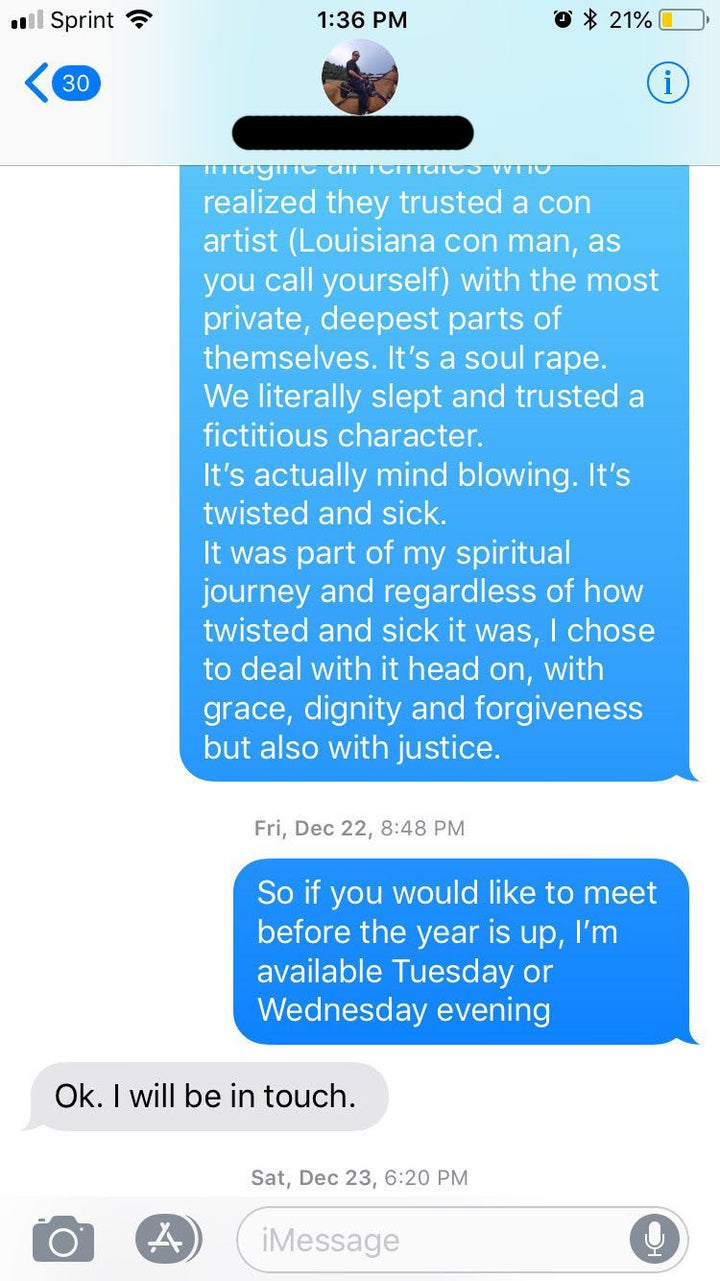 Hours later, Karen Monahan released a lengthy statement describing the alleged abuse. In her statement, she accused Ellison of repeated emotional abuse and at least one incident of physical abuse.
"Part of living an authentic life and taking back your freedom, means breaking your silence, if that is what feels right for you," she wrote. "I made a vow to my kids and my grandkids that I would do what was in my power to leave a better world for them. ... No amount of victim shaming, smearing, etc. can hurt as bad as living a life of fear, shame and secrecy."  
Karen Monahan told CNN she misplaced the video allegedly showing Ellison dragging her off a bed, but that she likely wouldn't release it to the public even if she had it available because it's "embarrassing."
According to CNN, she provided screenshots of several text messages she allegedly exchanged with Ellison:
Monahan provided one text of her mentioning the physical altercation to Ellison in December 2017.

"Keith, We never discussed — the video I have of you trying to drag me off the bed, yelling get the f*** out now, calling me a bitch and saying I hate you bitch," the text message read. In follow up texts viewed by CNN, Ellison did not directly address the physical altercation.

Other messages viewed by CNN do not specifically show incidents of verbal abuse.
Karen Monahan is a senior organizer for a Minnesota chapter of the Sierra Club, according to the environmental advocacy group's website.
Ellison, 55, is giving up his House seat to run for attorney general in Minnesota. First elected to the House in 2006, he was the first Muslim to serve in the chamber.
Other Democratic candidates in the attorney general race tweeted their concern over the accusations.
Minnesota holds its primary on Tuesday.
This story has been updated to include Karen Monahan's statement as well as her comments to CNN.
CORRECTION: A previous version of this article misidentified Minnesota Rep. Debra Hilstrom as speaker of the state's House of Representatives. She is a member of the House but not currently part of the chamber's leadership.
Calling all HuffPost superfans!
Sign up for membership to become a founding member and help shape HuffPost's next chapter