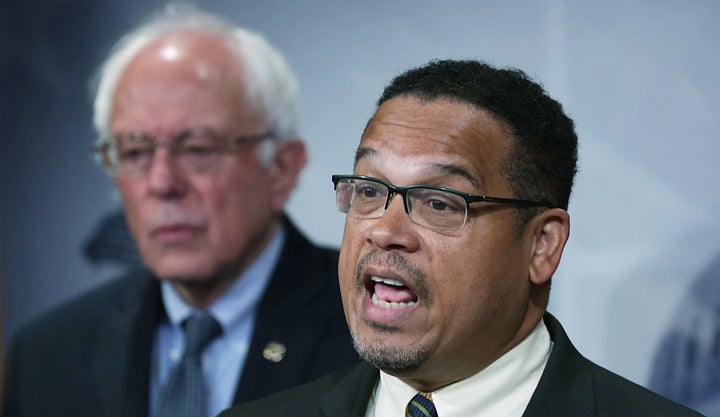 Rep. Keith Ellison, a leading progressive voice in Congress and one of only two Muslim Americans in the House of Representatives, has his eyes on becoming the next chair of the Democratic National Committee.
The Minnesota Democrat has been planning a run for weeks, and has begun informally talking to other party lawmakers and insiders about his prospects for the post, several sources have told The Huffington Post.
His name was floated as a possible DNC chair by Sen. Bernie Sanders (I-Vt.) on Thursday morning, giving him the type of institutional progressive support that would make his candidacy formidable. MoveOn.org, a major progressive network, also said in a statement that Ellison would be "an excellent DNC chair."
Ellison's identity as a black man and the first Muslim member of Congress would serve as a symbolic rebuke to President-elect Donald Trump. And his ties to Sanders would give him credibility in the progressive community that feels the party has catered too much to elite interests. He is also regarded as a savvy television presence ― which seems likely to be a major requirement for the job in the age when Democrats are out of power in every branch of government.
But Ellison will face his share of pushback, both because he is not known as a prolific fundraiser and because he wouldn't be able to hold the chairmanship as his sole job.
"What I think his biggest hurdle is is the notion that we will have another part-time chair," said a top Democratic Party official, who spoke on condition of anonymity. "It proved to be hugely problematic for a number of reasons this last time around. There are a number of reasons [former chair] Debbie Wasserman Schultz was wrong to begin with. But one of them is she had to pay attention to her work in Congress and any political blind spots she had to deal with."
Usually, the DNC chair is effectively selected by a Democratic president, but in years when the leadership changes to a Republican administration, the head of the party is chosen by a vote of state and local party officials and delegates. The overwhelming majority of Democratic officials supported Hillary Clinton in the presidential primary. The top Democratic Party official noted that President Barack Obama is not yet out of office and could weigh in with his own suggestion ― privately or publicly ― on who should replace interim Chair Donna Brazile, whose term ends in March 2017.
Support HuffPost
The Stakes Have Never Been Higher
Popular in the Community