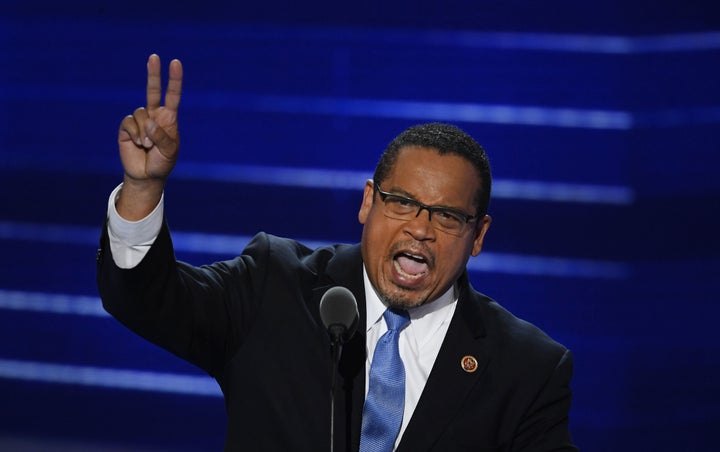 Rep. Keith Ellison (D-Minn.), one of the most vocal progressives in the House and an early Sanders endorser, said he's backing Clinton as the party's standard-bearer because of the Ku Klux Klan's support of the GOP nominee.
"Because the Ku Klux Klan thinks Donald Trump would be an awesome president," Ellison said at a Rock The Vote and #cut50 event here on Tuesday. "The Klu Klux Klan thought that his speech was great, and David Duke is so inspired by ... Donald Trump that he's running for Senate himself."
Duke, former leader of the KKK, announced he is running for the open Senate seat being left vacant by Sen. David Vitter (R) in Louisiana. After initially dodging questions about Duke and other white supremacists who have rallied behind his run, Trump ultimately disavowed the movement. 
"Now here's the clue, anybody who the Klan thinks would be good has got to be the deadly enemies of all of us," Ellison added when asked why he supports Clinton after being in Sanders' corner until the very end of his run. "If you can do anything to prevent that, then you got to do it."
Sanders supporters protested in the city, surrounding the Wells Fargo Center where the Democratic National Convention kicked off this week. Many said they would never vote for Clinton and that their votes were stolen. Boos from Sanders delegates could be heard throughout the arena during the first hour and a half of speeches on Monday every time Clinton's name was mentioned. 
Ellison introduced Sanders to cap off night one of the DNC. But on Tuesday he got personal, talking about his grandfather's work in organizing African-Americans in the late 1940s to vote. That elicited threats from the Klan to blow up his grandparents' house. They were so frequent that Ellison's mom was sent away to boarding school.
"I guarantee every African-American in this audience has a story like that," Ellison said. "So, to us to say, 'Oh, I'm not scared of Donald Trump. I'm willing to risk letting Donald Trump become president' ― to us that's crazy man.
"What a land of luxury you must be living in."
REAL LIFE. REAL NEWS. REAL VOICES.
Help us tell more of the stories that matter from voices that too often remain unheard.
BEFORE YOU GO
PHOTO GALLERY
Best Photos From The Democratic National Convention